Posted on
Tue, Apr 19, 2011 : 6:01 a.m.
Chris Bathgate, at Blind Pig Thursday, offers more poetic soundscapes on his new album, 'Salt Year'
By Roger LeLievre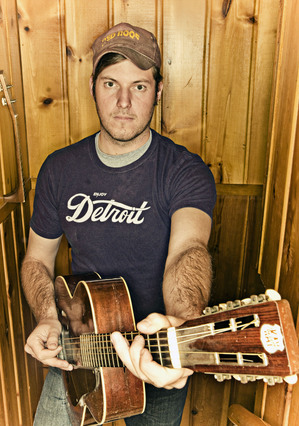 photo by Doug Coombe
As anyone who has been around the local music scene the past several years can attest, folksinger/songwriter Chris Bathgate is a master at creating intricate and evocative musical soundscapes.
His last CD, 2007's "A Cork Tale Wake," with its haunting piano-cello track "Serpentine," was a showcase for bittersweet, poetic lyrics that matched his melancholy vocals to perfection.
Now, Bathgate has a new CD coming out. He recently left his day job to pursue music full time and is embarking on a statewide tour that will kick off Thursday night with a show at Ann Arbor's Blind Pig.
Since his songwriting is so poetic, it's clear he is a huge fan of the genre. What is surprising is Bathgate, who grew up in Illinois and moved to Ann Arbor in 2001 to attend the University of Michigan, has no formal training in literature. He was a sculpture major at the U-M and has a BFA in visual arts "which isn't getting much use," he admitted.
"I read a lot of poetry, more than novels," he explained recently over a schooner of Bell's Oberon at Ann Arbor's Old Town. "I used to have a pretty expansive collection but I have whittled it down to things I need essentially. The No. 1 gift I can get is a book of poetry."
He counts poets Galway Kinnel and Hayden Carruth among his favorites, and said he is also fond of Josh Bell's volume "No Planets Strike."
PREVIEW
Chris Bathgate CD release party
Who: Local indie-folk musician celebrates the release of "Salt Year," his latest disc. With Hezekiah Jones (Philadelphia progressive-folk) and Samantha Crain (indie-folk from Oklahoma).
What: Moody, atmospheric music.
Where: Blind Pig, 208 S. First St.
When: 9:30 p.m. (doors) Thursday, April 21.
How much: $7 (18-21, $10). Info: www.blindpigmusic.com or 734-996-8555. Hear tracks at chrisbathgate.org.
"Salt Year," the 29-year-old Bathgate's third full-length album, took more than two years to finish. "There are moments when it's upbeat, but overall, it's a darker record," he confirmed. The disc came together during a difficult period in his life, from which he said he has since recovered.
"The title stands for a period of dark times for me emotionally and personally which were actually a period of about two years, running parallel to the recording of the album. I was really stressed out, really broke, I didn't have a lot of personal time for reflection, or anything really," he explained.
Other musicians appearing on the CD, on the local Quite Scientific label, are Ross Huff, Susan Fawcett, Brennan Andes, Serge van der Voo, Jim Roll and Mark Damien. The striking cover art is by Sarah Jones, a painter who lives in Ann Arbor.
Until recently, Bathgate was music director of Ann Arbor teen center the Neutral Zone, a job he left eight months ago. "I had a record that was done and I needed a break. ... It was very difficult to travel and maintain a career when I was working there," he explained. "Now I am pretty much dedicated to music and it's great that everything I'm doing is dedicated to my career."
The Bling Pig show kicks off a 10-gig tour in Michigan, including several dates in the Upper Peninsula. His band includes Kalamazoo-based singer/guitarist Graham Parsons, fiddler Samantha Cooper, bass player Keith Kinnear and multi-instrumentalists Kevin Killen and Dan Haefs.
After the tour he said he will fly to Cyprus to spend a month to do original music for a production of Shakespeare's "A Midsummer Night's Dream."
"A woman named Athena who's a director saw me in London, started listening to my music and hired me to come. The production is in a sense similar to what happens in the Arb show (an annual outdoor Shakespeare show in Ann Arbor's Nichols Arboretum) - the audience moves locations outside, but it seems to be a little more bizarre than that."
After that, an East Coast and "top of the South" tour is in the works, as well as performances at Michigan's Hoxeyville, Dunegrass and Hollerfest music festivals, the Ann Arbor Summer Festival's Top of the Park on June 30 and a possible gig Friday night of the art fairs at The Ark in Ann Arbor. All told, he and the band are on tour through the summer and fall.
For those moments when he's not on the road, Bathgate spends his time at his current residence in Pinckney, an affordable location that also inspires his muse.
"Financially, it makes the most sense. I also have access to the Chain of Lakes. I can take a canoe or a kayak - it is very peaceful," he observed.
Roger LeLievre is a freelance writer who covers music for AnnArbor.com.