Posted on
Wed, Nov 30, 2011 : 6:01 a.m.
Rocker Chris Cornell bringing stripped-down, solo sound to Michigan Theater
By Will Stewart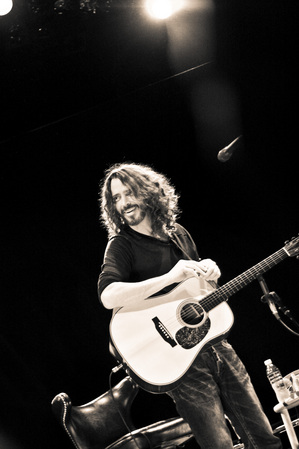 For
Chris Cornell
, 2011 has been the year of looking back.
Not only did the singer reunite with his former band, grunge luminaries Soundgarden, but he also released "Songbook," a record of stripped down re-workings of songs from all stages of his career.
But it isn't as if Cornell, at 47, is living in the past. Rather, he said, it's a matter of keeping music fresh and interesting.
"I think it's just part of my natural progression," said Cornell, who also fronted the alternative-rock supergroup Audioslave through much of the past decade. "I am always doing lots of different things; the band was what I focused on and what I poured my energy into, but I always did other things.
"I think in terms of something that I always wanted to try and this is at the top of my list."
Cornell has the luxury of more than 20 years and more than a dozen records worth of material—including more than a handful of hits like the standout Soundgarden hit "Black- Hole Sun"—to draw from when he looks back on his career during his solo "Songbook" tour, which arrives at the Michigan Theater on Sunday.
"This is like acoustic interpretations from anything, in any point in my career, and it's also just me and a guitar," he said. "Anything can happen."
And, he added, it often does, since he generally hits the stage for these shows with just himself and an acoustic guitar … and no set list. The result is a spontaneous, career-spanning show that has drawn raves from around the world.
PREVIEW
Chris Cornell
Who: Alt-rock / hard-rock frontman.
What: Solo "Songbook" tour revisiting his music in stripped-down context.
Where: Michigan Theater, 603 E. Liberty St.
When: 8 p.m. Sunday, Dec. 4.
How much: Tickets $39.50 and $29.50. Tickets available online at www.ticketmaster.com and at all Ticketmaster outlets. To charge tickets by phone, call 800-745-3000.
For Cornell, who has spent decades fronting some of rock's loudest, most-aggressive bands, the idea of stripping his sound down to the barest of elements didn't come about without some trepidation.
"It's a little nerve-racking at first, but the intimacy part, there's no decision you make about it—it's there no matter what," he said. "When go out with a band and it's a loud, sort of aggressive, visceral experience, you can almost kind of make the decision: This is a crowd and a moment that I can connect to.
Not that everything works.
"There are a lot of songs that I wrote for Soundgarden that won't work acoustically because it's sort of riff-orientated and sort of lends itself more to a big aggressive guitar sound and a full band," he said.
Fortunately for fans, Cornell is back together with guitarist Kim Thayill and the rest of his Soundgarden bandmates to tackle some of the material he can't pull off with just an acoustic guitar. After a 12-year separation, Soundgarden reunited last year to headline Lollapalooza in Chicago. The band is now at work on an album of new material.
Without the pressure that was attached to the band's earlier success, Cornell said the reunion has been a fun, laid-back affair.
"We have been working in the same way we always did in terms of effort, showing up and being excited creatively," he said. "We have done a lot in a pretty short period of time without the constraints of a schedule, without somebody plotting out tours for us, and that we would have to go whether we feel like we are finished with the record or not. "