Posted on
Mon, Jul 29, 2013 : 5:29 a.m.
Chris Hillman talks about revisiting his classic songs ahead of Ark show
By Kevin Ransom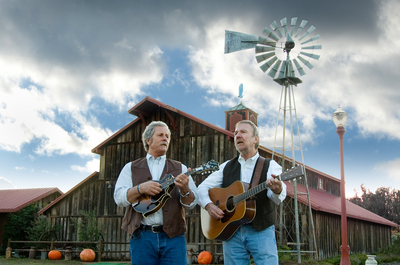 As a young man,
Chris Hillman
was a founding member of not one, but two pioneering bands—groups that took rock n roll and merged it with rootsy, vintage styles, to groundbreaking effect.
He was an original member of the Byrds, who, in the mid-1960s, helped to blaze the folk-rock trail by taking the lyricism and eloquence of folk music—Bob Dylan was a huge influence—and combining it with the unerring popcraft and danceable beats of the Beatles' music.
A few years later, in 1969, Hillman and Gram Parsons (also a former Byrd) helped to co-found the Flying Burrito Brothers, crafting a twangy, scrappy country-rock sound that was a major inspiration for the generations of alt-country / country-punk bands that followed.
Hillman and Parsons had also played a big role in finding the intersection between folk, country and rock elements on the Byrds' seminal "Sweetheart of the Rodeo" album in 1968, along with Byrds guitarist / frontman Roger McGuinn. But the music on "Sweetheart" was much closer to straight-country, compared to the gnarlier country-rock created by the Burritos.
Hillman also went on to found and front the Desert Rose Band, a successful country-rock ensemble of the 1980s.
But in the early-to-mid-'90s, Hillman began drifting back to his acoustic / bluegrass / country-folk roots: As a youth, he was a bluegrass mandolin player before he joined the Byrds and became their bassist.
And he's been recording and performing as an acoustic act ever since—sometimes solo, sometimes with a four-piece, but usually as a duo with the sterling guitarist-singer Herb Pedersen, who Hillman has known since 1963 and who was the lead guitarist in the Desert Rose Band.
And on his last couple of records—"The Other Side," a 2005 studio album, and "At Edwards Barn," a 2010 live album by he and Pedersen, with backing by a couple of other players—Hillman cooked up a satisfying mix of traditional songs, new original tunes and reworked, acoustic / bluegrassy versions of some Byrds and Burritos classics.
"It's actually more challenging to play acoustically," says Hillman, who comes to The Ark with Pedersen on Saturday. "There isn't a lot of electrified volume to gloss over your performance, or cover up mistakes.
PREVIEW
Chris Hillman and Herb Pedersen
Who: Hillman was a founding member of pioneering groups the Byrds and the Flying Burrito Brothers. Pedersen is the former lead guitarist from the Hillman-fronted Desert Rose Band in the 1980s and Hillman's musical partner for almost 20 years now.
What: Acoustic / bluegrass treatments of Byrds and Burritos classics, as well as more recent original songs and covers of vintage folk, country and bluegrass tunes.
Where: The Ark, 316 S. Main St., Ann Arbor.
When: Saturday, Aug. 3, 8 p.m.
How much: $22.50. Tickets available from The Ark box office (with no service charge); Michigan Union Ticket Office, 530 S. State St.; or online from MUTO.
"You're basically just out there singing. You should be able to sing these songs a capella. Playing them on just mandolin and guitar, like Herb and I do, opens up the songs in a way, and gives us an opportunity to make the song more meaningful, and not cloud it or go overboard with extra instruments.
"I'm not saying I don't like electric music, because I do still listen to that, but I find that for me, as a performer, this pleases me more," says Hillman during a phone interview from his office in Ventura, California. "And it pleases the audience. For one thing, without the volume, and the layers of instruments, you can understand the words better. I've had people come up to me after shows and say, 'Oh, I never knew those were the words in that verse.'
"Like, if we do 'Sin City (an iconic Burritos song), I deliver a little preface, talking about how each verse is a little vignette, and that it's still relevant…..I'm actually lucky that still working," quips Hillman, referring to that song's citations of various indulgences of the era.
So did he partake of some of those sins back in the day?
"Well, not to the degree it warped my brain or killed me," replies Hillman. "But seriously, if it all stopped tomorrow, and no one wanted to come to the shows any more, I still will have had 50 years of really interesting times, and playing great music.
"And at this point in my music-making career, we pick and choose when and where we play. We don't go out on tour for 20 or 30 days. We go out for 4 or 5 days, and then come home."
Some of the other Byrds / Burritos classic that Hillman and Pedersen have re-worked in acoustic / bluegrass fashion (either original songs by those groups or country / folk songs that they famously covered) are "Eight Miles High," "Turn Turn Turn" (which actually began as a folk song when Pete Seeger took the words to a Biblical passage and set them to music), "Wheels," "Together Again," "Have You Seen Her Face," and "So You Want to Be a Rock n Roll Star," among others.
He's also recently worked up "The Bells of Rhymney," the vintage folk song first recorded by Seeger and covered by the Byrds in chiming folk-rock fashion.
"That was my favorite folk song that we ever recorded when I was with the Byrds," says Hillman. "It's such a great, classic song, and I've been playing around with it. It's one of those songs that really catches my ear, and doing it acoustically really brings out the basic elements of the song. I think doing these songs in this acoustic style actually makes them more multi-dimensional."
Hillman is a Christian, so he also loves to perform bluegrass-gospel classics—and has written / co-written some of his own songs of faith, like "Our Savior's Hands" and "Heaven's Lullaby"—that he's also recorded and performs in his live shows with Pedersen.
Of his partnership and musical interplay with Pedersen, Hillman remarks: "We both came out of bluegrass—we came from the same bolt of cloth, and I've known him since we were kids, and it's almost as if we're brothers, the way we anticipate each other. David Crosby (Hillman's former Byrds bandmate) once said to me: 'Herb is one of the greatest harmony singers ever'"—and then he quipped, sarcastically, "'So, why is he working with you?'"
Hillman is almost finished writing a short memoir, "about 175 pages, with pictures, that focuses strictly on my memories of growing up in Rancho Santa Fe, which at the time was just a small California town, and the book ends when I'm 16, and my father has committed suicide, and we're destitute," he says.
"If it sells enough copies, and there's enough interest, I would write a second memoir, which would pick up where the first one ends, and get into my musical life, and my time with the Byrds, and the Burritos, and talk about those experiences. But we'll have to see how this one does first."
Kevin Ransom is a freelance writer who covers music for AnnArbor.com. He can be reached at KevinRansom10@aol.com.