concert preview
Chris Isaak bringing his distinctive sound to Hill Auditorium
Posted on Tue, Jul 27, 2010 : 5:51 a.m.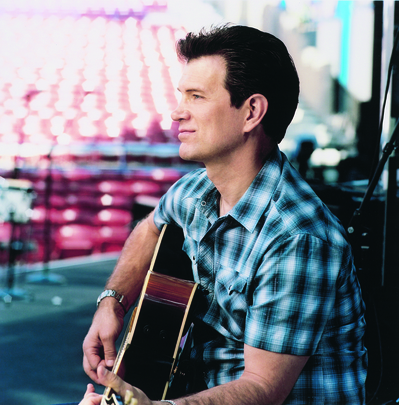 When Chris Isaak released his latest disc, "Live at the Fillmore," in June, that might have puzzled some of his fans — because he'd just released a live album, "Live in Australia," in 2008.
The difference was, his current in-concert disc was recorded at the historic Fillmore Auditorium in San Francisco. And, Isaak has always been a Northern California boy: He grew up in Stockton, about 80 miles from San Francisco, and still lives in the Bay Area.
"I really thought I had done a live record, and that 'that was that,' but I knew that playing in a venue that has such a rock 'n' roll history, and playing in our home turf, would make it a wild night," says Isaak during a recent e-mail interview. "And I was right, times ten! We recorded the show, and my engineer, who never gets excited, called up and started raving. Then my manager called and did the same thing.
"And they never get excited by anything," cracked Isaak, who comes to Hill Auditorium on Friday for an Ann Arbor Summer Festival "post season" show. "So I got a rough CD of the night and put it on in the cellar when I was doing my laundry. I think I listened right through the extra spin cycle twice.
"It really caught a great night and a great band playing for a great audience and having a ball. I think the thing I'm so proud of is you can really hear that it is live and that the band is swinging 'like a pendulum do'. I guess twenty-five years of practice is paying off."
The disc includes such Isaak fan favorites as "Graduation Day," "San Francisco Days," "Two Hearts," "Western Stars," the mock-ominous "Baby Did a Bad, Bad Thing," the propulsive rocker "Lonely With a Broken Heart," and, of course, the sensually languid "Wicked Game" — a song that helped launched Isaak to stardom in 1990 when David Lynch used it in "Wild at Heart."
But "Live at the Fillmore" also showcases the deadpan, self-deprecating humor that has has typically been evident in Chris Isaak interviews, and on the two TV shows he's done over the years — "The Chris Isaak Show" sitcom in the early '00s, and "The Chris Isaak Hour," a music-interview show that aired in '09.
At one point on the live disc, he launches into what at first sounds like it's going to be an earnest plea about how bootlegging takes money out of the artist's pocket. But then he turns the notion on its head by concluding with: "These next couple of songs aren't even out yet, so we ask that, if someone is bootlegging, just out of respect, please….Don't miss these songs — they're good ones."
And when introducing "Western Stars," he mentions that he wrote it, then adds that "everyone thinks k.d. lang" penned the song. (Lang covered it back in 1988). "She sang the hell out of it, but I just wanna to give it an attempt, okay?"
The obvious references points for Isaak's music are Elvis Presley and Roy Orbison, and Isaak has continued deliver a seductive sound that's essentially a hybrid of reverb-heavy, '50s-era Sun Records rockabilly (ala Elvis and his contemporaries), and the swooning melancholy of Roy Orbison's classic, '60s-era roots-pop. Some of his most ear-tugging songs have been bathed in echoey guitar atmospherics, perfectly suiting his silky croon — which, in fact, has drawn comparisons over the years to Orbison's velvety pipes and soaring vocal crescendos.
"I grew up with parents that had a stack of 78's and albums that covered the waterfront — Leadbelly, Dinah Washington, Elvis, Jerry Lee...," said Isaak, describing the origin of his fondness for rootsy styles. "My mom used to let me look through the used records while she shopped, and we always bought our things at the secondhand store. I guess we were broke, but really it was a lot of fun, because I got to buy a stack of cool records for fifty cents.
"I had a beat-up record player that I (bought) used, and I would take a stack of records home and listen to them all," continued Isaak, reminiscing. "I think I always went for things that were pretty-sounding and had that swing.
PREVIEW
Who: Popular singer / songwriter / bandleader who favors rootsy styles and often sings in a silky, seductive croon. With Marc Broussard.
What: A hybrid of '50s-era Sun Studios rockabilly and the swooning melancholy of Roy Orbison's classic, '60s-era roots-pop.
Where: Hill Auditorium, 825 North University.
When: 8 p.m. Friday.
How much: $65, $55, $45, $35, $25 Available online from Tickets.com, by phone at 734-764-2538 or in person at the Michigan League Ticket Office, 911 North University Avenue.
"I still look for that, even in current artists. People like Nicole Atkins or James Hunter are playing new music that they write, but they still have that swing, and the great voice. I think the thing that I love on a record isn't just a 'sound' — it can have an echo, or be dry, simple or complex, but I have to believe the singer — and I gotta love the melody. If you have that, you won't waste anybody's time!"
Isaak's latest studio album of all-new songs, "Mr. Lucky," released in '09, was also his first studio disc in seven years. It was a song cycle of sorts about the "good luck we earn and the bad luck we just can't seem to shake," as the album was described in a press release at the time. It also included a couple of sighing vocal duets with Trisha Yearwood and Michelle Branch.
The album had its share of moody, brooding songs about good love gone bad, which Isaak delivered in his patented yearning style. But is also included some upbeat tracks, like the title song and "Big Wide Wonderful World."
Isaak says his approach to songwriting has always been a simple one. "I sit down and start singing and I try to remember the good stuff," he says. "When I was about 13, my friends were all buying footballs or basketballs, and I bought a cassette recorder. I remember them looking at me like I was nuts, like, 'What are you gonna do with that?'
"And I remember thinking, 'I can write songs with this thing!' To me, that was, in the poetic lingo of our vice president (Joe Biden), 'A big ----ing deal!' I still have that same tape recorder, and I still have all the tapes of me making up songs way back then.
"I have them well hidden, though," quipped Isaak, "so they can't be used as a threat to civilization as we know it."