Posted on
Tue, Sep 21, 2010 : 5:31 a.m.
Nationally known Manchester artist Chris Roberts-Antieau's life, art captured on film
By Jennifer Eberbach
Photo courtesy Chris Roberts-Antieau
Nationally known, self-taught Manchester artist Chris Roberts-Antieau thought "it was strange to have a camera following me around," while her "Chief Visionary Officer" Angela Kline filmed her for an upcoming documentary, "The Life of Chris Roberts-Antieau: A Love Letter to Tom Waits."
Chris Roberts-Antieau is best-known for her "fabric paintings," which usually find humor in everyday life, pop culture, animals, and people. Starting from scratch as a self-taught artist and sewer, she has built a remarkable career and accrued numerous famous fans and collectors. Her crowning achievements include a piece hung in the White House during the George W. Bush years, and she has been featured in O, The Oprah Magazine and fashion magazine Nylon.
The artist has a studio in downtown Manchester, there since 2002, which frames and ships off her work to collectors. She opened a new art gallery in New Orleans this spring, called The Antieau Gallery. Right now, the gallery is selling her artworks and art by three other artists — "John Whipple, who does amazing drawing, paintings, and found object sculpture, Jason Hauschen, who does wood burning on taxidermy forms that are incredible, and Bryan Cunningham, who does very hip, edgy mixed media paintings," according to Roberts-Antieau.
The film is due to be ready by December, and premiere screenings are planned to happen at Baltimore's American Visionary Art Museum and a to-be-determined location in Michigan. (There is an option to pre-order the film now.)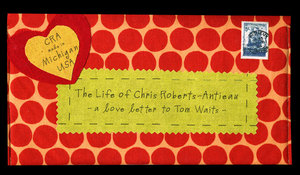 Image courtesy of Chris Roberts-Antieau
Kline, who has worked for the artist for the past five years, is finishing post-production work on the three-DVD documentary and bonus features, which includes the feature-length film; a "visual soundtrack" CD/DVD featuring every single one of Roberts-Antieau's artworks set to songs featured in the film; a demonstration of the artist creating an artwork with step-by-step instructions; and funny outtakes from the film. Everything is wrapped in eco-friendly fabric packaging, designed to look like a love letter, sewn by artists at the Chris Roberts-Antieau Studio in Manchester.
The documentary traces the story of Roberts-Antieau's life and art via interviews with the artist, video capturing "real-time moments that follow her normal, wacky routine," and explanations about "what inspires particular artworks," Kline explains.
"We are speaking chronologically, but intermixed with that are interviews with people who collect her art, like Ben Folds; Joe Henry; Kathy Kinney; Billy Shire — who is the guy who started showing 'outsider art' in L.A.;" as well as "The Simpsons" artist Julius Preite; Mark Dimunation of the Library of Congress; founding director of the American Visionary Art Museum Rebecca Hoffberger; Steven Kerr, who is on the board of the Ann Arbor Street Art Fair; and some of her friends, peers, and other artists," she reports.
"As I run her business, I'm asked all the time, 'Who is she? What is she like?' The big question is always, 'How did she think of that?' Every time someone orders a piece, they ask those types of questions, so I thought, why not answer them in a film?" Kline says. Her film production company, Brookbank Productions, "started as a jumping-off point for this project, because I love the idea of helping artists really reach their goals — from PR to creating a document of their work in a digital media that people can use easily. They can pop in a DVD and in an hour they can learn all about this artist," she says.
Image courtesy of Chris Roberts-Antieau
Kline thinks "the one thing about Chris is that she is always joy-based. She's very humorous and fun with a lot of universal themes." She hopes the film will "draw people into her world and way she thinks. You can't really separate her art from her life too much," she says.
"I'm an incurable optimist, also a little dark, and I really think most things are funny. I see the humor in things before I see anything else," Roberts-Antieau says of her perspective. "As long as society keeps making materials for me, things like Siegfried & Roy and the attack, or deciding that Pluto is no longer a planet, I will have art to make. I love the absurdity and the mediocrity of pop culture. I also love the spiritual journey that I'm on and love to be able to capture those things in my work," she explains.
The title of the documentary is inspired by the fact that "Chris creates her work to music and she creates it to Tom Waits 99 percent of the time. I feel like her pieces are a lot of the time these love letters to him," Kline explains.
Over a dozen of Roberts-Antieau's artworks will be featured in "What Makes Us Smile?" an exhibition co-curated by "The Simpsons" creator Matt Groening, Gary Panter, a famous painter and comic book artist who designed the set of "Pee Wee's Playhouse," and American Visionary Art Museum's founding director Rebecca Hoffberger. The exhibition will run from October 9-September 4, 2011 in Baltimore at the American Visionary Art Museum.
Hoffberger, who contributed an interview to Kline's film, says Roberts-Antieau "thinks 'funny' and like all geniuses gets the odd connections between seemingly very different things." The curator decided to include a large number of her artworks in the "What Makes Us Smile?" exhibition because "I was looking to (include the theme of) laughter and sense of humor in animals. Providentially she had just done several new pieces with monkey themes, including one on the weird true story of 'Humanzee'" Artworks picturing monkeys, dogs and other creatures will make people smile at the exhibition.
Roberts-Antieau will participate in the American Craft Council's Baltimore show in February, as usual. She has been showing her work there for over two decades. She has also exhibited at the Ann Arbor Art Fairs regularly.
Jennifer Eberbach is a free-lance writer who covers art for AnnArbor.com.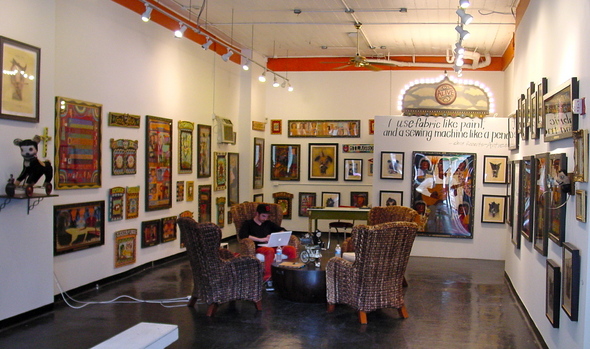 Photo courtesy of Chris Roberts-Antieau