Posted on
Sat, Sep 3, 2011 : 4:59 a.m.
Chris Thile talks about traditional bluegrass project with Michael Daves, upcoming date at The Ark
By Kevin Ransom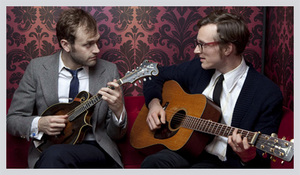 Chris Thile
is only 30, but he's been knocking the bluegrass / newgrass / new-acoustic world on its butt for more than 15 years now. He began his recording career as the mandolin prodigy who released his first album in 1994 at age 13.
A few more solo discs followed, concurrent with his work with Nickel Creek, who later attained mega-crossover success with their synergy of bluegrass, pop, rock and jazz.
As he made his way through his teens and early 20s, Thile began to stretch out into more adventurous directions, with more musically ambitious solo albums, and some even more challenging work with the Punch Brothers—a crack ensemble of fellow prodigies who incorporate jazz and classical music into their own particular hybrid.
But, the last five years or so, while he was following these more ambitious paths, he was still staying in touch with his roots by getting together with his friend and guitarist Michael Daves to play bluegrass jams at the Baggot Inn in New York City, where Thile relocated in 2005 after his divorce.
Sometimes, those gigs happened a couple of times a month, but when Thile was on the road, it was much less often. But those jams always generated a lot of buzz among the NY bluegrass faithful, and people kept telling them they should make a record.
And when one of those people was Bob Hurwitz, president of Nonesuch Records (the Punch Brothers' label), the idea took off and became a reality.
"At first, I thought, 'Well, what should we do?'," says Thile, who comes to The Ark with Daves on Thursday. "I wasn't sure what kind of material we needed to come up with, and Bob just said, 'Why don't you just do the songs you've been playing live in the club?'
PREVIEW
Chris Thile and Michael Daves
Who: Thile, a mandolin prodigy who attained crossover success with Nickel Creek and has made more cerebral music with Punch Brothers, teams up with guitarist Davies, a member of Tony Trischka's band.
What: Fleet-fingered picking and high-energy intensity applied to songs by iconic bluegrass acts.
Where: The Ark, 316 South Main Street.
When: 8 p.m. Thursday.
How much: $25. Tickets available from The Ark box office (with no service charge); Michigan Union Ticket Office, 530 South State Street; Herb David Guitar Studio, 302 East Liberty Street.
"That seemed like a good idea, so we made a list of all of the great old traditional fiddle tunes we enjoyed, and recorded 23 of them in four days." Due to space considerations, only 16 made the album, which is titled 'Sleep With One Eye Open."
"It was so much fun, and a very different record-making process than I had grown accustomed to the previous several years. It was a lot more spontaneous—just a great chronicling of the fun Michael and I have when we play together," says Thile by phone from a tour stop in Connecticut.
On the disc, Thile and Daves lend their unerring musicality to many tunes that were either written by, or made popular by, such iconic bluegrass acts as Flatt & Scruggs, Bill Monroe, The Carter Family and The Louvin Brothers (including many traditional tunes)— like "Tennessee Blues," "Roll' in My Sweet Baby's Arms," and "Bury Me Beneath the Willow."
"Playing these traditional songs again was like looking at an old picture of yourself and relating to some aspects of it more strongly than you would to a photo taken just an hour ago," says Thile. "Sometimes, those of us who value the idea of developing our music, and our talents, are going to progress, but some of that movement can be lateral.
"So, we end up leaving some things behind that we didn't intend to," adds Thile, referring to the move away from traditional music and into the newgrass style that also incorporates jazz and classical elements.
"So, playing this stuff with Michael was really cool, partly because I still love this music, but also because it helped me rediscover a very visceral connection to music that maybe I hadn't been feeling with my other projects —like, for example, the music I was making with the Punch Brothers, which has skewed more toward the cerebral."
And this return-to-roots move is having an impact on those other projects, says Thile: "It's really changed my approach to those other projects ... The Punch Brothers are making a new record right now, and the music is definitely more 'connected to the body' than the last one was."
And given that he's been living in NY for several years now, and that Daves also is a New Yorker, "we also wanted these songs to capture some of that Lower East Side punk energy." (The Baggot Club is on the Lower East Side.) And these tunes are definitely not lacking for energy. Thile and Daves play some of them at breakneck tempos, or with unusual intensity.
"Part of that is just because of where we'd been playing, and the kind of energy that neighborhood gives off," explains Thile. "But the punk guys also tap into something that the original bluegrass guys tapped into—I'm sure that the first audiences who heard bluegrass music were blown away not just by the songs, and how great the players were, but also by how totally bad-ass it was at the time.
"I think it's our job as musicians to sometimes help introduce audiences to something they're not already familiar with—to throw them a rope that leads them to new things."
Of course, that's what newgrass pioneers like David Grisman and Tony Rice first started doing in the 1970s.
"Exactly," says Thile. "When those guys succeed most remarkably was when they were able to embody the essence of a song, or its textual aesthetic, boil it down to its essence, and then comment meaningfully on it—and in the process, create something that was equally as interesting."
Kevin Ransom, a free-lance writer who covers music for AnnArbor.com, can be reached at KevinRansom10@aol.com.