Posted on
Sun, Sep 4, 2011 : 5:06 a.m.
Chrisstina Hamilton helps to bring the brightest minds to A2
By Martin Bandyke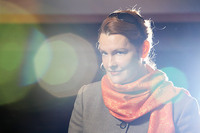 Lectures can be fun, thought-provoking and stimulating—trust me! Such is the case with the deeply eclectic and creatively programmed Penny W. Stamps Speaker Series, which begins its fall season on Thursday, Sept. 15 at the Michigan Theater.
Bringing together cutting-edge artists, designers, writers, filmmakers and other creative types to the Michigan for a series of free talks, the Stamps Series begins handily enough at 5:10 p.m., just after the end of a typical work day.
Chrisstina Hamilton has been director of the Penny Stamps series since July 2005, responsible for booking a truly impressive number of deep thinkers to the Michigan Theater, all eager to share their expertise and get your brain churning. Indiana native Hamilton is no stranger to the Ann Arbor cultural scene, having been the director of the Ann Arbor Film Festival before helming the Penny Stamps series.
Q: So who is Penny Stamps and how did this lecture series get started?
Chrisstina Hamilton: Penny Stamps is a woman who is an alumna of the School of Art and Design at U of M. She wanted to give back to the university and create some kind of opportunity for students at the School of Art and Design to have access to and interactions with artists in the field, designers in the field, real practitioners who are professionals out working and making their living as artists and designers, rather than just in academia or in school. The series developed from that idea and when it originally started it was just happening within the school. But now we've taken it downtown and opened it up to the whole community. It initially focused on artists and designers, but since then the series has opened up to be more broad-based. We bring in creative and progressive people who transcend traditions—creative innovators, visionaries, movers and shakers.
Q: Can you name a few of the biggest names who have previously appeared at the Penny Stamps Series?
C.H.: Certainly in terms of household names, Michael Moore and Temple Grandin were two of the biggest. Laurie Anderson, Bill T. Jones and Marina Abramovic have all been here as well.
Q: Cory Doctorow, Mark Stevenson and James King kick off the new Penny Stamps season on Thursday, Sept. 15. Can you give us some background about this trio?
C.H.: They call themselves futurologists because they are looking at what the possibilities of technology are; what are the positive and negative outcomes of technology. Cory, probably the best known of the three, is a science-fiction writer and an activist in the world of keeping the internet as a free space. He's been very vocal on issues on copyright as it pertains to freedom of information. James King is a speculative designer looking at bio-technology, and Mark Stevenson—originally a stand-up comedian—has just written a book where he refutes doomsayers and gives us hope about the future. It should be an interesting and fun mix.
Q: I am particularly fascinated about the upcoming lecture by scent expert Sissel Tolaas, who's appearing on October 20. Can you give us more info on her?
C.H. I'm fascinated be her too! She works for the perfume industry, but she's the mad genius on the very experimental edge of perfume and scent making. She is working on what we would think of as the opposite of perfume; she is trying to bottle human scents that we emit based on our emotional states. So for example, she's working on—and I think she's accomplished this now—trying to bottle the sense of fear. She's doing some wild and cutting-edge stuff.
Q.: Do you take suggestions for upcoming guests at Penny Stamps?
C.H.: Anyone can nominate a speaker for the series. We want that kind of public engagement for the series, and nominations can be made on line at our website (art-design.umich.edu/stamps/nominate). We really want the series to be a platform for social dialogue across community and cultural boundaries, on both a university, local and regional scale. A lot of people have made it their date night, as they meet up at the theater and then go to dinner after the lecture. It is typically 6:30 p.m. on a Thursday evening when they exit the theater, a perfect time for a diner out and they already have a topic of conversation for the dinner table.
The Penny W. Stamps Speaker Series runs most Thursdays from Sept. 15 through Dec 8 at the Michigan Theater. Start time is 5:10 p.m., admission is free, and the full schedule is available at art-design.umich.edu/stamps or michtheater.org.
Martin Bandyke is the 6-10am morning host at Ann Arbor's 107one. Follow him at martinbandyke.com or on Twitter.