Posted on
Thu, Apr 11, 2013 : 5:47 a.m.
Acclaimed art films, Jackie Robinson story '42,' and more at the movies this week
By Russ Collins
A new crop of well-reviewed films opens this week in Ann Arbor. All who read film criticism and appreciate the cinema reviewer's craft were saddened last week with the passing of Roger Ebert. This great writer, reviewer and passionate film lover will be missed by all movie mavens with an opinion and thumbs. Thank you, Roger, rest in peace.
Opening downtown
In "Trance," Simon (James McAvoy), a fine art auctioneer, teams up with a criminal gang to steal a Goya painting worth millions of dollars. But after suffering a blow to the head during the heist, he awakens to discover he has no memory of where he hid the painting. When physical threats and torture fail to produce answers, the gang's leader Frank (Vincent Cassel) hires hypnotherapist Elizabeth (Rosario Dawson) to delve into Simon's psyche. As Elizabeth begins to unravel Simon's broken subconscious, the lines between truth, suggestion, and deceit begin to blur. Peter Travers of Rolling Stone Magazine says director "Danny Boyle's trippy, 'Inception'-like thriller is a hypnotic head trip that demands you trust no one." "Trance" opens Friday at the State Theatre.
"A Place Beyond the Pines" explores the consequences of motorcycle rider Luke's (Academy Award nominee Ryan Gosling) fateful decision to commit a crime to support his child. The incident renders him targeted by a policeman (Golden Globe Award nominee Bradley Cooper), and the two men become locked on a tense collision course which will have a devastating impact on both of their families in the years following. Andrew O'Hehir of Salon.com says, "The movie looks great throughout, blending action, urban drama and family melodrama with a dark, thrumming undertone that holds them together." "A Place Beyond the Pines" opens Friday at the State Theatre.
Inspired by a true story, "The Sapphires" follows four vivacious, young and talented Aboriginal girls from a remote town in Australia as they learn about love, friendship and war when their girl group The Sapphires entertains the U.S. troops in Vietnam in 1968. The group sings in a style modeled on the Motown sound (think Supremes). They are discovered by a good-humored talent scout with a kind heart, very little rhythm but a great knowledge of soul music. Megan Lehmann of the Hollywood Reporter says, "A jewel-bright charmer about four spunky indigenous women whose powerhouse voices catapulted them onto the 60s-era world stage as Australia's answer to the Supremes." "The Sapphires" opens Friday at the Michigan Theater.
"Caesar Must Die" deftly melds narrative and documentary in a transcendently powerful drama-within-a-drama. The film was made in Rome's Rebibbia Prison, where the inmates are preparing to stage Shakespeare's Julius Caesar. After a competitive casting process, the roles are eventually allocated, and the prisoners begin exploring the text, finding in its tale of fraternity, power and betrayal parallels to their own lives and stories. Hardened criminals, many with links to organized crime, these actors find great motivation in performing the play. Tom Long of the Detroit News says, "There's an intensity and emotional accuracy to the performances that's just stunning." "Caesar Must Die" opens Monday at the Michigan Theater.
Opening at the multiplex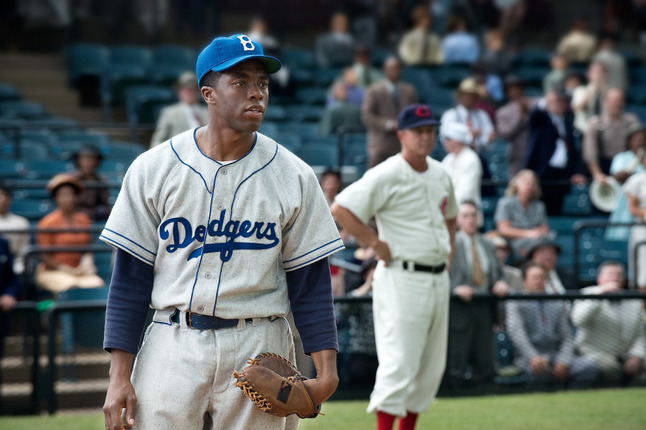 "42"
tells the story of two men—the great Jackie Robinson and legendary Brooklyn Dodgers GM (and University of Michigan alumnus) Branch Rickey—whose brave stand against prejudice forever changed the world by changing the game of baseball. In 1946, Rickey (Harrison Ford) put himself at the forefront of history when he signed Robinson (Chadwick Boseman) to the team, breaking Major League Baseball's infamous color line. But the deal also put both Robinson and Rickey in the firing line of the public, the press and even other players. Facing unabashed racism from every side, Robinson was forced to demonstrate tremendous courage and restraint by not reacting in kind, knowing that any incident could destroy his and Rickey's hopes. "42"opens Friday.
"Scary Movie 5," the latest installment of the Scary Movie franchise, includes send ups of "Paranormal Activity," "The Evil Dead," "Inception," "Black Swan" and other notable pop culture moments featuring Ashley Tisdale, Charlie Sheen, Lindsay Lohan, Snoop Lion (formerly Dogg), Katt Williams, Mike Tyson and more. "Scary Movie 5" opens Friday.
Special screenings downtown
M-agination Films is a student-run film production group at the University of Michigan in which students are responsible for writing, directing, camera work, editing, and everything in between. See the fruits of the labor tonight at 8 p.m. at the Michigan Theater.
In "The Last Mimzy," two siblings begin to develop special talents after they find a mysterious box of toys. "The Last Mimzy" directed by New Line founder, Detroit native and U of M alumnus Bob Shaye concludes our New Line and New Hollywood series on Monday, April 15 at 7 p.m.
Russ Collins is executive director of the Michigan Theater in Ann Arbor. Tune in to the audio version of "Cinema Chat" on WEMU radio (89.1-FM) each Thursday at 7:40 a.m. and 5:40 p.m., or listen to it online at WEMU's web site.