Posted on
Thu, Apr 19, 2012 : 5:35 a.m.
A new film festival announced, 'Bully' opens, midnight 'Ghostbusters,' and more
By Russ Collins
Win free movie tickets

Editor's note: Comment on today's "Cinema Chat" for a chance to win free movie tickets to the Michigan Theater. Some time between now and 9 a.m. Monday, leave a comment on this column, written by the Michigan Theater's Russ Collins. Offer your opinion on a recent movie you've seen, or on anything Russ mentions. A winner will be randomly selected, and we'll notify that person via the email address they signed up with. They will get two passes to a movie of their choice, courtesy of The Michigan Theater. Full rules here.

Cinetopia: Starting a big-time film festival in Ann Arbor

This past Monday, the Michigan Theater announced that it will present the first Cinetopia International Film Festival, May 31-June 3. The program will feature documentary, foreign and American independent cinema culled from Sundance, Berlin, Toronto, Cannes and other excellent international and regional film festivals. AT&T signing on as the presenting sponsor allowed the Michigan Theater to begin this long-contemplated festival, designed to bring the cream of the crop of recent film festivals to Southeast Michigan.

Cinetopia will focus on presenting feature length, story-based films - dramas, comedies and documentary films that have screened at the world's best film festivals featuring performances by Emily Blunt, Geoffrey Rush, Blythe Danner, Sacha Baron Cohen, Barbara Streisand, Ben Kingsley, Warren Beatty, Mark Duplass, Jess Weixler and many more.

Special programs will explore 60 years of 3-D films and 3-D film technology, celebrate the work of UM screenwriting grad David Newman ("Bonnie & Clyde," "What's Up Doc" and "Superman") and the silent film comedy of Harold Lloyd. But mostly, the more than 30 films, screened over four days, will be the brightest and the best of contemporary films now playing the international festival circuit. Films will be screened in the Michigan Theater's historic auditorium, the State Theater and the University of Michigan's Angell Hall. Tickets and discount ticket packages will go on sale in early May. For more information go to www.michtheater.org/cinetopia.

Opening downtown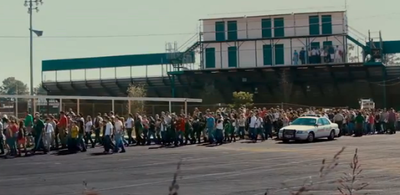 "Bully,"
directed by Sundance and Emmy-award winning filmmaker
Lee Hirsch
, follows "a year in the life" of America's bullying crisis. "Bully" examines the dire consequences of bullying through the testimony of strong and courageous youth. Through the power of their stories, the film aims to be a catalyst for change in the way we deal with bullying as parents, teachers, children and society as a whole. Peter Travers of Rolling Stone says, "The best social documents on film do more than show you what's wrong in the world - they make it personal. 'Bully' does that with a passion." "Bully" opens exclusively at the State Theatre on Friday.
"Jiro Dreams of Sushi"
is the story of 85-year-old
Jiro Ono
, considered by many to be the world's greatest sushi chef. He is the proprietor of Sukiyabashi Jiro, a 10-seat, sushi-only restaurant inauspiciously located in a Tokyo subway station. Despite its humble appearances, it is the first restaurant of its kind to be awarded a prestigious 3-star Michelin review. Kenneth Turan of the Los Angeles Times says, "'Jiro Dreams of Sushi' is as elegant and tasty as the splendid sushi prepared by the man in the title, and that is saying a lot." "Jiro Dreams of Sushi" opens Sunday, April 22 at the Michigan Theater.
Opening at the multiplex
In
"Chimpanzee,"
Disneynature takes moviegoers deep into the forests of Africa with for a new true life adventure introducing an adorable baby chimp named Oscar and his entertaining approach to life in a remarkable story of family bonds and individual triumph. "Chimpanzee" opens Friday.
"The Lucky One"
tells the story of U.S. Marine Sergeant Logan Thibault (
Zac Efron
) as he returns from his third tour of duty in Iraq, with the one thing he credits with keeping him alive—a photograph he found of a woman he doesn't even know. "The Lucky One" opens Friday.
Based on Steve Harvey's best-selling book,
"Think Like a Man"
follows four interconnected and diverse men whose love lives are shaken up after the ladies they are pursuing buy Harvey's book and start taking his advice to heart. "Think Like a Man" opens Friday.
Special screenings downtown
"The 5 Year Engagement,"
staring
Emily Blunt
and
Jason Segel
, comes to the Michigan Theater Friday, April 20 at 7:30 p.m. for a special benefit screening for 826michigan, a nonprofit organization serving students ages 6-18 in Washtenaw County with free creative writing workshops and after-school tutoring. There will be a post-screening Q&A session with writer/director
Nicholas Stoller
and producer
Rodney Rothman
. Tickets are available at
brownpapertickets.com
.
In
"Ghostbusters,"
Bill Murray, Dan Aykroyd, Harold Ramis
and
Ernie Hudson
star as a quartet of Manhattan-based "paranormal investigators." Their paranormal talents are challenged when Babylonian demons are "channelled" through a beautiful cellist, played by
Sigourney Weaver
, and a nerd, played by
Rick Moranis
. "Ghostbusters" plays Saturday, April 21 at 11:59 p.m. and tickets are only $6!
"Charlotte's Web,"
based on E.B. White's classic tale, stars Dakota Fanning as the young farm girl who rescues Wilbur the pig. "Charlotte's Web" plays Sunday, April 22 at the Michigan Theater and is part of the Benard L. Maas Foundation Family-Friendly Film Series, so kids 12 and under are free!
Martin Bandyke's Moving Picture series continues with the first concert film of the rock and roll era,
"Monterey Pop,"
an invaluable record of some of the major musical figures of the late 1960s. "Monterey Pop" plays Monday, April 23 at 7 p.m.
See you at the movies!
Russ Collins is executive director of the Michigan Theater in Ann Arbor. Tune in to the audio version of "Cinema Chat" on WEMU radio (89.1-FM) each Thursday at 7:40 a.m. and 5:40 p.m., or listen to it online at WEMU's web site.