Posted on
Thu, Apr 22, 2010 : 5:37 a.m.
"Oceans," "Losers," Jewish Film Festival and more
By Russ Collins
Win free movie tickets
Editor's note: Comment on today's "Cinema Chat" for a chance to win free movie tickets to the Michigan Theater. Some time between now and 6 a.m. Wednesday, leave a comment on this column, written by the Michigan Theater's Russ Collins. Offer your opinion on a recent movie you've seen, or on anything Russ mentions. We'll randomly select a winner and notify that person via the email address they signed up with. They will get two passes to a movie of their choice.
You can celebrate Earth Day, tonight, at your local multiplex with the release of DisneyNature's "Oceans." Directors Jacques Perrin and Jacques Cluzaud ("Winged Migration") dive deep into the very waters that sustain all of mankind — exploring the harsh reality and the amazing creatures that live within. "Oceans" is narrated by Pierce Brosnan and features never-before-seen imagery captured by the latest underwater technologies.
"The Girl With the Dragon Tattoo" is the hottest movie ticket in Ann Arbor right now! It is playing exclusively at the Michigan Theater and both audiences and critics are raving. "Everyone has secrets in 'The Girl With the Dragon Tattoo,' a mind-bending and mesmerizing thriller that takes its time unlocking one mystery only to uncover another, all to chilling and immensely satisfying effect," says the Los Angeles Times. "If you ignore 'The Girl With the Dragon Tattoo' (from the global bestseller by the late Stieg Larsson) because it's in Swedish with English subtitles, you probably deserve the remake Hollywood will surely screw up," adds Rolling Stone.
"Kit Kittredge: An American Girl Movie"
will have 1 screening,
Sunday, April 25 at 1:30 p.m.
, at the Michigan Theater, and children 12 and under are free. With a star-studded cast that includes
Julia Ormond
and
Stanley Tucci
, this Depression-era drama follows aspiring young journalist Kit Kittredge (
Abigail Breslin
), whose ingenuity and courage help save her family's house.
"The Losers"
is about a CIA black ops team who is betrayed and left for dead on a mission in the Bolivian jungle. The team emerges from the jungle to root out those who targeted them for assassination. This film is based on the comic book series by
Andy Diggle
, 1 of the most treasured contemporary sci-fi graphic novel writers. There are no early reviews for this film, which opens Friday
at your local multiplex
.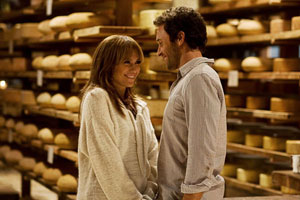 "The Back-up Plan," starring Jennifer Lopez and Alex O'Loughlin, is about a single gal who meets her potential husband on the day of her artificial insemination appointment. The critics are split on this rom-com. "This tepid romantic comedy falls somewhere between a weak sitcom pilot and a 2nd-tier Hallmark movie," says Variety. "A winning performance by Jennifer Lopez overcomes a formulaic and predictable rom-com that involves a planned pregnancy," writes The Hollywood Reporter. Opening Friday at a multiplex near you.

Another great film festival

Starting at 8 p.m. Sunday, with the very appealing film "A Matter of Size" the Ann Arbor Jewish Film Festival begins! "A Matter of Size" is the story of Herzl, an overweight chef demoted to dishwasher at a Japanese restaurant, who discovers the fine art of Sumo wrestling. In order to become the 1st Jewish Sumo wrestler, Herzl will recruit 3 hefty friends to help him achieve his goal. The result is a touching, sweet, relatable and hilarious story of love and acceptance. "A Matter of Size" and all films screened as part of this festival will take place at the Michigan Theater.

This annual film festival celebrates great films and the impact and influence of Jewish culture on contemporary films and filmmakers. It provides a sense of community and inclusion for all movie lovers and features many great films. Monday through Thursday screenings are at 1:30, 5 and 8 p.m. For more information about the Jewish Film Festival, check out the AnnArbor.com preview story.
Highlights from this the 9th annual festival include:

"City of Borders" a documentary on the daily lives of 5 Israelis and Palestinians at Jerusalem's only gay bar. This film examines the interwoven stories and reveals the contradictions and complexity of the struggle for acceptance; screening Monday, April 26, 1:30.

Filmmaker Emily Kunstler will be present for the screening of "Disturbing the Universe," a personal documentary about her father, activist attorney William Kunstler. Kunstler's high-profile cases included Martin Luther King Jr., and the Chicago 8 activists. It was an official selection of the 2009 Sundance Film Festival; screening Wednesday, April 28 at 5 p.m.

At 8 p.m., Wednesday "The Brothers Warner" is a documentary portrait and Hollywood saga about the 4 film pioneers brothers who founded and ran the Warner Bros. studio for over 50 years.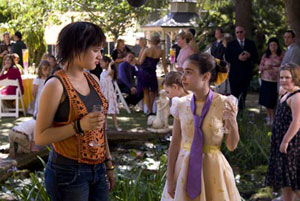 "Hey! Hey! It's Esther Blueburger" wraps up the festival on Thursday, April 29 at 8 p.m. Starring Toni Collette and Keisha Castle-Hughes, this charming film is a coming-of-age tale that all women can relate to. Searching to find herself, Esther leaves her Bat Mitzvah celebration and runs into Sunni, the cool girl. Opposites attract and the girls quickly become friends and each girl finds strength within themselves. This film is an art-house hit nationwide. See you at the movies!
Russ Collins is executive director of the Michigan Theater in Ann Arbor. Tune in to the audio version of "Cinema Chat" on WEMU radio (89.1-FM) each Thursday at 7:40 a.m. and 5:40 p.m., or listen to it online at WEMU's web site.