Posted on
Thu, Apr 25, 2013 : 5:51 a.m.
Redford movie with Ann Arbor connection; all-star comedy 'Big Wedding'; and more
By Russ Collins
Redford directs and stars in a film with Ann Arbor roots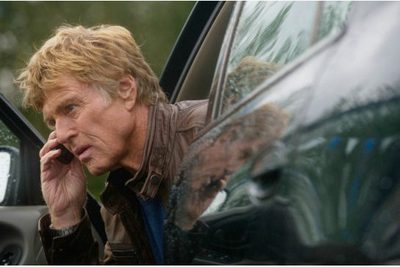 In
"The Company You Keep,"
a former member of the violent 1960s era social protest group the Weather Underground - started in Ann Arbor by University of Michigan faculty and students - goes on the run after a journalist (Shia LaBeouf) outs him in this political thriller based on Neil Gordon's novel.
It is directed by and stars Robert Redford as Nick, a former Weather Underground member, who has lived under an assumed identity for over 30 years. It features a splendid cast of Hollywood veterans who give the story a depth and resonance that transcend the mechanics of the plot: Chris Cooper as Nick's brother Daniel (who looks after Nick's daughter while he's on the run); Nick Nolte as the old friend who runs a timber yard and knows a thing or two; and Richard Jenkins as a history lecturer with connections to old radical friends. Redford is at the center of it all, hardly ever off the screen—rugged, wrinkled, crumpled and copiously golden-haired and believable as the small-town lawyer with an astonishing past. Also starring Susan Sarandon, Brit Marling, Sam Elliott and Stanley Tucci.
David Rooney of the Hollywood Reporter says, "Robert Redford makes a welcome return to double-duty as director and lead actor in this clear-eyed drama." "The Company You Keep" opens Friday exclusively at the Michigan Theater.
Opening downtown
"To the Wonder" tells the story of Marina (Olga Kurylenko) and Neil (Ben Affleck), who meet in France and move to Oklahoma to start a life together, but problems soon arise. While Marina makes the acquaintance of a priest and fellow exile (Javier Bardem), who is struggling with his vocation, Neil renews a relationship with a childhood sweetheart, Jane (Rachel McAdams). Bold and lyrical, the film is a moving, gorgeously shot exploration of love in its many forms. Written and directed by Terrence Malick, "To the Wonder" opens Sunday at the Michigan.
Opening at the cineplex
Based on a true story, "Pain & Gain" follows a group of bodybuilders who engaged in a campaign of kidnapping, extortion and murder in Florida. First told in an article from the "Miami New Times," "Pain and Gain" is directed by Michael Bay and stars Mark Wahlberg and Dwayne "The Rock" Johnson. "Pain & Gain" opens Friday. With an all-star cast led by Robert De Niro, Diane Keaton, Katherine Heigl, and Robin Williams, "The Big Wedding" is an uproarious romantic comedy about a charmingly modern family trying to survive a weekend wedding celebration that has the potential to become a full-blown family fiasco. "The Big Wedding" opens Friday.
Special screenings downtown
In Otto Preminger's "Laura," Detective Mark McPherson investigates the killing of Laura, found dead on her apartment floor. Dave Kehr of the Chicago Reader says, "Less a crime film than a study in levels of obsession, 'Laura' is one of those classic works that leave their subject matter behind and live on the strength of their seductive style." "Laura" plays on Thursday, May 2 at 7 p.m. Shown in honor of the Michigan Theater's hero and organ curator Henry Aldridge, to celebrate his retirement as a professor of media arts studies at Eastern Michigan University.
Cinetopia tickets now on sale
More than 40 of the best feature-length comedies, dramas, and documentaries from the best film festivals around the world will play during this year's Cinetopia International Film Festival presented by AT&T. The full program line-up includes 27 English language films, 16 foreign language films, and 11 documentaries. The festival will take place June 6-9 at three Ann Arbor locations, as well as select screenings at the Detroit Film Theatre in the Detroit Institute of Arts.
Tickets for Cinetopia will go on sale to the general public on April 29. Tickets are $9 for Michigan Theater members and $12 for non-members; weekend festival passes and voucher books are also available. Visit cinetopiafestival.org for full pricing and purchase information.
"Gatsby" will open at the Michigan before Cannes
"The Great Gatsby" is getting a lavish reinterpretation from director Baz Luhrmann, and will open the Cannes Film Festival on May 15. Said Luhrmann, "It is a great honor…to return to a country, place and festival that has always been so close to our hearts, not only because my first film 'Strictly Ballroom' was screened there 21 years ago, but also because F. Scott Fitzgerald wrote some of the most poignant and beautiful passages of his extraordinary novel just a short distance away at a villa outside Saint-Raphael." This opulent version of the glittering story stars Leonardo DiCaprio as the mysterious West Egg millionaire Jay Gatsby, Tobey Maguire as his friend and admirer Nick Carraway, Carey Mulligan as Gatsby's romantic obsession, Daisy Buchanan, and Joel Edgerton as her husband, Tom. It will open at the Michigan Theater on May 10!
See you at the movies!
Russ Collins is executive director of the Michigan Theater in Ann Arbor. Tune in to the audio version of "Cinema Chat" on WEMU radio (89.1-FM) each Thursday at 7:40 a.m. and 5:40 p.m., or listen to it online at WEMU's web site.