Posted on
Thu, Apr 26, 2012 : 5:50 a.m.
Cannes winner, animated pirates, 'The Raven,' midnight 'Scott Pilgrim,' and more at the movies
By Russ Collins
Win free movie tickets

Editor's note: Comment on today's "Cinema Chat" for a chance to win free movie tickets to the Michigan Theater. Some time between now and 9 a.m. Monday, leave a comment on this column, written by the Michigan Theater's Russ Collins. Offer your opinion on a recent movie you've seen, or on anything Russ mentions. A winner will be randomly selected, and we'll notify that person via the email address they signed up with. They will get two passes to a movie of their choice, courtesy of The Michigan Theater. Full rules here.

Opening downtown

"The Kid With A Bike," winner of the Grand Jury Prize at last year's Cannes Film Festival and a Golden Globe nominee for Best Foreign Language Film, delves into the emotional life of troubled 11-year-old Cyril (Thomas Doret). When his father (Jeremie Renier) abandons him, Cyril obsessively searches for his bicycle—placing his last bit of hope in this symbol of their relationship. Almost by accident, he becomes the ward of a kind hairdresser (Cecile de France), who seems surprised to find herself so determined to help him. With his wild, unpredictable behavior and his disastrous search for father figures, Cyril risks losing her—though she refuses to give up without a fight. Peter Debruge of Variety says, "Belgium's Dardenne brothers make movies that remind you the most compelling stories are unfolding right outside your window, rather than in outer space, the distant past or wherever cinema usually takes us." "The Kid With A Bike" opens Friday at the Michigan Theater.

"We Need To Talk About Kevin" is a suspenseful and gripping psychological thriller that explores the factious relationship between a mother and her son. Tilda Swinton, in a bracing tour-de-force performance, plays the mother, Eva, who contends for 15 years with the increasing malevolence of her first-born child, Kevin (Ezra Miller). Based on the best-selling novel of the same name, "We Need to Talk About Kevin" explores nature vs. nurture on a whole new level as Eva's own culpability is measured against Kevin's innate evilness. Kenneth Turan of the Los Angeles Times says, "It's a domestic horror story that literally gets to us where we live, a disturbing tale told with uncompromising emotionality and great skill by filmmaker Lynne Ramsay." "We Need To Talk About Kevin" opens Friday at the Michigan Theater.

Opening at the cineplex

"The Five-Year Engagement," which had an enthusiastically positive benefit screening at the Michigan Theater last week, opens at your local multiplex on Friday. Beginning where most romantic comedies end, the new film from director Nicholas Stoller, producer Judd Apatow ("Knocked Up," "The 40-Year-Old Virgin," "Forgetting Sarah Marshall") and Rodney Rothman ("Get Him to the Greek") looks at what happens when an engaged couple, Jason Segel and Emily Blunt, keeps getting tripped up on the long walk down the aisle. "The Five-Year Engagement" opens Friday.

In "The Pirates! Band of Misfits," Hugh Grant stars in his first animated role as the luxuriantly bearded Pirate Captain—a boundlessly enthusiastic, if somewhat less-than-successful, terror of the High Seas. With a ragtag crew at his side the Captain has one dream: to beat his bitter rivals Black Bellamy (Jeremy Piven) and Cutlass Liz (Salma Hayek) to the much coveted Pirate Of The Year Award. "The Pirates! Band of Misfits" opens Friday.

In "Safe," Luke Wright, a second-rate cage fighter on the mixed martial arts circuit, lives a numbing life of routine beatings and chump change...until the day he blows a rigged fight. Wanting to make an example of him, the Russian Mafia murders his family and banishes him. But when he witnesses a frightened twelve-year-old Chinese girl, Mei, being pursued by the same gangsters who killed his wife, Luke impulsively jumps to action...and straight into the heart of a deadly high-stakes war. "Safe" opens Friday.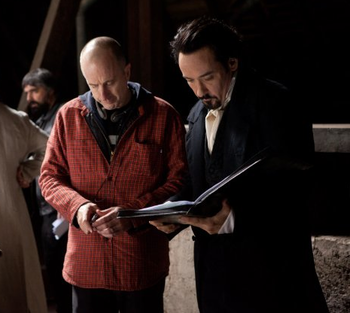 "The Raven"
vividly brings to life—and death—the macabre and lurid tales of Edgar Allan Poe in this stylish, gothic thriller starring
John Cusack
as the infamous author. When a madman begins committing horrific murders inspired by Poe's darkest works, a young Baltimore detective (
Luke Evans
) joins forces with Poe in a quest to get inside the killer's mind in order to stop him from making every one of Poe's brutal stories a blood chilling reality. "The Raven" also stars
Brendan Gleeson
and
Oliver Jackson-Cohen
. "The Raven" opens Friday.
Special screenings downtown
The Jewish Film Festival
is an annual event celebrating film and the impact and influence which Jewish culture has played on current movies and filmmakers of today. Among the films playing this year are
"An Article of Hope,"
which tells the remarkable story of Israel's first astronaut and the journey of a tiny Torah scroll into outer space, which screens on Sunday, April 29 at 2 p.m.; and
"Tony Curtis: Driven By Stardom,"
which explores the man's rebellious demeanor, his struggle as a Jew in Hollywood, his difficult childhood, the brief love affair with Marilyn Monroe and his courageous stance to break the color barrier with "The Defiant Ones" (the film that earned him an Oscar nomination), as well as his entire six-decade career, playing on Tuesday, May 1 at 5 p.m. The Lenore Marwil Jewish Film Festival returns to the Michigan Theater from April 29-May 3.
"Scott Pilgrim vs. the World"
follows the eponymous slacker rocker on his colorful quest to defeat his dream girl's seven evil ex-boyfriends. It plays on Saturday at 11:59 p.m. at the State Theatre.
See you at the movies!
Russ Collins is executive director of the Michigan Theater in Ann Arbor. Tune in to the audio version of "Cinema Chat" on WEMU radio (89.1-FM) each Thursday at 7:40 a.m. and 5:40 p.m., or listen to it online at WEMU's web site.