Posted on
Thu, Apr 29, 2010 : 5:37 a.m.
Another "Girl" at the Michigan, a "Strange" documentary and more
By Russ Collins
Win free movie tickets

Editor's note: Comment on today's "Cinema Chat" for a chance to win free movie tickets to the Michigan Theater. Some time between now and 6 a.m. Wednesday, leave a comment on this column, written by the Michigan Theater's Russ Collins. Offer your opinion on a recent movie you've seen, or on anything Russ mentions. We'll randomly select a winner and notify that person via the email address they signed up with. They will get two passes to a movie of their choice.
On Friday, 4 new films open up this week in our fair city and tonight the Jewish Film Festival wraps up at the Michigan Theater. And maybe, just maybe, President Obama will stop by the Michigan Theater to see "The Girl With the Dragon Tattoo," "The Girl on A Train" or the Door's documentary "When You're Strange" before he heads back to Washington after the U of M graduation ceremony on Saturday!

Next Wednesday, May 5 at 7 there will be a special showing of a Sundance Film Festival feature film "One Too Many Mornings." You will get the full Sundance treatment when you come to the screening at the Michigan Theater because the director, Michael Mohan — as well as writer/producer Anthony Deptula, cinematographer Elisa Christian and featured actress Tina Kapousis — will appear at the screening. "One Too Many Mornings" is about Peter, who has just run away from his girlfriend of 5 years, seeking solace in an estranged friend from high school. It is a coming of age comedy about how running away from your problems frequently means you run smack headfirst into someone else's.
Opening Friday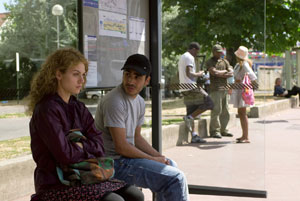 "The Girl On The Train"
is about Jeanne (Emilie Dequenne), who lives in a house in the suburbs of Paris with her mother (Catherine Deneuve). The 2 women get on well together. However, they'll be set on a collision course because of an incredible lie that Jeanne invents, a lie that grows into the biggest news and political story of the day. Kenneth Turan of the
Los Angeles Times
, 1 of my favorite critics,
loved the film
: "Don't expect any kind of neo-documentary examination of cause and effect. That's not filmmaker Andre Techine's style, and this is one of his most successful films." As
did the movie trade paper The Hollywood Reporter
: "The movie is held together...by the fluidity of his style and his characteristic blend of lightness and gravity," and many, many other critics world-wide.
And don't forget about the other girl at the Michigan Theater,
"The Girl with the Dragon Tattoo."
"If you ignore 'The Girl With the Dragon Tattoo' (from the global bestseller by the late Stieg Larsson) because it's in Swedish with English subtitles, you probably deserve the remake Hollywood will surely screw up,"
says Rolling Stone
.
"When You're Strange"
also
opens Friday at the Michigan Theater
. I saw this documentary on The Doors at the Sundance Film Festival this year and liked it! It features historic and previously unseen footage of the illustrious rock quartet. Directed by award-winning writer/director Tom DiCillo, who for many years was Jim Jarmusch's cinematographer, and narrated by Johnny Depp, the film is a riveting account of the band's history. It features long segments from a film made by The Doors' lead singer Jim Morrison, a well-made film he created for a college film class.
"A Nightmare on Elm Street"
might be the most appealing horror remake to date because veteran actor Jackie Earle Haley plays Freddy Krueger. I just hope music video director Samuel Bayer ("Smells Like Teen Spirit") ends up being as talented as former music video auteurs Michel Gondry and Spike Jonze. As you might expect, a disfigured serial killer stalks a group of young people in their dreams, forcing them to remain awake as the only alternative to death.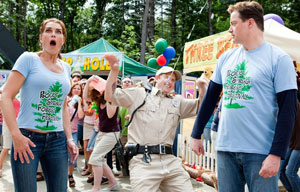 "Furry Vengeance"
is the other film
opening at your local multiplex
and it stars Brendan Fraser and Brooke Shields in a family comedy about a couple with a son who move from the big city so that the husband can supervise the construction of a supposedly "eco-friendly" semi-rural housing development. The family's troubles begin once the local animals discover that the development will destroy their habitat. With his wife and son poised to abandon him, and his construction project in jeopardy, the man (Brendan Fraser) vs. nature (computer-generated cute furry woodland creatures) feud moves to all-out intra-species war — designed to amuse 7-year-olds.
A great film fest wraps tonight
The 9th annual
Lenore Marwil Jewish Film Festival
ends today with the
screening of 3 films
at the Michigan Theater. At 1:30 see
"Hello Goodbye,"
about a successful French doctor and his wife who decide to embrace their Jewish heritage and move to Tel Aviv — starring Fanny Ardant and Gérard Depardieu. At 5:00 another French language film,
"Bon-Papa, A Man Under German Occupation,"
will feature the filmmaker Leïla Férault, whose meditative documentary explores the mystery of her non-Jewish paternal grandfather and the strange family silence surrounding his activity in Vichy, France, during World War II. The festival ends at 8:00 with
"Hey! Hey! It's Esther Blueburger."
This acclaimed coming-of-age film stars Toni Collette and Keisha Castle-Hughes in a charming film anyone who has ever grown up can relate to. See you at the movies!
Russ Collins is executive director of the Michigan Theater in Ann Arbor. Tune in to the audio version of "Cinema Chat" on WEMU radio (89.1-FM) each Thursday at 7:40 a.m. and 5:40 p.m., or listen to it online at WEMU's website.