Posted on
Thu, Apr 4, 2013 : 5:18 a.m.
Tippi Hedren and 'Marnie,' 'On the Road,' new 'Evil Dead,' and more at the movies this week
By Russ Collins
TCM Classic Film Festival-Road to Hollywood comes to Ann Arbor!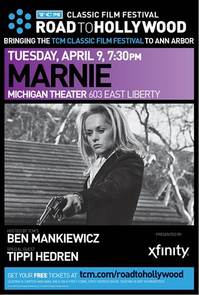 Hollywood icon Tippi Hedren and Turner Classic Movies host Ben Mankiewicz are
coming to the Michigan Theater
for a special screening of Alfred Hitchcock's "Marnie" on Tuesday, April 9 at 7:30 p.m.
"Marnie," filmed in vivid Technicolor, follows compulsive thief Marnie Edgar (Tippi Hedren) and the handsome publisher (Sean Connery) who attempts to illuminate the deep-seated reason for her compulsive larceny. This event is FREE and open to the public, but you'll need a ticket! Head to www.tcm.com/2012/roadtohollywood/details.html?city=8 to get one now!
Opening downtown "The Gatekeepers" takes an insider look at Shin Bet, Israel's secret service. For the first time ever, six former heads of the agency agreed to share their insights and reflect publicly on their decisions. Each man discusses the sum of their successes and failures, which helps to explain the reasons that each man individually and the six as a group came to reconsider their hard-line positions, resulting in all advocating for a conciliatory approach toward their enemies based on a two-state solution. Tom Long of the Detroit News says, "The film and its talking head participants paint the picture in both broad strokes and fine detail." "The Gatekeepers" opens Friday at the State Theatre.
"On the Road" tells the story of Sal Paradise (Sam Riley), a young writer whose life is shaken and ultimately redefined by the arrival of Dean Moriarty (Garrett Hedlund), a free-spirited, fearless, fast-talking Westerner and his girl, Marylou (Kristen Stewart). Traveling cross-country, Sal and Dean venture out on a personal quest for freedom from the conformity and conservatism engulfing them in search of the unknown, themselves, and the pursuit of "it" — the pure essence of experience. "On the Road" opens Friday at the Michigan Theater.
"Koch" looks at Former Mayor Ed Koch, the quintessential New Yorker. Still ferocious, charismatic, and hilariously blunt, the recently deceased Koch ruled New York from 1978 to 1989—a down-and-dirty decade of grit, graffiti, near-bankruptcy and rampant crime. First-time filmmaker Neil Barsky has crafted a revealing portrait of this intensely private man, his legacy as a political titan, and the town he helped transform. "Koch" plays Monday and Wednesday, April 8 and 10, at the Michigan Theater.
In 2010, Stevie Nicks went to work on a new solo album, "Stevie Nicks: In Your Dreams." This music documentary follows Nicks and former Eurythmics mastermind Dave Stewart as they set up shop in her home studio to record their collaborative creative process. "Stevie Nicks: In Your Dreams" plays one night only on Wednesday, April 10.
Opening at the multiplex
Steven Spielberg's phenomenally successful "Jurassic Park" gets an IMAX 3D re-release in time for its 20th Anniversary. Dinosaurs will be leaping off the screen starting Friday.
"Evil Dead," a remake of the 1981 cult-hit horror film, finds five 20-something friends holed up in a remote cabin. When they discover a Book of the Dead, they unwittingly summon up dormant demons, which possess the youngsters in succession until only one is left intact to fight for survival. Joe Leydon of Variety says it's a "rare remake that likely will be enjoyed most by diehard fans of its predecessor." "Evil Dead" opens Friday.
Special screenings downtown
The U-M Nam Center for Korean Studies Korean Cinema Now film series continues with "Masquerade," featuring Lee Byeong-Heon as both the tragic King and that of the commoner who shares a fatefully remarkable resemblance to the ruler. When the King collapses from a mysterious poison, the commoner double must carry off the biggest masquerade of his career to save the country from chaos while under imminent threat. "Masquerade" plays Saturday at 2 p.m. at the Michigan Theater and admission is free!
M-agination Films is a student-run film production group at the University of Michigan in which students are responsible for writing, directing, camera work, editing, and everything in between. See the fruits of the labor on Thursday, April 11 at 8 p.m. at the Michigan Theater.
"The Crow" starring Brandon Lee is this week's Midnight Movie at the State Theatre - Saturday, April 6 at 11:59 p.m. The Banff Mountain Film Festival World Tour will exhilarate you with amazing big-screen stories! Journey to exotic locations, paddle the wildest waters, and climb the highest peaks - be taken away to the most captivating places on earth. The Banff Mountain Film Festival World Tour plays Sunday, April 7 at 7 p.m. at the Michigan Theater.
The New Line and New Hollywood series continues with Gus Van Sant's "Last Days," which draws inspiration from the life and death of Kurt Cobain. "Last Days" plays Monday, April 8 at 7 p.m. at the Michigan Theater.
Russ Collins is executive director of the Michigan Theater in Ann Arbor. Tune in to the audio version of "Cinema Chat" on WEMU radio (89.1-FM) each Thursday at 7:40 a.m. and 5:40 p.m., or listen to it online at WEMU's web site.