Russ collins column
cinema chat:

Meryl Streep in 'Hope Springs,' Will Ferrell in 'The Campaign,' and more at the movies this week

Posted on Thu, Aug 9, 2012 : 5:19 a.m.
Win free movie tickets

Editor's note: Comment on today's "Cinema Chat" for a chance to win free movie tickets to the Michigan Theater. Some time between now and 9 a.m. Monday, leave a comment on this column. Offer your opinion on a recent movie you've seen, or on anything the column mentions. A winner will be randomly selected, and we'll notify that person via the email address they signed up with. They will get two passes to a movie of their choice, courtesy of The Michigan Theater. Full rules here.

Opening at a multiplex near you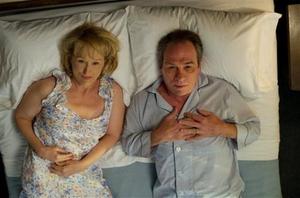 Columbia Pictures

In "Hope Springs," Kay (Meryl Streep) and Arnold (Tommy Lee Jones) are a devoted couple, but decades of marriage have left Kay wanting to spice things up and reconnect with her husband. When she hears of a renowned couples specialist (Steve Carell) in the small town of Great Hope Springs, she attempts to persuade her skeptical husband, a man of steadfast routine, to get on a plane for a week of marriage therapy. Just convincing the stubborn Arnold to go on the retreat is hard enough — the real challenge for both of them comes as they shed their bedroom hangups and try to re-ignite the spark that caused them to fall for each other in the first place. Lisa Schwarzbaum of Entertainment Weekly says, "The movie provides a master lesson in great American character acting, but viewers are also invited to just kick back and enjoy the fun of watching famous, aging movie stars pretend to have difficulties in the sack." "Hope Springs" opened yesterday, so go check it out!

In the "The Bourne Legacy," Jeremy Renner stars as Aaron Cross, a man who, in the wake of Jason Bourne's dismemberment of Operation Blackbriar, is hunted by the CIA when it decides to dispose of their other black ops programs, which includes the termination of their field agents. However, Cross, an agent from Operation Outcome, escapes from being executed. The film also stars Rachel Weisz, Edward Norton, Albert Finney, Joan Allen, and David Strathairn. "The Bourne Legacy" opens Friday.

In the slapstick political comedy "The Campaign," long-serving congressman Cam Brady (Will Ferrell) commits a major public gaffe before an upcoming election, causing a pair of ultra-wealthy CEOs to prop up a rival candidate to gain influence over their North Carolina district. Their candidate, the naïve Marty Huggins (Zach Galifianakis), the director of the local Tourism Center, appears the unlikeliest choice. With the help of his new benefactors' support, a cutthroat campaign manager and his family's political connections, he soon becomes a contender who gives the charismatic Cam plenty to worry about. As Election Day closes in, the two are locked in a dead heat, with insults quickly escalating to injury until all they care about is burying each other. "The Campaign" opens Friday.

Opening downtown

"Ruby Sparks" stars Paul Dano as Calvin, a young novelist who achieved phenomenal success early in his career but is now struggling with his writing—as well as his romantic life. Finally, he makes a breakthrough and creates a character named Ruby who inspires him. When Calvin finds Ruby (Zoe Kazan), in the flesh, sitting on his couch about a week later, he is completely flabbergasted that his words have turned into a living, breathing person. Todd McCarthy of the Hollywood Reporter says, "A beguiling romantic fantasy about the creative process and its potential to quite literally take on a life of its own, 'Ruby Sparks' performs an imaginative high-wire act with finesse and charm." "Ruby Sparks" opens Friday at the State Theatre.

Special screenings downtown

One of the most acclaimed films ever made, "Children of Paradise" is set in the Parisian theatrical world of the 1840s and concerns four men in love with the mysterious Garance (Arletty). Each loves Garance in his own fashion, but only the intentions of sensitive mime-actor Deburau (Jean-Louis Barrault) are entirely honorable. In the stylized fashion of 19th-century French drama, many grand passions are spent during the film's totally absorbing 195 minutes. The film was produced under overwhelmingly difficult circumstances during the Nazi occupation of France, so the movie's existence itself is somewhat miraculous. "Children of Paradise" has gone on to become one of the great romantic classics of international cinema. Presented from a new restoration by Janus films, Kenneth Turan of the LA Times says, "To luxuriate in the film's 3-hour, 10-minute length is to experience this masterpiece as it hasn't been experienced since the day it opened." "Children of Paradise" plays Sunday, August 12 at 1:30 p.m. and Tuesday, August 14 at 7 p.m. at the Michigan Theater.

"The Fifth Element" finds good and evil battling for the future of 23rd century Earth in this visually striking big-budget science fiction epic from Luc Besson. Starring Ian Holm, Milla Jovovich, Gary Oldman and Bruce Willis, "The Fifth Element" plays Saturday at 11:59 p.m. at the State Theatre.

And don't miss these great films soon to slip away as the summer wanes: The hit Sundance and Cannes awards winning film "Beasts of the Southern Wild," Wes Anderson's hit "Moonrise Kingdom," an audience favorite from France "The Intouchables," and Woody Allen's latest "To Rome With Love," all playing downtown where great restaurants and shopping are just steps away (and parking in the summer is a cinch!).

See you at the movies!