Posted on
Wed, Dec 14, 2011 : 8 a.m.
'Being Elmo' doc a must, Von Trier's 'Melancholia,' Reitman's 'Young Adult' and more
By Russ Collins
Win free movie tickets

Editor's note: Comment on today's "Cinema Chat" for a chance to win free movie tickets to the Michigan Theater. Some time between now and 9 a.m. Monday, leave a comment on this column, written by the Michigan Theater's Russ Collins. Offer your opinion on a recent movie you've seen, or on anything Russ mentions. A winner will be randomly selected, and we'll notify that person via the email address they signed up with. They will get two passes to a movie of their choice, courtesy of The Michigan Theater. Full rules here.

Opening Downtown
"Being Elmo: A Puppeteer's Journey" is a film I fell in love with at Sundance this year. You must go and see this film - it is wonderful. It tells the story of Kevin Clash, the voice and puppeteer of Elmo, who dreamed of working with his idol, master puppeteer Jim Henson, while still in grade school. Displaying his creativity and talent at a young age, Kevin ultimately found a home on "Sesame Street." Narrated by Whoopi Goldberg, this documentary includes rare archival footage, interviews with Frank Oz, Cheryl Henson and others, and offers a behind-the-scenes look at "Sesame Street" and the Jim Henson Workshop. The film won the Special Jury Prize: Documentary at the 2011 Sundance Film Festival. "Being Elmo: A Puppeteer's Journey" opens Sunday, December 18 at the Michigan Theater.
"Melancholia," from director Lars von Trier, is an end-of-the-world film unlike anything you've ever seen. Justine (Kirsten Dunst, best actress award winner at Cannes) and Michael (Alexander Skarsgard) are celebrating their marriage at a sumptuous party in the home of her sister (Charlotte Gainsbourg) and brother-in-law (Kiefer Sutherland). Meanwhile, a planet called Melancholia is heading directly towards Earth. J.R. Jones of the Chicago Reader says, "Apocalyptic visions are nothing new in cinema, but they're almost always epic in scale; Von Trier's innovation is to peer down the large end of the telescope, observing the end of the world in painfully intimate terms." "Melancholia" opens Friday at the Michigan Theater.
In "Young Adult," Academy Award-winner Charlize Theron plays Mavis Gary, who returns to her small hometown to relive her glory days and attempt to reclaim her happily married high school sweetheart (Patrick Wilson). She forms an unusual bond with a former classmate (Patton Oswalt) who hasn't quite gotten over high school either. Richard Roeper of the Chicago Sun-Times says, "With 'Juno,' 'Up in the Air' and 'Young Adult,' Jason Reitman has hit three home runs in a row. … Everyone in the cast is excellent here, but it's the gorgeous, mesmerizing, messed-up Charlize Theron who delivers one of the most impressive performances of the year in one of the very best movies of 2011. I give Young Adult an A." "Young Adult" opens Friday at the State Theatre and area multiplexes.
Opening at the Multiplex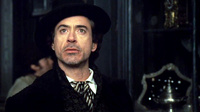 Sherlock Holmes (
Robert Downey Jr.
) has always been the smartest man in the room … until now. In
"Sherlock Holmes: A Game of Shadows"
there is a new criminal mastermind at large-Professor Moriarty (
Jared Harris
)-and not only is he Holmes' intellectual equal, but his capacity for evil, coupled with a complete lack of conscience, may actually give him an advantage over the renowned detective.
Brian Lowry
of Variety says, "While director
Guy Ritchie
's excesses and modern concessions -- among them a lot of explosions -- remain intact, the parts of this second Sherlock Holmes are considerably more rewarding." "Sherlock Holmes: A Game of Shadows" opens Friday.
"Alvin and the Chipmunks: Chipwrecked" finds the vacationing Chipmunks and Chipettes turning a luxury cruise liner into their personal playground, until they become shipwrecked. "Alvin and the Chipmunks: Chipwrecked" opens Friday.
In "Mission: Impossible - Ghost Protocol" Tom Cruise's character and his new team to go rogue in order to clear their organization's name. Brad Bird, best known for his work on "The Incredibles" and "The Iron Giant", directs his first live action film and early buzz suggests that Bird's eye for detail coming from an animation world translates spectacularly to the big screen. "Mission: Impossible - Ghost Protocol" opens in IMAX theaters in the U.S. and Canada on December 16, with general release on Wednesday, December 21.
Special Screenings
"Santa's Cool Holiday Film Festival" comes to Ann Arbor! A retro-rocket flashback to the early '60s that's chock-full of happy Christmas memories including two charming Max Fleischer Technicolor cartoons ("Christmas Comes But Once A Year" and "Rudolph The Red-Nosed Reindeer"), a bouncing ball animated sing-a-long to "Jingle Bells" and much, much more. All this culminates with the restored version of the hilarious 1965 retro-favorite "Santa Claus Conquers The Martians!" "Santa's Cool Holiday Film Festival" plays December 16 & 17 at the Michigan Theater.
"The Shop Around The Corner" is a charming and romantic film. This 1940 comic romance, directed by Ernst Lubitsch, finds Jimmy Stewart working in a small shop in Budapest at Christmastime. He longs for the perfect mate. His coworker, Margaret Sullavan, feels the same and they are both corresponding and falling in love with mysterious pen pals. What they don't realize is that they are writing to and falling in love with each other. The problem, when they work together at the shop every day they can't stand each other. The beguiling nature of the mistaken identity formula that influenced countless films is done to perfection here. "The Shop Around The Corner" plays December 18 at 1:30PM and admission is free.
Russ Collins is executive director of the Michigan Theater in Ann Arbor. Tune in to the audio version of "Cinema Chat" on WEMU radio (89.1-FM) each Thursday at 7:40 a.m. and 5:40 p.m., or listen to it online at WEMU's web site.