Posted on
Thu, Dec 17, 2009 : 5:48 a.m.
Golden Globes, "Avatar," Orson Welles and more at the movies this week
By Russ Collins
Win free movie tickets
Editor's note: Comment on today's "Cinema Chat" for a chance to win free movie tickets to the Michigan Theater. Some time between now and 6 a.m. Wednesday, leave a comment on this column, written by the Michigan Theater's Russ Collins. Offer your opinion on a recent movie you've seen, or on anything Russ mentions. We'll randomly select a winner and notify that person via the email address they signed up with. They will get two passes to a movie of their choice.
Let the awards season begin
The Golden Globe nominations announced earlier this week are the clear beginning of the movie awards season. The parade of "Best of" lists and award nominations started some weeks ago and will continue until the Academy Awards are given out on March 7.
Leading the list of Golden Globe nominated films is "Up In the Air," the Jason Reitman ("Juno") film, partially filmed in Michigan, that stars George Clooney. "Up In the Air" opens at the Michigan Theater on Wednesday, December 23, plus elsewhere in the Ann Arbor area. "Avatar," which opens this week, was also nominated, as was "Inglourious Basterds," "Precious" and "The Hurt Locker." Nominated for best musical/comedy film were "(500) Days Of Summer," "Nine," "It's Complicated," "Julie & Julia" and "The Hangover." I think it is wonderful that "The Hurt Locker" was nominated — this excellent indie film is on nearly everyone's top 10 lists. The Golden Globe awards will be bestowed by the Hollywood foreign press corps on Sunday, January 17.

"Avatar": just enjoy (Don't be fooled by the hype!)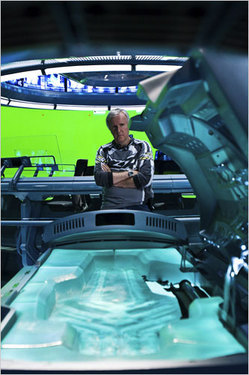 "Avatar"
really is a remarkable film, so
head to your local multiplex
and enjoy it. However, it will be hard for "Avatar" to live up to its own hype, especially the hype from producer/director James Cameron. The 3-D looks good, but is not the "game changer" he predicted.

That being said, everything about the film is well crafted. It's part "Return of the Jedi," part "Alien" (from the alien's point of view), part "Terminator," part "300," part "WALL-E." "Avatar" is presented as a native people's revenge fantasy that is over-layered with a "Titanic"-worthy love story. I am wondering if the "back to nature" and "corporations and government are evil" sensibilities promoted in the film will transcend the big-budget production values and Hollywood slickness (made possible by big corporations) that is clearly evident in every frame of the film.
Also opening this week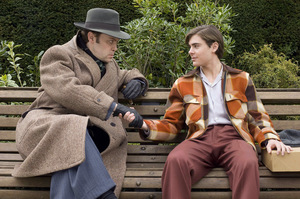 "Me and Orson Welles" stars Christian McKay in a brilliant impersonation of the great man, Orson Welles. Teen heartthrob Zac Efron plays a young actor working with Welles in a based-on-fact film about a 1937 Broadway production of "Julius Caesar." The show business bible Variety raves, "There are moments, especially when Welles is alternating between acting as Brutus and directing everyone else, that it's possible to forget you're watching an actor and really believe you're beholding Orson Welles at work." Directed by Richard Linklater ("Dazed and Confused," "The School of Rock," "Fast Food Nation"), it played the 2008 Toronto Film Festival, where the unlikely Efron-Linklater collaboration found many admirers. "Me and Orson Welles" opens at the Michigan Theater this Friday.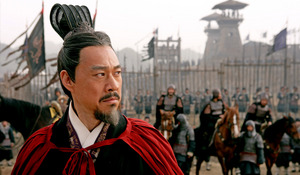 "Red Cliff"
is a big-budget spectacle directed by John Woo and based on the novel "Romance of the Three Kingdoms." "Red Cliff" is a huge international hit about a warmongering prime minister during the end of the Han Dynasty who advances his armies against two rival kingdoms. This unwittingly prompts his adversaries to work together. The ensuing conflict culminates in the epic battle of Red Cliff, a struggle by the sea involving more than one million soldiers.
Los Angeles Times
and National Public Radio critic
Kenneth Turan opines
, "Returning to his roots after a stint in Hollywood, Woo has made the most expensive film in mainland Chinese history, a pleasantly traditional picture that marks a new direction for one of the world's premier action maestros." "Red Cliff" is also
opening on Friday at the Michigan Theater
.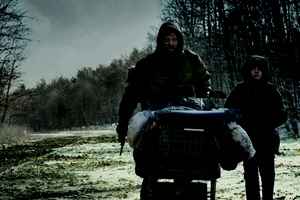 "The Road"
opens on
Friday at the State Theatre
. The film is based on the Pulitzer Prize-winning novel by Cormac McCarthy about a father, played by Viggo Mortensen, and his son who walk for months across a ravaged, post-apocalyptic landscape in search of civilization. The
Chicago Sun Times
'
Roger Ebert says
, "'The Road' evokes the images and the characters of Cormac McCarthy's novel. It is powerful…"

This week's comedy for the holidays is "Did You Hear About the Morgans?" The preliminary reviews are not so hot. This romantic comedy stars Hugh Grant and Sarah Jessica Parker as a Manhattan couple whose marriage is falling apart. However, when they inadvertently witness a murder they are put in a witness protection program and are relocated to a small town in Wyoming to hide from the killers. This "fish out of water" comedy also stars Sam Elliott, Mary Steenburgen, and Elisabeth Moss.
If you are looking for last-minute holiday gifts you can purchase movie gift cards from the local multiplex theaters or a night out package from the Michigan Theater. And don't forget to support your favorite local organizations as the end of the year approaches. Whether artistic, educational, religious or human service oriented, all local charities need your support now more than ever! In the United States, 90 percent of charitable gifts come from individuals — not from corporations or foundations — from individuals just like you. Please give generously to the organizations that you care for the most. You'll feel better and the whole world will benefit!

See you at the movies!
Russ Collins is executive director of the Michigan Theater in Ann Arbor. Tune in to the audio version of "Cinema Chat" on WEMU radio (89.1-FM) each Thursday at 7:40 AM and 5:40 PM, or listen to it online at WEMU's web site.