Posted on
Thu, Dec 20, 2012 : 5:55 a.m.
'Les Mis,' 'This is 40,' and more at the movies this week
By Russ Collins
Opening at the multiplex
From writer/director/producer Judd Apatow ("The 40-Year-Old Virgin"), "This Is 40" serves as a loose sequel to "Knocked Up," developing the story of Pete (Paul Rudd) and Debbie (Leslie Mann) as we see firsthand how they are dealing with their current state of life. Jordan Hoffman of Film.com says, "A pure, maximalist representation of a gifted artist simultaneously at the top of his game and looking to expand the form." "This Is 40" opens Friday.
"Jack Reacher," from The New York Times bestselling author Lee Child, stars Tom Cruise as the ex-Military Investigator whose job is to track down a sniper on the loose—but all evidence points to a suspect already in custody. On interrogation, the suspect offers up a single note: "Get Jack Reacher!" So begins an extraordinary chase for the truth, pitting Reacher against an unexpected enemy, with a skill for violence, a secret to keep and a target on Reacher's back. "Jack Reacher" opens Friday.
In "Cirque Du Soleil: Worlds Away 3D," a young couple who is separated must journey through the astonishing and dreamlike worlds of Cirque du Soleil to find each other, as audiences experience the immersive 3D technology that will allow them to leap, soar, swim and dance with the performers. From visionary filmmaker James Cameron and director Andrew Adamson ("Shrek"). "Cirque Du Soleil: Worlds Away 3D" opens Friday.
Opening on Christmas Day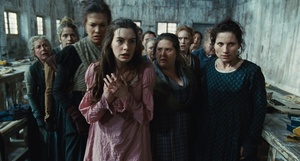 Set against the backdrop of 19th-century France,
"Les Miserables"
is based on Victor Hugo's enthralling story of broken dreams and unrequited love, passion, sacrifice and redemption-a timeless testament to the survival of the human spirit. Hugh Jackman plays ex-prisoner Jean Valjean, hunted for decades by the ruthless policeman Javert (Russell Crowe) after he breaks parole. When Valjean agrees to care for factory worker Fantine's (Anne Hathaway) young daughter, Cosette, their lives change forever. On Christmas Day Tom Hooper's (director of "The King's Speech") well reviewed, Golden Globe nominated, Oscar worthy sweeping and spectacular interpretation of this epic tale will come to life on the big screen at the historic Michigan Theater (and cinemas everywhere). Reserve your tickets on
TicketWeb.com
.
"Django Unchained" stars Jamie Foxx as Django, a slave whose brutal history with his former owners lands him face-to-face with German-born bounty hunter Dr. King Schultz (Christoph Waltz). Schultz is on the trail of the murderous Brittle brothers, and only Django can lead him to his bounty. Django and Schultz's search ultimately leads them to Calvin Candie (Leonardo DiCaprio), the proprietor of Candyland, an infamous plantation. Todd McCarthy of the Hollywood Reporter says, "The anecdotal, odyssey-like structure of this long, talky saga could be considered indulgent, but Tarantino injects the weighty material with so many jocular, startling and unexpected touches that it's constantly stimulating." "Django Unchained" opens on Christmas Day.
"Parental Guidance" stars Billy Crystal as Artie, an old-school grandfather who is accustomed to calling the shots, but he meets his match when he and his eager-to-please wife Diane (Bette Midler) agree to babysit their three grandkids when their type-A helicopter parents (Marisa Tomei and Tom Everett Scott) go away for work. "Parental Guidance" opens on Christmas Day.
Still playing downtown
Hidden behind Alfred Hitchcock's out-sized "master of suspense" persona was his creatively explosive romance with his steadfast wife and filmmaking collaborator, Alma Reville. Now, for the first time, Sacha Gervasi's "Hitchcock" lays bare their captivating and complex love story. "Hitchcock" continues at the Michigan Theater.
"A Royal Affair" is a historical drama of the highest order—teeming with big ideas, and anchored by nicely nuanced performances. "A Royal Affair" plays through Dec. 24 at the Michigan Theater. "Anna Karenina" is acclaimed director Joe Wright's bold, theatrical new vision of the epic story of love, adapted from Leo Tolstoy's great novel. The film, marking the third collaboration of the director with Academy Award-nominated actress Keira Knightley, powerfully explores the capacity for love that surges through the human heart. "Anna Karenina" continues at the State Theatre, along with "The Perks of Being a Wallflower" and "Argo." Special screenings downtown
"It's A Wonderful Life" is Frank Capra's inverted take on "A Christmas Carol." The great Jimmy Stewart stars as George Bailey, a good man who's spent a lifetime giving up on his dreams in order to keep life in his small town humming. When a guardian angel named Clarence finds a despondent George poised to jump off a bridge, he shows George what life would've been like had he never been born. "It's A Wonderful Life" plays Sunday, December 23 at 4 p.m. and is FREE as part of the Michigan Theater's Holiday Classic Film Series.

Russ Collins is executive director of the Michigan Theater in Ann Arbor. Tune in to the audio version of "Cinema Chat" on WEMU radio (89.1-FM) each Thursday at 7:40 a.m. and 5:40 p.m., or listen to it online at WEMU's web site.