Posted on
Thu, Dec 27, 2012 : 5:53 a.m.
'The Paperboy,' Oscar hopefuls, a sing-along 'Les Miz,' and more at the movies this week
By Russ Collins
Still playing downtown
Set against the backdrop of 19th-century France, "Les Miserables" is based on Victor Hugo's enthralling story of broken dreams and unrequited love, passion, sacrifice and redemption—a timeless testament to the survival of the human spirit. Hugh Jackman plays ex-prisoner Jean Valjean, hunted for decades by the ruthless policeman Javert (Russell Crowe) after he breaks parole. When Valjean agrees to care for factory worker Fantine's (Anne Hathaway) young daughter, Cosette, their lives change forever. The film has received four Golden Globe nominations and is sure to receive a few Oscar nods as well. "Les Miserables" continues at the Michigan Theater and area multiplexes.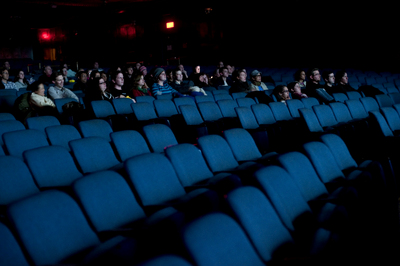 Joseph Tobianski | AnnArbor.com
The Michigan Theater is calling all Broadway babies! At a special "Sing Your Heart Out" screening on Sunday, Dec. 30 at noon you can have your chance to warble "I Dreamed a Dream" along with Anne Hathaway and sign with all the great songs in the film. Don't forget to BYOL (bring your own lyrics). If you don't want to sing, no problem, this one screening is the only one at which singing along is permitted.
Opening downtown
A sexually and racially charged film noir from Oscar-nominated director Lee Daniels ("Precious"), "The Paperboy" takes audiences deep into the backwaters of steamy 1960s South Florida, as investigative reporter Ward Jansen (Matthew McConaughey) and his partner Yardley Acheman (David Oyelowo) chase a sensational, career-making story. With the help of Ward's younger brother Jack (Zac Efron) and sultry death-row groupie Charlotte Bless (Nicole Kidman), the pair tries to prove violent swamp-dweller Hillary Van Wetter (John Cusack) was framed for the murder of a corrupt local sheriff. Based on the provocative bestselling novel by Pete Dexter ("Mulholland Falls," "Rush"), "The Paperboy" peels back a sleepy small town's decades-old façade of Southern gentility to reveal a quagmire of evil as dark as a Florida bayou. Roger Ebert of the Chicago Sun-Times says, "'The Paperboy' is great trash, and as Pauline Kael told us, the movies are so seldom great art that if we can't appreciate great trash, we might as well not go at all." "The Paperboy" opens Friday at the State Theatre.
Oscar hopefuls still playing at the multiplex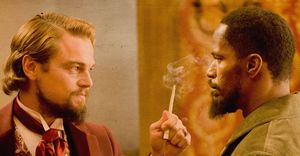 "Django Unchained"
stars Jamie Foxx as Django, a slave whose brutal history with his former owners lands him face-to-face with German-born bounty hunter Dr. King Schultz (Christoph Waltz). Schultz is on the trail of the murderous Brittle brothers, and only Django can lead him to his bounty. Will this film add to Quentin Tarantino's Oscar nominations? Who knows, but the Oscar buzz is buzzing for this blood-soaked tribute to Spaghetti Westerns. "Django Unchained" continues at the multiplex.
A shoe-in for an special effects nominations, Peter Jackson's "The Hobbit: An Unexpected Journey" follows title character Bilbo Baggins, who is swept into an epic quest to reclaim the lost Dwarf Kingdom of Erebor, which was long ago conquered by the dragon Smaug. Anthony Lane of the New Yorker says, "On balance, honor has been done to Tolkien, not least in the famous riddle game between Bilbo and Gollum, and some of the exploits to come will surely lighten the load." "The Hobbit: An Unexpected Journey" continues at the multiplex.
Best Picture? Best Actor? Best Director? In "Lincoln," Steven Spielberg directs Daniel Day-Lewis in a revealing drama that focuses on the 16th president's tumultuous final months in office. In a nation divided by war and the strong winds of change, Abraham Lincoln pursues a course of action designed to end the war, unite the country and abolish slavery. With the moral courage and fierce determination to succeed, his choices during this critical moment will change the fate of generations to come. "Lincoln" continues at the multiplex.
Opening next week downtown
In "Hyde Park on Hudson," President Franklin Delano Roosevelt (Bill Murray) and his wife Eleanor (Olivia Williams) host the King and Queen of England (Samuel West and Olivia Colman) for a weekend at the Roosevelt home at Hyde Park on Hudson, in upstate New York—the first-ever visit of a reigning English monarch to America. With Britain facing imminent war with Germany, the Royals are desperately looking to FDR for support. But international affairs must be juggled with the complexities of FDR's domestic establishment, as wife, mother, and mistresses all conspire to make the royal weekend an unforgettable one. Steven Rea of the Philadelphia Inquirer says, "A deceptively subtle portrayal in which the mostly deadpan comic star disappears beneath the pince-nez and the snappy brim of a presidential fedora, Murray offers a fascinating glimpse into a complex and charismatic figure." "Hyde Park on Hudson" opens on Friday, Jan. 4 at the Michigan Theater.
Have a happy New Year and I'll see you at the movies!

Russ Collins is executive director of the Michigan Theater in Ann Arbor. Tune in to the audio version of "Cinema Chat" on WEMU radio (89.1-FM) each Thursday at 7:40 a.m. and 5:40 p.m., or listen to it online at WEMU's web site.