Posted on
Thu, Dec 29, 2011 : 5:14 a.m.
Don't miss 'The Artist'; and the 10 best movies of the year
By Russ Collins
Win free movie tickets

Editor's note: Comment on today's "Cinema Chat" for a chance to win free movie tickets to the Michigan Theater. Some time between now and 9 a.m. Monday, leave a comment on this column, written by the Michigan Theater's Russ Collins. Offer your opinion on a recent movie you've seen, or on anything Russ mentions. A winner will be randomly selected, and we'll notify that person via the email address they signed up with. They will get two passes to a movie of their choice, courtesy of The Michigan Theater. Full rules here.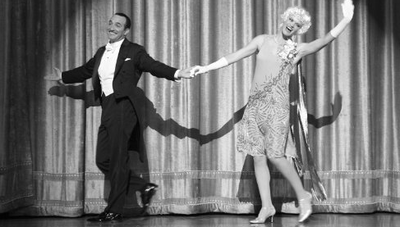 Have you seen
"The Artist"
? You must see it! It is the most acclaimed film of the year, and I must say, it, "The Tree of Life" and "Midnight In Paris" are three of my favorite films of the year. More on that later.
You must see "The Artist" because it is the perfect Ann Arbor film in the ideal setting. It is lyrical, romantic and artistically daring. "The Artist" is a show-business tale about a nice-guy movie star of the silent era, with just a little too much ego, who finds himself eclipsed by technology. It is a tale of the early 20th century that resonates with the 21st century dynamic of constantly eclipsing technologies making the skills you acquired and talents you possess feel quickly outdated.
"The Artist" is set in an idealized 1920s Hollywood that is wonderful to view. It is such a good movie it gets better when you see it twice! So, do yourself a favor and do not miss "The Artist" - being shown at the perfect place to see it, a beautifully restored 1920s movie palace, the Michigan Theater.
Downtown movie theaters are chock full of films that are on most critics' top 10 lists. The George Clooney film for which he will most certainly get a Best Actor Oscar nomination, "The Descendants" tells a wonderful, but not always fun, family story of love, betrayal, distraction, property, death, growing children and running in flip-flops. "The Descendants" is directed by Alexander Payne, who will almost certainly get a nomination for Best Director.
"Young Adult" stars another Best Actress candidate, Charlize Theron, and will probably garner nominations for Best Director (Jason Reitman) and Best Screenplay (Diablo Cody). Soon after her divorce, a stunted youth fiction writer (Theron) returns to her home in small-town Minnesota looking to rekindle a romance with her ex-boyfriend, who is now married with kids. Playing at the State Theater and area multiplexes.
"My Week with Marilyn" is a fun and beautiful film with wonderful acting performances by Dame Judi Dench, Kenneth Branagh and, most particularly, Michelle Williams, who plays Marilyn Monroe at the peak of her career in the 1950s. This movie transported me out of a 2011 Ann Arbor winter to a balmy summer in England watching with great fascination a damaged but magnetic Marilyn, courtesy of Ms. Williams' wonderful performance. See it at the State Theater before it goes away.
Next week, the much anticipated remake of "Tinker Tailor Soldier Spy" will open at the Michigan Theater. Meryl Streep as British Prime Minister Margaret Thatcher in "Iron Lady" will open at a multiplex near you.
Best of the year
Really, I always hate Top Ten lists. There are usually so many noteworthy films that 10 seems so arbitrary, but here goes. This list is in no particular order. It is a list of films that either played downtown at the Michigan or the State or at area multiplex cinemas, or were seen by Michigan Theater staff at a film festival. You should, of course, register what you think in a comment below.
• Joining "The Artist," "Young Adult" and "The Descendants" as the year's best are:
• "The Tree of Life" and "Melancholia": They are both beautiful and strange. They both are about one's place in the immensity of the universe. One is rather optimistic. One is quite pessimistic. Both films require patience and thought to be enjoyed.
• "Being Elmo": A great documentary on Kevin Clash, the man and the voice behind one of television's most lovable characters. It is heartwarming and wise.
• "The Girl With The Dragon Tattoo": David Fincher's dark take on the best-selling novel of the same name should see its share of award buzz. A complicated "whodunit" that's as gritty as it is terrifying.
• "Win Win," which premiered at the Michigan Theater as part of the Sundance Film Festival USA (the 2012 Sundance film premiere is "For a Good Time Call…" on Jan. 26, 2012), starred Paul Giamatti as a struggling lawyer and volunteer wrestling coach, whose chicanery comes back to haunt him when the teenage grandson of the client he's double-crossed comes into his life.
• "Hugo": They don't make "children's films" like this anymore. Martin Scorsese hits a homerun with this surefire classic, with a nod to classic cinema that is bound to entertain audiences from ages 8-80.
• "Midnight in Paris": Woody Allen's latest (now out on BluRay) is a romantic comedy starring Owen Wilson as a romantically involved screenwriter who gets lost in Paris, both in the present time and more engagingly in an expatriate artist era of Paris in the 1920s, with Hemingway, F. Scott Fitzgerald, Gertrude Stein, Picasso, Matisse, Man Ray and so many more. This film is a hoot.
I also have to thank Chris and Mike Farah for making "Answer This" in Ann Arbor. It has much charm and makes Ann Arbor look impressive and fun. "Answer This" will be on DVD in early January. Every movie lover in Ann Arbor should own a copy.
Best wishes for the New Year. See you at the movies!
Russ Collins is executive director of the Michigan Theater in Ann Arbor. Tune in to the audio version of "Cinema Chat" on WEMU radio (89.1-FM) each Thursday at 7:40 a.m. and 5:40 p.m., or listen to it online at WEMU's web site.