Posted on
Thu, Dec 8, 2011 : 5:55 a.m.
Acclaimed 'Take Shelter,' all-star 'New Year's Eve,' 'It's A Wonderful Life,' and more at the movies this week
By Russ Collins
Win free movie tickets

Editor's note: Comment on today's "Cinema Chat" for a chance to win free movie tickets to the Michigan Theater. Some time between now and 9 a.m. Monday, leave a comment on this column, written by the Michigan Theater's Russ Collins. Offer your opinion on a recent movie you've seen, or on anything Russ mentions. A winner will be randomly selected, and we'll notify that person via the email address they signed up with. They will get two passes to a movie of their choice, courtesy of The Michigan Theater. Full rules here.

Opening downtown
In "Take Shelter" Curtis LaForche (Academy Award nominee Michael Shannon, "Revolutionary Road") lives in a small Ohio town with his wife Samantha (Jessica Chastain, "The Tree of Life") and 6-year-old daughter Hannah, who is deaf. Curtis makes a modest living as a crew chief for a sand-mining company and Samantha is a stay-at-home mother and part-time seamstress. Money is tight, and navigating Hannah's health care and special-needs education is a constant struggle. Despite that, Curtis and Samantha are very much in love and their family is a happy one. But Curtis is plagued by a series of apocalyptic visions, terrifying dreams about an encroaching storm, which forces the young husband and father to question whether to shelter his family from a coming storm, or from himself.
Shannon has drawn universal acclaim for his performance and should see his name called for a Best Actor Academy Award nomination when they're announced on Tuesday, Jan. 24. Roger Ebert of the Chicago Sun-Times says, "Here is a frightening thriller based not on special effects gimmicks but on a dread that seems quietly spreading in the land: that the good days are ending, and climate changes or other sinister forces will sweep away our safety." "Take Shelter" opens Friday, Dec. 9 at the Michigan Theater.
Opening at the cineplex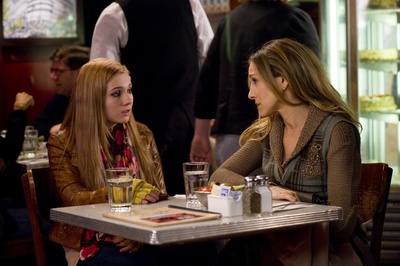 "New Year's Eve,"
from director
Garry Marshall
, follows several couples and singles in New York whose lives intertwine over the course of New Year's Eve, including two people who become trapped in an elevator, a couple preparing to give birth, and a man who enjoys his last New Year's before dying. The film has an all-star cast including
Sarah Jessica Parker, Jessica Biel, Robert De Niro, Halle Berry
and
Zac Efron
. "New Year's Eve" opens Friday.
"The Sitter" stars Jonah Hill as Noah, a college student who has been suspended and now lives with his mom. After having a disagreement with his mother, he's lured into taking a babysitting job caring for the kids of Mrs. Pedulla: the stern and studious Slater (Max Records), no-nonsense wild child Blithe (Landry Bender) and Mafia-esque exchange student Rodrigo (Kevin Hernandez). When Noah is invited to a party by his girlfriend (Ari Graynor), he soon becomes entangled with two psychopathic drug dealers and a wild chase through Manhattan. "The Sitter" opens Friday.
Special screenings
"Rare Exports: A Christmas Tale" is a reimagining of the most classic of all childhood fantasies, and is a darkly comic gem soon to be required perennial holiday viewing. It's the eve of Christmas in northern Finland, and an "archaeological" dig has just unearthed the real Santa Claus. But this particular Santa isn't the one you want coming to town. When the local children begin mysteriously disappearing, young Pietari and his father Rauno, a reindeer hunter by trade, capture the mythological being and attempt to sell Santa to the misguided leader of the multinational corporation sponsoring the dig. Santa's elves, however, will stop at nothing to free their fearless leader from captivity. What ensues is a wildly humorous nightmare—a fantastically bizarre polemic on modern day morality. "Rare Exports: A Christmas Tale" plays at the Michigan Theater on Friday, Dec. 9 at 7 and 10 p.m.; and Saturday, Dec. 10 at 10 p.m.
"It's A Wonderful Life" is Frank Capra's inverted take on "A Christmas Carol." The great Jimmy Stewart stars as George Bailey, a good man who's spent a lifetime giving up on his dreams in order to keep life in his small town humming. When a guardian angel named Clarence finds a despondent George poised to jump off a bridge, he shows George what life would've been like had he never been born. "It's A Wonderful Life" plays on Dec. 11 at 4 p.m. and is FREE as part of the Michigan Theater's Holiday Film Series.
The Michigan Theater's Stanley Kubrick series wraps up with "A.I.: Artificial Intelligence." Based on the 1969 short story "Super-Toys Last All Summer Long," this science fiction fantasy bears similarities to "Pinocchio" and originated as a long-gestating project of director Stanley Kubrick that passed to his friend Steven Spielberg, who adapted the script after Kubrick's death. "A.I.: Artificial Intelligence" plays Dec. 12 at 7 p.m.
"American Teacher" is a feature film that tells the collective story by and about those closest to the issues in our educational system—the 3.2 million teachers who spend every day in classrooms across the country. In keeping with the storytelling styles of both Dave Eggers (writer) and Vanessa Roth (director) and narrated by Matt Damon, "American Teacher" is a character-driven film that explores this urgent issue through humor, irony, and the energy of the teachers who fill the screen. The film's narrative balances the personal stories of each character with a mixture of interviews and animated facts and statistics by Stefan Nadelman. "American Teacher" plays Dec. 14 at 7 p.m. at the Michigan Theater and will include a special appearance by Jonathan Dearman and Daniel Moulthrop.
Russ Collins is executive director of the Michigan Theater in Ann Arbor. Tune in to the audio version of "Cinema Chat" on WEMU radio (89.1-FM) each Thursday at 7:40 a.m. and 5:40 p.m., or listen to it online at WEMU's web site.