Posted on
Thu, Feb 11, 2010 : 5:47 a.m.
Valentine's movies, Percy Jackson, young jazz musicians, and more
By Russ Collins
Win free movie tickets
Editor's note: Comment on today's "Cinema Chat" for a chance to win free movie tickets to the Michigan Theater. Some time between now and 6 a.m. Wednesday, leave a comment on this column, written by the Michigan Theater's Russ Collins. Offer your opinion on a recent movie you've seen, or on anything Russ mentions. We'll randomly select a winner and notify that person via the email address they signed up with. They will get two passes to a movie of their choice.
Movies vs. the Olympics
Media cultures clash as the Winter Olympics take over the airwaves for the next 2 weeks. Movie releases, your favorite TV shows, as well as other sporting events will all take a back seat to the world's greatest winter athletes competing for gold, silver and bronze in Vancouver, British Columbia, Canada. The festivities and competitions will all be broadcast, sort of live, over NBC-affiliated TV channels. However, even before the Winter Olympics start, they are proving to be a disappointment for NBC.

NBC expects to lose $200 million dollars broadcasting this year's winter games. To get an idea of how much $200 million dollars is, please know that $200 million would be enough money to operate the Michigan Theater for 80 years and not charge anybody for anything. Imagine, 80 years of free movies and popcorn. Eighty years of free theater use by the Ann Arbor Symphony, Ann Arbor Film Festival, University Musical Society, The Ark and many others! So, for the sake of NBC, tune in to your favorite Olympic events; however, please know that when you're tired of sitting at home watching TV there are great movies playing in local theaters.
Movies and Valentine's Day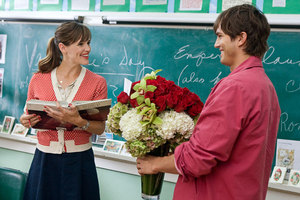 "Valentine's Day,"
the movie,
opens at your local multiplex on Friday
. It is a film confection by director Garry Marshall ("The Princess Diaries," "Runaway Bride," "A League of Their Own"). There are many movies stars in the cast (Julia Roberts, Emma Roberts, Anne Hathaway, Jessica Alba, Jessica Biel, Jennifer Garner, Shirley MacLaine, Bradley Cooper, Ashton Kutcher, Topher Grace, Eric Dane, Hector Elizondo, Patrick Dempsey, Jamie Foxx), but the reviews are pretty bad, "As gooey and lacking in protein as a chocolate holiday bonbon, "Valentine's Day" plays like a feature-length commercial produced by the Friends of the Valentine Promotional Society,"
wrote Todd McCarthy
in
Variety
.
On February 14, Michigan Theater members traditionally celebrate the Valentine's Day holiday with a classic movie, gourmet chocolate and sparkling wine. This year's classic movie is
"Pillow Talk."
It stars Rock Hudson as a womanizing songwriter and Doris Day as a prim interior decorator who becomes the object of Rock's romantic desires. This 1959 film is the very best of the Rock Hudson/Doris Day collaborations and the perfect film for a classic Valentine's Day evening. Show time is
6 p.m. on Sunday
—Valentine's Day. There will be a pre-movie party, so if you are not a Michigan Theater member, sign up and join the fun!
More movies for romantics ... and others
"The Wolfman" is a thoughtful remake inspired by the classic Universal film that launched a legacy of horror. Benicio Del Toro stars as Lawrence Talbot, a haunted nobleman lured back to his family estate after his brother vanishes. Reunited with his estranged father (Oscar winner Anthony Hopkins), Talbot sets out to find his brother... and discovers a horrifying destiny for himself. It also stars Emily Blunt and will play at a multiplex near you.

"Percy Jackson & the Olympians: The Lightning Thief," directed by Chris Columbus ("Home Alone," "Mrs. Doubtfire," and a couple "Harry Potter" films), has a cast that includes Uma Thurman and Pierce Brosnan, but no actual Olympic athletes. It is based on a series of books by Rick Riordan and is about a troubled, modern 12-year-old boy who learns that his birth father is the ancient god Poseidon. The boy's mission is to settle a feud between his dad, Zeus, and Hades. This film has been kept away from reviewers and opens at your local multiplex.

Special screenings
"Chops"
is directed by
University of Michigan
alumnus Bruce Broder. It tells the story of a group of kids with extraordinary musical ability who learn to make the most of their gifts in an acclaimed public school jazz program in Jacksonville, Florida. They go on to compete in the Super Bowl of high school jazz competitions. The director will be here for the special screening of this acclaimed film on
Friday, February 12 at 7 p.m.
at the Michigan Theater.
"The Private Lives of Pippa Lee"
was written and directed by Arthur Miller's daughter Rebecca, an acclaimed independent filmmaker.
The Toronto Star raves
, "Miller has created a witty satire about society and relationships that is both funny and heartbreaking, delivered by a first-rate cast." Starring Alan Arkin, Robin Wright Penn, Keanu Reeves, Julianne Moore and Winona Ryder, the film plays
Friday, Monday and Tuesday only
at the Michigan Theater.
The North Korea in Films series presented by the U-M Center for Korean Studies will screen "A State of Mind" at the Michigan Theater on Saturday, February 13 at 2 p.m. The film provides a rare glimpse into what is one of the world's least-known societies. Admission is free.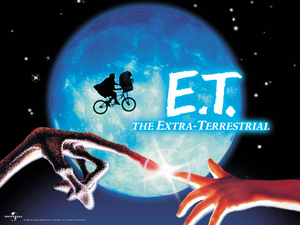 The family film classic
"E.T."
will be presented as part of the Benard L. Maas Family Friendly Film Series at the Michigan Theater on
Sunday, February 14 at 1:30 p.m.
Admission is free for children 12 and under.
See you at the movies!
Russ Collins is executive director of the Michigan Theater in Ann Arbor. Tune in to the audio version of "Cinema Chat" on WEMU radio (89.1-FM) each Thursday at 7:40 a.m. and 5:40 p.m., or listen to it online at WEMU's web site.