Posted on
Thu, Feb 21, 2013 : 5:47 a.m.
Check out Oscar contenders at the movies this week
By Russ Collins
Oscar contenders downtown
With the Academy Awards just a few days away, you still have a chance to see some of the nominees in theaters before Hollywood's big night - Sunday, Feb. 24!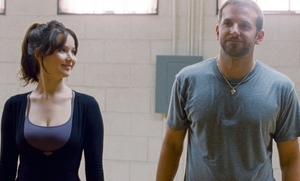 "Amour,"
winner of the Palme d'Or at the 2012 Cannes Film Festival and nominated for 5 Academy Awards including Best Picture, continues at the Michigan.
"Silver Linings Playbook,"
nominated for 8 Academy Awards including nominations in every acting award and a Best Picture nomination, continues at the State Theatre.
To fully flesh out your Oscar ballot, make sure you see the truly wonderful Oscar-nominated short films: one program of animated shorts and a separate program of live-action shorts, playing exclusively at the Michigan Theater throughout the week. Check www.michtheater.org for show times.
Opening at the multiplex
Inspired by true events, "Snitch" stars Dwayne Johnson as a father whose teenage son is wrongly accused of a drug distribution crime and is looking at a mandatory minimum prison sentence of 10 years. Desperate and determined to rescue his son at all costs, he makes a deal with the U.S. Attorney to work as an undercover informant and infiltrate a drug cartel on a dangerous mission—risking everything, including his family and his own life. The initial reviews for this action-thriller are surprisingly strong. "Snitch" opens Friday.
From the producer of "Paranormal Activity" comes "Dark Skies," a supernatural thriller that follows a young family living in the suburbs. As husband and wife Daniel and Lacey Barret (Josh Hamilton and Keri Russell) witness an escalating series of disturbing events involving their family, their safe and peaceful home quickly unravels. When it becomes clear that the Barret family is being targeted by an unimaginably terrifying and deadly force, Daniel and Lacey take matters in their own hands to solve the mystery of what is after their family. No advanced reviews and a mid-February release do not bode well for this suburban horror fantasy; "Dark Skies" opens Friday.
Opening downtown
In the Swiss film "Sister," Simon (Kacey Mottet Klein) lives with his older sister (Lea Seydoux) in a housing complex below a luxury ski resort. With his sister drifting in and out of jobs and relationships, 12-year-old Simon takes on the responsibility of providing for the two of them. Every day, he takes the lift up to the opulent ski world above, stealing equipment from rich tourists to resell to the local kids down in the valley. He is able to keep their little family afloat with his small-time hustles and his sister is thankful for the money he brings in. But when Simon partners with a crooked British seasonal worker, he begins to lose his boundaries, affecting his relationship with his sister and sending him into dangerous personal and legal territory. Mary F. Pols of TIME Magazine says, "A penetrating study of familial bonds, quietly devastating in parts, beautiful on whole and destined to make you fall in love with a practiced and entirely amoral preteen thief." "Sister" plays Tuesday and Wednesday, Feb. 26 and 27, at the Michigan Theater.
Special screenings downtown
The Michigan will host "The Greenhorns," a documentary that focuses on the new generation of farmers at the heart of the nation's local food movement. Following the movie, participants can meet with representatives from the Michigan Young Farmers Coalition. "The Greenhorns" plays tonight at 7:30 p.m. The Fly Fishing Film Tour returns to Ann Arbor! The goal of the Fly Fishing Film Tour is to energize the industry and inspire film makers to create new cutting edge films to both entertain and educate outdoor enthusiasts. The Fly Fishing Film Tour plays Friday, Feb. 22 at 7 p.m. at the Michigan Theater.
In "Friday," Ice Cube plays Craig, a guy who manages to get fired on his day off (though he claims it's through no fault of his own) and spends the day hanging out with his buddy Smokey (Chris Tucker) and trying to avoid his father (John Witherspoon), who wants him to find another job immediately. But Smokey has an even more serious problem and needs to come up with $200 by the end of the day or he'll be in a world of hurt. "Friday" plays as part of the New Line and New Hollywood film series on Feb. 25 at 7 p.m. at the Michigan Theater.
"Child 31," presented by the Catholic Urban Project, is a short documentary that tells the story of Mary's Meals, the international charity which feeds more than 700,000 hungry children every day. A Q&A with Mary's Meals founder Magnus MacFarlane-Barrow will follow the screening. "Child 31" plays Thursday, Feb. 28 at 7 p.m. at the Michigan Theater.
See you at the movies!
Russ Collins is executive director of the Michigan Theater in Ann Arbor. Tune in to the audio version of "Cinema Chat" on WEMU radio (89.1-FM) each Thursday at 7:40 a.m. and 5:40 p.m., or listen to it online at WEMU's web site.