Posted on
Thu, Feb 25, 2010 : 5:50 a.m.
Oscars preparation, Bruce Willis and Tracy Morgan, and more
By Russ Collins
Win free movie tickets
Editor's note: Comment on today's "Cinema Chat" for a chance to win free movie tickets to the Michigan Theater. Some time between now and 6 a.m. Wednesday, leave a comment on this column, written by the Michigan Theater's Russ Collins. Offer your opinion on a recent movie you've seen, or on anything Russ mentions. We'll randomly select a winner and notify that person via the email address they signed up with. They will get two passes to a movie of their choice.
Oscar-mania is reaching a fever pitch! In just over a week, the Academy Awards will be bestowed. Steve Martin and Alec Baldwin are polishing their ad-libs, gowns are being fitted, and bets are being placed as to who will win those lovely golden statues.
A foreshadowing of the Oscars, with an English accent, is the British Academy of Film and Television Arts (BAFTA) awards, which were handed out last Sunday. The big winner was director Kathryn Bigelow's "The Hurt Locker." It won Best Picture, Best Original Screenplay, Best Cinematography, Best Editing and Best Director. That means the Brits gave the nod to Ms. Bigelow over her ex-husband James Cameron and his film "Avatar" — kind of surprising, don't you think? Will Oscar voters follow suit?
If you missed "The Hurt Locker" please know it will play for 1 show only next week, March 5, at the Michigan Theater, the Friday before the Oscars ceremony, on Sunday, March 7.
(You can also get in on the Oscars fun by entering Quality 16's Oscar Contest. Choose the movies you think will take home the top honors for a chance to win a package of film passes for Quality 16. The contest ends March 7 at 4 p.m.)
The award for Outstanding British Film went to "Fish Tank," which will play exclusively at the Michigan Theater March 12-18. The BAFTA award for Best Actor went to Colin Firth for "A Single Man," which is currently playing at the State Theatre. Be sure to see this wonderful film by first-time director Tom Ford before it heads out of town. Opening this week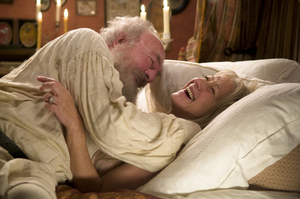 "The Last Station" opens Friday, and with 2 Oscar-nominated best acting performances — Helen Mirren for Best Actress and Christopher Plummer for Best Supporting Actor. Set during the final year of Russian novelist Leo Tolstoy's life, writer-director Michael Hoffman's period biopic explores the fractious relationship between Tolstoy (Plummer) and his wife, Sofya (Mirren), as he embraces a life of asceticism. Paul Giamatti co-stars as impassioned Tolstoy devotee Vladimir Chertkov, with James McAvoy playing the aging writer's assistant. The always tough New Yorker magazine raves, "It's the most emotionally naked work of Mirren's movie career; she gives poetic form to the madness and the violence of commonplace jealousy." Playing exclusively at the Michigan. "The Crazies" opens at your local multiplex this week. It is directed by Breck Eisner, the son of former Disney CEO Michael Eisner, and tells the improbable story of toxins turning the residents of Ogden Marsh, Iowa into violent psychopaths. Sheriff David Dutton (Timothy Olyphant) tries to make sense of the situation while he, his wife (Radha Mitchell), and 2 other unaffected townspeople band together in a fight for survival. Preliminary reviews are so-so: "Tense, if overstuffed, this is really 3 films awkwardly but enjoyably combined," says the Internet review site TotalFilm. "Cop Out," directed by Kevin Smith ("Clerks," "Jersey Girl," "Jay and Silent Bob Strike Back," "Chasing Amy") is a comedy about a veteran NYPD cop (Bruce Willis) whose rare baseball card is stolen. Since the card is his only hope of raising the funds to pay for his daughter's upcoming wedding, he recruits his partner (Tracy Morgan) to help him track down the thief, a memorabilia-obsessed gangster. This is the first time Kevin Smith has directed someone else's screenplay, but the buzz about this film (which was originally set to star Robin Williams) is not so hot. Opens Friday at your local multiplex. Special screenings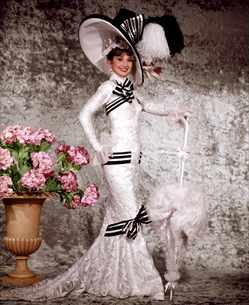 Sing-A-Long "My Fair Lady"! On Sunday, February 28 at 1:30, go to the Michigan Theater for a very fun presentation of this classic musical, based on George Bernard Shaw's play, "Pygmalion." A beautiful I.B. Technicolor print from the University of Michigan Screen Arts and Culture archive will be used for this special screening. This witty film adaptation of the Broadway musical stars Rex Harrison and Audrey Hepburn. The lyrics to classic Lerner and Loewe songs like "I Could Have Danced All Night," "I'm Gettin' Married in the Mornin'," "I've Grown Accustomed to Her Face," "With a Little Bit of Luck" and more will be projected on the Michigan Theater's BIG screen so you can sing along.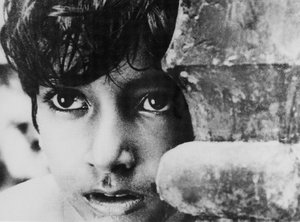 "Pather Panchali," acclaimed Indian director Satyajit Ray's first international hit, will play Monday, March 1 as part of the Michigan Theater's World Cinema Film Series. This is the 1st film in Satyajit Ray's famous Apu trilogy. "Bridging the Gap: The Joe Dulin Story" is being shown Wednesday, March 3 at 7 p.m. at the Michigan as part of a benefit for The Dispute Resolution Center's family mediation programs. It is a fascinating documentary about local hero Joseph Dulin, who took on the unenviable task of transforming an inner-city school in Detroit into an educational success story with his unique blend of charisma, discipline and unconditional love. Dulin's school achieved a 78 percent college enrollment rate in a city where the dropout rate is 79 percent. Support the Dispute Resolution Center and see this inspiring film about Joe Dulin's fight to educate all students on equal terms, regardless of geography, race or socioeconomic status. See you at the movies!
Russ Collins is executive director of the Michigan Theater in Ann Arbor. Tune in to the audio version of "Cinema Chat" on WEMU radio (89.1-FM) each Thursday at 7:40 a.m. and 5:40 p.m., or listen to it online at WEMU's web site.