Posted on
Thu, Feb 28, 2013 : 5:42 a.m.
'56 Up,' 'Wayne's World' double feature, and more at the movies this week
By Russ Collins
How did you do with your Oscar picks? You can still catch some of the award-winning films at your local multiplex, and if you head downtown, you can see Oscar winner Jennifer Lawrence at the State Theatre in "Silver Linings Playbook" and the Oscar winning Best Foreign Language film "Amour" at the Michigan Theater. "Amour" is a deeply personal film about an elderly couple facing declining health, personal independence and family relationships. It is not for everyone, but critics around the world have praised the film as a genuine work of art that tells a complicated human story in an intimate and unblinking way.
Opening downtown
Started in 1964, when the first film "7 Up" premiered in Great Britain, the fascinating longitudinal documentary film study of British baby boomers continues with "56 Up." Directed by renowned filmmaker Michael Apted, the series has followed 14 people of diverse backgrounds from all over England. Every seven years the progress of their lives has been examined - from cab driver Tony to schoolmates Jackie, Lynn and Susan, including the heartbreaking story of Neil; as they turn 56, more life-changing decisions and surprising developments are revealed. An extraordinary look at the structure of life in the 20th century, the "Up" series is, according to critic Roger Ebert, "an inspired, almost noble use of the film medium. Apted penetrates to the central mystery of life." "56 Up" opens Saturday at the Michigan Theater.
Opening at the multiplex
The Oscars rewarded some wonderful films released to commercial theaters over the last few months. From "Argo" to "Lincoln" to "Life of Pi" and many more, your local multiplex presented great, award-winning films. However, commercial theaters are now reduced to showing "bottom of the barrel" films, until the summer blockbuster season starts up in early in May. The films opening this week at your local multiplex will clearly NOT be competing for Oscars next year - a Razzie award maybe!
In "21 and Over," straight-A college student Jeff Chang has always done what's expected of him. But when his two best friends Casey and Miller surprise him with a visit for his 21st birthday, he decides to do the unexpected for a change, even though his critical medical school interview is early the next morning. What was supposed to be one beer becomes one night of chaos, over indulgence and utter debauchery in this outrageous comedy. "21 and Over" opens Friday.
"Jack the Giant Slayer" tells the story of an ancient war that is reignited when a young farmhand unwittingly opens a gateway between our world and a fearsome race of giants. Unleashed on the Earth for the first time in centuries, the giants strive to reclaim the land they once lost, forcing the young man, Jack, into the battle of his life to stop them. Fighting for a kingdom, its people, and the love of a brave princess, he comes face to face with the unstoppable warriors he thought only existed in legend—and gets the chance to become a legend himself. "Jack the Giant Slayer" opens Friday.
Continuing where the first film left off, "The Last Exorcism 2" finds Nell (Ashley Bell) terrified and alone in rural Louisiana. Back in the relative safety of New Orleans, Nell realizes that she can't remember entire portions of the previous months - only that she is the last surviving member of her family. Just as Nell begins the difficult process of starting a new life, the evil force that once possessed her is back with other, unimaginably horrific plans that mean her last exorcism was just the beginning. "The Last Exorcism 2" opens Friday.
Special screenings downtown
"Child 31," presented by the Catholic Urban Project, is a short documentary that tells the story of Mary's Meals, the international charity which feeds more than 700,000 hungry children every day. A Q&A with Mary's Meals founder Magnus MacFarlane-Barrow will follow the screening. "Child 31" plays tonight at 7 p.m. at the Michigan Theater.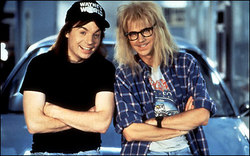 The State Theatre brings one of the most beloved characters from "Saturday Night Live" to the big screen with a special double feature of
"Wayne's World"
and
"Wayne's World 2."
Starring Mike Myers and Dana Carvey as two amiably aimless metal-head friends, Wayne and Garth, and the local public access television show they broadcast from their basement. "Wayne's World" and "Wayne's World 2" play Saturday, March 2 at 11 p.m. and it's only $10 for both films! "Party on Wayne!"
"The Princess Bride" plays Sunday, March 3 at 1:30 p.m. and continues the Michigan Theater's Family Friendly Film Series. In this enchantingly cracked fairy tale, the beautiful Princess Buttercup and the dashing Westley must overcome staggering odds to find happiness amid six-fingered swordsmen, murderous princes, and rodents of unusual size (or R.O.U.S.)! Children 12 and under are admitted FREE!
See you at the movies!
Russ Collins is executive director of the Michigan Theater in Ann Arbor. Tune in to the audio version of "Cinema Chat" on WEMU radio (89.1-FM) each Thursday at 7:40 a.m. and 5:40 p.m., or listen to it online at WEMU's web site.