Posted on
Thu, Feb 7, 2013 : 5:14 a.m.
Acclaimed 'Silver Linings Playbook' and a Valentine's Day 'American in Paris' lead week's movie offerings
By Russ Collins
Oscar rules downtown movie going
The Oscar-nominated short films play exclusively at the Michigan Theater. See these wonderful short films before Hollywood's big night. On two separate programs are the five Oscar-nominated documentary films. Also playing are the five animated shorts and the five live-action shorts programs. Oscar shorts programs will play Thursday, Feb. 7 and Sunday, Feb. 10 through Wednesday, Feb. 13. Go to www.michtheater.org for program and schedule details.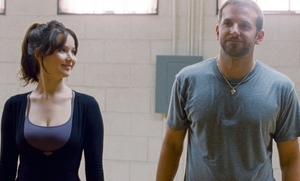 Nominated for eight Academy Awards including Best Picture and all four acting awards,
"Silver Linings Playbook"
reveals what we all know: Life doesn't always go according to plan. Pat Solatano (Bradley Cooper) has lost everything—his house, his job, and his wife. He now finds himself living back with his mother (Jacki Weaver) and father (Robert DeNiro) after spending eight months in a state institution on a plea bargain. Pat is determined to rebuild his life, remain positive and reunite with his wife, despite the challenging circumstances of their separation. When Pat meets Tiffany (Jennifer Lawrence), a mysterious girl with problems of her own, things get complicated. Justin Chang of Variety says, "In a script that never lapses into mundane or uninteresting language, the scenes between Pat and Tiffany are sculpted with an almost David Mamet-like sharpness." "Silver Linings Playbook" opens Friday at the State Theatre.
Also playing at the State Theatre, the Best Picture Oscar front-runner "Argo."
Opening at the multiplex
In "Identity Thief," unlimited funds have allowed Diana (Melissa McCarthy) to live it up on the outskirts of Miami, where the queen of retail buys whatever strikes her fancy. There's only one glitch: The ID she's using to finance these sprees reads "Sandy Bigelow Patterson" - and it belongs to an accounts rep (Jason Bateman) who lives halfway across the U.S. With only one week to hunt down the con artist before his world implodes, the real Sandy Bigelow Patterson heads south to confront the woman with an all-access pass to his life. And as he attempts to bribe, coax and wrangle her the 2,000 miles to Denver, one easy target will discover just how tough it is to get your name back. "Identity Thief" opens Friday.
"Side Effects," from director Steven Soderbergh, is a provocative thriller about Emily and Martin (Rooney Mara and Channing Tatum), a successful New York couple whose world unravels when a new drug prescribed by Emily's psychiatrist (Jude Law)—intended to treat anxiety—has unexpected side effects. "Side Effects" opens Friday.
The Tom Cruise classic "Top Gun" gets a 3D IMAX re-release. Get your breath taken away one more time by Maverick, Goose, Iceman, and all you Miramar Naval Air Station friends in 3D starting Friday at select IMAX locations.
Special screenings downtown
Written and directed by Byun Young-joo, best known for feminist nonfiction films, "Helpless" is a surprising thriller adapted from a Japanese bestseller that provides an original and provocative perspective on debt and post-IMF financial crisis in Korean society. When a woman (Kim Min-hee) disappears just before her wedding, her hapless fiancé (Lee Sun-kyun) enlists his detective cousin to find her, and they find unsettling answers in a corrupt economic system. "Helpless" plays Saturday, Feb. 9 at 2 p.m. and admission is free!
On Valentine's Day take you sweetheart to the classic film "An American In Paris" at the Michigan Theater. Jerry Mulligan (Gene Kelly), a struggling American painter in Paris, is "discovered" by an influential heiress with an interest in more than Jerry's art. Jerry in turn falls for Lise (Leslie Caron), a young French girl already engaged to a cabaret singer. Jerry jokes, sings and dances with his best friend, an acerbic would-be concert pianist, while romantic complications abound. Roger Ebert of the Chicago Sun-Times says, "The real reasons to see 'An American in Paris' are for the Kelly dance sequences, the closing ballet, the Gershwin songs, the bright locations, and a few moments of the ineffable, always curiously sad charm of Oscar Levant." "An American In Paris" plays Thursday, Feb. 14 at 8 p.m. at the Michigan Theater.
"Teenage Mutant Ninja Turtles: The Movie," part of the New Line and New Hollywood Cinema Series is the live-action, feature film adaptation of the cult comic book and the popular animated television show. Brought to the big screen by Detroit native and U of M alum Bob Shaye (he also produced "Lord of the Rings" for the movies and brought John Waters films to local cinema), the Ninja Turtles movie features some great costumes from the Jim Henson workshop. Richard Harrington of the Washington Post said, "Truth be told, there's something amusingly surreal in watching these happy-go-lucky, man-sized terps engage in full-scale punch-and-kick-outs with the inevitable villains." "Teenage Mutant Ninja Turtles: The Movie" plays Monday, Feb. 11 at 7 p.m. at the Michigan Theater.
Russ Collins is executive director of the Michigan Theater in Ann Arbor. Tune in to the audio version of "Cinema Chat" on WEMU radio (89.1-FM) each Thursday at 7:40 a.m. and 5:40 p.m., or listen to it online at WEMU's web site.