Posted on
Thu, Jan 17, 2013 : 5:10 a.m.
'Deadfall,' 'Broken City,' 'The Last Stand,' and more at the movies this week
By Russ Collins
Opening downtown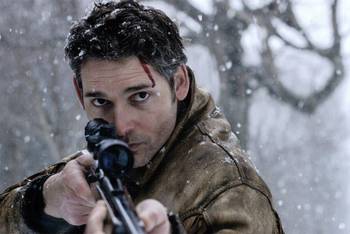 In
"Deadfall,"
written by Michigan native Zach Dean, siblings Addison (Eric Bana) and Liza (Olivia Wilde) are on the run from a casino heist gone wrong. They split up and make a run for the Canadian border; while Addison heads cross-country, Liza is picked up by an ex-boxer en-route for a Thanksgiving homecoming with his parents, June (Sissy Spacek) and retired sheriff Chet (Kris Kristofferson). It's there the siblings are reunited in a terse and thrilling showdown. Manohla Dargis of the New York Times says, "A diverting neo-noir, 'Deadfall' brings to mind those dark, old-fashioned entertainments on Turner Classic Movies that suck you in with their genre machinery, sullen beauties and despair." "Deadfall" plays Sunday and Monday at the Michigan Theater.
As America remains embroiled in conflict overseas, a less visible war is taking place at home, costing countless lives, destroying families, and inflicting untold damage on future generations of Americans. "The House I Live In" tells the story of the war on drugs, which over the last 40 years has cost $1 trillion, accounted for more than 45 million arrests, made America the world's largest jailer, and damaged poor communities at home and abroad. Yet for all that, drugs are cheaper, purer, and more available today than ever before. Filmed in more than 20 states, "The House I Live In" captures heart-wrenching stories from individuals at all levels of America's war on drugs. From the dealer to the grieving mother, the narcotics officer to the senator, the inmate to the federal judge, the film offers a penetrating look inside America's longest war, offering a definitive portrait and revealing its profound human rights implications. "The House I Live In" plays Tuesday and Wednesday at the Michigan Theater.
In "The Big Picture," Paul (Romain Duris) is a handsome and successful thirty-something Parisian corporate lawyer with a beautiful wife, two children, and a glimmering future as a partner in the firm he co-owns with his mentor, Anne (Catherine Deneuve). But behind this deceptively perfect bourgeois facade lies a restless spirit who despises his conformist life and envies the creative freedom and fulfillment of his neighbor Greg (Eric Ruf), an uncompromising photojournalist. Greg's unexpected death throws Paul's life into chaos, and he makes a startling decision that pushes him into unknown territory. "The Big Picture" plays Wednesday and Thursday at the Michigan Theater.
Opening at the multiplex
Guillermo del Toro's "Mama" is a supernatural thriller that tells the haunting tale of two little girls who disappeared into the woods the day that their mother was murdered. When they are rescued years later and begin a new life, they find that someone—or something—still wants to come tuck them in at night. Starring Nikolaj Coster-Waldau and Jessica Chastain, "Mama" opens Friday.
"Broken City" stars Mark Wahlberg as an ex-cop-turned-private eye who is thrown headfirst into a hotbed of trouble after a mayor (Russell Crowe) hires him to look into his cheating wife. "Broken City" opens Friday.
In "The Last Stand," Sheriff Ray Owens (Arnold Schwarzenegger) is a man who has resigned himself to a life of fighting what little crime takes place in border town Sommerton Junction - but the most notorious, wanted drug kingpin in the hemisphere is headed straight for the sleepy town in a specially outfitted car with a hostage and a fierce army of gang members. At first reluctant to become involved, and then counted out because of the perceived ineptitude of his small town force, Owens ultimately accepts responsibility for the face off. "The Last Stand" opens Friday.
Special screenings downtown
The UM Nam Center for Korean Studies presents "Late Autumn," the latest film in their Korean Cinema Now series. A co-production of South Korea, China, Hong Kong, and the United States, "Late Autumn" was shot completely in English in Seattle and his is a remake of the famed 1961 film with the same title. "Late Autumn" plays Saturday at 2 p.m. and admission is free.
In "Middle of Nowhere," when Ruby's husband is incarcerated, she must set aside her dreams and suspend her career. But after a chance encounter and a stunning betrayal, this steadfast wife is propelled in new and often shocking directions of self-discovery. "Middle of Nowhere" plays Monday, Jan. 21 at 7 p.m.
The local Palestinian-Jewish group Zeitouna presents a 10th anniversary screening of the documentary "Refusing to be Enemies," by Zeitouna member and filmmaker Laurie White, tracing 12 women's ongoing quest for a dialogue that bridges divergent views and life experiences. The screening will be followed by audience interaction with Zeitouna members. "Refusing to be Enemies" plays Wednesday, Jan. 23 at 7 p.m.
See you at the movies!

Russ Collins is executive director of the Michigan Theater in Ann Arbor. Tune in to the audio version of "Cinema Chat" on WEMU radio (89.1-FM) each Thursday at 7:40 a.m. and 5:40 p.m., or listen to it online at WEMU's web site.