Posted on
Thu, Jan 19, 2012 : 5:58 a.m.
Sundance in A2; Tuskegee Airmen story 'Red Tails'; midnight 'Labyrinth'; and more at the movies
By Russ Collins
Win free movie tickets

Editor's note: Comment on today's "Cinema Chat" for a chance to win free movie tickets to the Michigan Theater. Some time between now and 9 a.m. Monday, leave a comment on this column, written by the Michigan Theater's Russ Collins. Offer your opinion on a recent movie you've seen, or on anything Russ mentions. A winner will be randomly selected, and we'll notify that person via the email address they signed up with. They will get two passes to a movie of their choice, courtesy of The Michigan Theater. Full rules here.

Sundance comes to Ann Arbor in one week!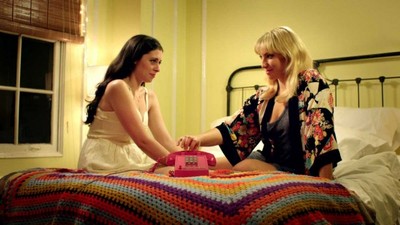 If you're not going to be in Park City, Utah, for the 2012 Sundance Film Festival, then the Michigan Theater will bring the festival to you! Director
Jamie Travis
and screenwriters
Katie Anne Naylon
and
Lauren Anne Miller
will bring their film to Ann Arbor at the same time that it's debuting in Utah as part of Sundance Film Festival USA—and the Michigan is one of only 9 theaters in America to take part in this special film event.
This year's selection—"For A Good Time Call…"—will screen on Thursday, Jan. 26 at 7:30 p.m. The film follows Lauren (Lauren Miller) and Katie (Ari Graynor) as they move in together after a loss of a relationship and a loss of a rent controlled home, respectively. When Lauren learns what Katie does for a living, the two enter into a wildly unconventional business venture.
The Michigan Theater is also pleased to announce a second Sundance event on Sunday, Jan. 29: "Sundance Shorts," curated from the best of the 2011 festival! This screening is at 7 p.m. and it features the best Sundance short films from the past year, including documentaries, and will feature an appearance by Columbia MFA alums Chris Radcliff and Lauren Wolkstein with their film "The Strange Ones."
Opening downtown
"Young Goethe In Love" follows the young and tumultuous Johann Goethe (Alexander Fehling), who aspires to be a poet but after failing his law exams, is sent by his father (Henry Huebchen) to a sleepy provincial court to mend his ways. At first, he tries to do his best and even wins the praise and friendship of his superior, but then Lotte (Miriam Stein) enters his life and nothing is the same. Roger Ebert of the Chicago Sun-Times says, "Young Goethe in Love" is a delight on its own terms, even if it has little to do with the real Goethe; here is a randy young man not a million miles apart from Tom Jones." "Young Goethe In Love" opens Sunday, January 22 at the Michigan Theater.
Opening at the multiplex
In "Haywire," an electrifying tale of espionage and betrayal, a female covert ops specialist (mixed martial arts superstar Gina Carano), who works in the deadly world of international operatives, strikes back after discovering she's been double-crossed by someone close to her in the agency. Directed by Steven Soderbergh, the films also stars Channing Tatum, Ewan McGregor, Michael Fassbender, Antonio Banderas, and Michael Douglas. Justin Chang of Variety says, "Steven Soderbergh's action-filmmaking chops get a swift, vigorous 92-minute workout…" "Haywire" opens Friday.
"Red Tails" tells the story of the Tuskegee Airmen. The year is 1944. To help win the war, the Pentagon brass has no choice but to consider the untested African-American pilots of the experimental Tuskegee training program. Just as the young Tuskegee men are about to be shut down and shipped back home, they are given the ultimate chance to show their courage. These intrepid young airmen take to the skies to fight for their country—and the fate of the free world. "Red Tails" opens Friday.
"Underworld Awakening" brings a new dimension to the battle between vampires and lycans, as the first film in the franchise to shoot in 3D. Kate Beckinsale, star of the first two films, returns in her lead role as a vampire, who escapes imprisonment to find herself in a world where humans have discovered the existence of both Vampire and Lycan clans, and are conducting an all-out war to eradicate both. "Underworld Awakening" opens Friday.
Special screenings downtown
The Nam Center for Korean Studies presents "My Dear Enemy," the fourth film by South Korean director Lee Yoon-ki, and starring Jeon Do-yeon and Ha Jeong-woo. It tells the story of a destitute woman searching for an old lover who, years after their breakup, still owes $3,500 dollars. The film is a charming romantic comedy and one of the rare films that portray the city as another character, similar to what "Lost in Translation" had achieved. "My Dear Enemy" plays Jan. 21 at 2 p.m. at the Michigan Theater.
"Labyrinth," a Jim Henson-directed gothic fantasy, pits living and breathing actors Jennifer Connelly and David Bowie against each other and a motley collection of Muppet monsters. The film centers upon teenage Sarah (Connelly), who lives in a fantasy world of myth and magic, evil spells, and wondrous enchantment. When she cavalierly wishes that goblins would take away her baby brother, she gets her wish, and soon encounters Jareth (Bowie), the ruler of a mystical world one step removed from reality. He tells Sarah that the only way to get her brother back is to find her way through an M.C. Escher-like labyrinth and find the castle at the center. "Labyrinth" plays Saturday, Jan. 21 at 11:59 p.m. at the State Theatre.
The fourth retrospective screening celebrating 50 years of the Ann Arbor Film Festival is curated by Toronto filmmaker, critic and author Mike Hoolboom, and features three past AAFF award winners. Films programmed include: "Asparagus", Suzan Pitt's celebrated cult animation, a moving meditation on art and the cost of reproduction; "Meditations on Revolution Part One: Lonely Planet", Robert Fenz's stunning silent poetic vision of Cuba; and "Al Neil: A Portrait", David Rimmer's exquisite depiction of jazz iconoclast Al Neil—poet, recluse and shaman.
Golden Globe winner continuing downtown
"The Artist," winner of 3 Golden Globes including Best Motion Picture Comedy or Musical and a Best Actor win for Jean Dujardin, is a heartfelt and entertaining valentine to classic American cinema. Set during the twilight of Hollywood's silent era the film tells the story of a charismatic movie star (Dujardin) unhappily confronting the new world of talking pictures. "The Artist" continues at the Michigan Theater.
See You At The Movies!
Russ Collins is executive director of the Michigan Theater in Ann Arbor. Tune in to the audio version of "Cinema Chat" on WEMU radio (89.1-FM) each Thursday at 7:40 a.m. and 5:40 p.m., or listen to it online at WEMU's web site.