Posted on
Thu, Jan 24, 2013 : 5:55 a.m.
Sundance returning to Ann Arbor, a new 'Hansel and Gretel,' and more
By Russ Collins
Sundance comes back to Ann Arbor!
Direct from the Sundance Film Festival, "The East" stars Brit Marling ("Arbitrage"), Ellen Page ("Juno," "Inception"), Alexander Skarsgard ("True Blood"), Patricia Clarkson and Julia Ormond ("The Curious Case of Benjamin Button," "Legends of the Fall"). An operative for an elite private intelligence firm goes into deep cover to infiltrate a mysterious eco-terrorist organization attacking major corporations.
Early reviews have been strong, and the Michigan Theater staff who saw it at Sundance agrees! Britt Marling is destined to breakout as a major movie talent with this role, and Variety concurs, saying, "Marling, who delivered ace support in 'Arbitrage' and 'Sound of My Voice' (as well as toplining the little-seen 'Another Earth'), carries the picture effortlessly." Get your tickets before this special Sundance premiere screening sells out!
This premiere is one week from today, Thursday, Jan. 31, at 8 p.m. at the Michigan Theater. Coming directly from Sundance will be star and screenwriter Britt Marling, director/writer Zal Batmanglij and Sundance Film Festival Program Director Trevor Groth! Go to www.michtheater.org for tickets and more information.
Opening downtown
In "Quartet," directed by Dustin Hoffman, lifelong friends Wilf and Reggie, together with former colleague Cissy, are residents of Beecham House, a home for retired opera singers. Every year on Verdi's birthday, the residents give a concert to raise funds for their home. But lifelong conflicts and financial problems threaten the musical and interpersonal harmony. Starring Maggie Smith, Michael Gambon, Pauline Collins and Billy Connolly, this much anticipated film is based on Ronald Harwood's stage play of the same name. "Quartet" is actor Dustin Hoffman's directorial debut, and Peter Travers of Rolling Stone says, "Hoffman uses all he's learned as a virtuoso actor to shape a film of flesh-and-blood characters, flushed with humor and tenderness." "Quartet" opens Friday at the Michigan Theater.
In "Smashed," Kate and Charlie are a young married couple whose bond is built on a mutual love of music, laughter and drinking—especially the drinking. When Kate's drinking leads her to dangerous places and her job as a school teacher is put into jeopardy, she decides to join AA and get sober. But, sobriety isn't as easy as Kate had anticipated. Tom Long of the Detroit News says, "[The accomplished actors] make their characters feel like flesh and blood, not stereotypical Lost Weekenders. Their love is as real as their future is shaky. And that's the film's great tragedy." "Smashed" plays Jan. 25, 27 and 28 at the Michigan Theater.
"Holy Motors" is the most buzzed-about film in the specialty film world. It is a beautifully photographed, very odd tale of Monsieur Oscar, the shadowy main character who journeys from one life to the next. He is, in turn, captain of industry, assassin, beggar, monster, family man… He seems to be playing roles, plunging headlong into each part—but where are the cameras? "Holy Motors" plays Jan. 29 and 30 at the Michigan Theater.
Opening at the multiplex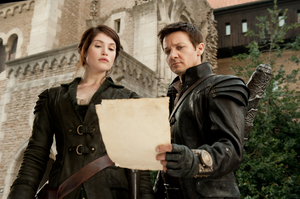 Paramount Pictures
"Hansel and Gretel: Witch Hunters"
finds the heroes of the German fairy tale all grown up and with a taste for Witch blood. Hansel (Jeremy Renner) and Gretel (Gemma Arterton) have become the ultimate vigilantes, hell bent on retribution. Now, unbeknownst to them, they have become the hunted, and must face an evil far greater than witches...their past. "Hansel and Gretel: Witch Hunters" opens Friday.
"Movie 43," from the twisted minds of producers Peter Farrelly ("Hall Pass," "Shallow Hal") and Charles Wessler ("There's Something About Mary," "Dumb & Dumber"), comes this outrageous new ensemble comedy starring some of the biggest names in Hollywood. "Movie 43" is not for the easily-offended and contains jaw-dropping, sometimes shockingly disturbing storylines." Movie 43" opens Friday.
In "Parker," Jason Statham and Jennifer Lopez team up amidst the unparalleled wealth and glamor of Palm Beach to get their cut of the loot! Based on the series of bestselling novels by Donald E. Westlake, the film is directed by Academy Award nominee Taylor Hackford ("Ray") and also stars Michael Chiklis, Wendell Pierce (HBO's "The Wire") and Academy Award nominee Nick Nolte. "Parker" opens Friday.
Special screenings downtown
Here's a rare opportunity to see "Porcile," a 1969 Italian film that was written and directed by Pier Paolo Pasolini. It stars Jean-Pierre Leaud as Julian, the son of German industrialist Klotz (Alberto Lionello). In part one Klotz seeks to go into business with a former Nazi (Ugo Tognazzi), who spent most of World War II collecting human skulls for experiments with brain matter. As a protest, Julian refuses to marry his fiancé from a pre-arranged marriage, and he becomes romantically involved with pigs. Part two finds a man driven to cannibalism by hunger while wandering Mount Etna. "Porcile," part of the New Line and New Hollywood series plays at 7 p.m. Monday, Jan. 28 at the Michigan Theater.
See you at the movies!

Russ Collins is executive director of the Michigan Theater in Ann Arbor. Tune in to the audio version of "Cinema Chat" on WEMU radio (89.1-FM) each Thursday at 7:40 a.m. and 5:40 p.m., or listen to it online at WEMU's web site.