Posted on
Thu, Jan 26, 2012 : 5:55 a.m.
Sundance in town tonight; 'Man on a Ledge'; and more at the movies this week
By Russ Collins
Win free movie tickets

Editor's note: Comment on today's "Cinema Chat" for a chance to win free movie tickets to the Michigan Theater. Some time between now and 9 a.m. Monday, leave a comment on this column, written by the Michigan Theater's Russ Collins. Offer your opinion on a recent movie you've seen, or on anything Russ mentions. A winner will be randomly selected, and we'll notify that person via the email address they signed up with. They will get two passes to a movie of their choice, courtesy of The Michigan Theater. Full rules here.

Sundance comes to Ann Arbor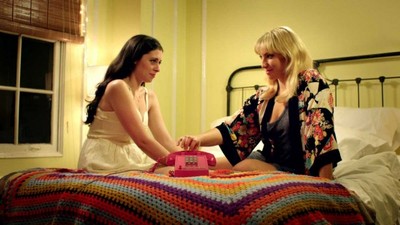 More than 20 years ago, the funny and provocative "sex, lies, and videotape" put unknown director
Steven Soderbergh
on the map. Now, the new comedy
"For a Good Time, Call..."
is generating the same buzz around Toronto-born director
Jamie Travis
in his feature debut. His film received two standing ovations at Sundance earlier this week. I am happy to say I saw the film Tuesday and can report that it is a crisply written, well-directed and acted comedy with fun twists and lots (and lots) of laughs. Like "Bridesmaids," it is a sex farce of high order.
The film follows Lauren (Lauren Miller) and Katie (Ari Graynor) as they move in together after a loss of a relationship and a loss of a rent-controlled home, respectively. With her astute business mind, Lauren turns Katie's sex phone talent into a thriving business - with a surprising, even heartwarming result.  Travis and screenwriters Katie Anne Naylon and Lauren Miller are coming direct from Sundance for this very special Sundance Film Festival USA screening. "For A Good Time Call…" will screen tonight at 7:30!
The Michigan Theater is also pleased to present a second Sundance event on Sunday, Jan. 29: "Sundance Shorts," curated from the best of the 2011 festival! This screening is at 7 p.m. and it features the best Sundance short films from the past year, including documentaries, and will feature an appearance by Columbia MFA alums Chris Radcliff and Lauren Wolkstein with their film "The Strange Ones."
Opening downtown
"A Dangerous Method" follows the driven Dr. Carl Jung (Michael Fassbender) as he takes the unbalanced yet beautiful Sabina Spielrein (Keira Knightley) as his patient. Jung's weapon is the method of his master, the renowned Sigmund Freud (Viggo Mortensen), but both men soon fall under Sabina's spell. Roger Moore of the Dallas Morning News says director David Cronenberg "spares us few of the gory details of the patient who brought the two fathers of psychoanalysis together and helped tear them apart." "A Dangerous Method" opens Friday at the State Theatre.
"Le Havre" is a warmhearted portrait of the French harbor city that gives the film its name. When fate throws young African refugee Idrissa (Blondin Miguel) into the path of Marcel Marx (Andre Wilms), Marcel stands up to officials doggedly pursuing the boy for deportation. A political fairy tale that exists somewhere between the reality of contemporary France and the classic cinema of Jean-Pierre Melville and Marcel Carné, "Le Havre" is a charming, deadpan delight. Roger Ebert of the Chicago Sun-Times says, "Four stars! There is nothing cynical or cheap about it, it tells a good story with clear eyes and a level gaze, and it just plain makes you feel good." "Le Havre" opens Friday at the Michigan Theater.
Opening at the cineplex
In "The Grey," Liam Neeson leads an unruly group of oil-rig roughnecks when their plane crashes into the remote Alaskan wilderness. Variety writes, "Impressively lensed by Masanobu Takayanagi on aptly rugged terrain in British Columbia, 'The Grey' is thoroughly persuasive in its depiction of desperate men battling unforgiving elements." "The Grey" opens Friday.
"Man On A Ledge" follows an ex-cop and now wanted fugitive (Sam Worthington) as he stands on the ledge of a high-rise building while a hard-living New York Police Department negotiator (Elizabeth Banks) tries to talk him down. The longer they are on the ledge, the more she realizes that he might have an ulterior objective. "Man On A Ledge" opens Friday.
In "One For The Money," a proud, born-and-bred Jersey girl takes a job from her sleazy cousin at his bail bonding company... as a recovery agent. True, she doesn't even own a pair of handcuffs and her weapon of choice is pepper spray, but that doesn't stop her from taking on the biggest bail-jumper: former vice cop and murder suspect Joe Morelli - the same man who seduced and dumped her back in high school. "One For The Money" opens Friday.
More buzz from Sundance
Besides "For a Good Time, Call..." there are quite a few films generating buzz in Park City, Utah. "Beasts Of The Southern Wild," a post-Katrina fantasy that mixes equal parts "Mad Max" and Terrence Malick, has been the toast of the festival.
Sundance has been filled with wonderful documentaries! "Searching for Sugar Man" has been the best-received documentary film of the festival. It tells a story from our own back yard, the fascinating tale of Detroit native Sixto Rodriguez, a '70s folk singer who didn't chart in the states, but whose lyrics became the voice of the Anti-Apartheid movement and made him larger than the Rolling Stones in South Africa. A rock & roll detective story that looks for a man whose music would change the face of the world, unbeknownst to him.

Russ Collins is executive director of the Michigan Theater in Ann Arbor. Tune in to the audio version of "Cinema Chat" on WEMU radio (89.1-FM) each Thursday at 7:40 a.m. and 5:40 p.m., or listen to it online at WEMU's web site.