Posted on
Thu, Jan 3, 2013 : 5:50 a.m.
Acclaimed 'Hyde Park on Hudson,' new Science on Screen series, and more at the movies this week
By Russ Collins
Now playing downtown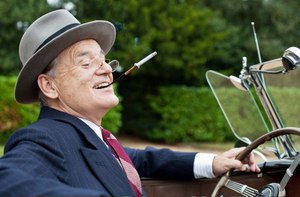 "Hyde Park on Hudson"
takes place in June of 1939, when President Franklin Delano Roosevelt (Academy Award nominee Bill Murray) and his wife Eleanor (Olivia Williams) host the King and Queen of England (Samuel West and Olivia Colman) for a weekend at the Roosevelt home at Hyde Park on Hudson, in upstate New York. The royal visit comes as the winds of World War II are stirring and the visit was the first-ever by a reigning English monarch to America. But international affairs of support for pending war must be juggled with the complexities of FDR's domestic establishment, as wife, mother, and mistresses all conspire to make the royal weekend an unforgettable one.
Seen through the eyes of Daisy (Academy Award nominee Laura Linney), Franklin's neighbor and intimate, the weekend will produce not only a special relationship between two great nations, but, for Daisy-and through her, for us all-a deeper understanding of the mysteries of love and friendship. Ann Hornaday of the Washington Post says, "Murray's spot-on portrayal of a man juggling myriad pressures and demands, from petty to momentous, marks one of the film's greatest strengths." "Hyde Park on Hudson" opens Friday at the Michigan.
Opening at the multiplex
If you're into such things, there isn't a better way to ring in the New Year than with the sound of ripping chainsaws! "Texas Chainsaw 3D" continues the legendary story of the homicidal Sawyer family, picking up where Tobe Hooper's 1974 horror classic left off in Newt, Texas, where for decades people went missing without a trace. The townspeople long suspected the Sawyer family. Their suspicions were finally confirmed one hot summer day when a young woman escaped the Sawyer house following the brutal murders of her four friends. A vigilante mob of enraged locals surrounded the Sawyer stronghold, burning it to the ground and killing every last member of the family—or so they thought. "Texas Chainsaw 3D" opens Friday.
Still buzzing downtown
Hidden behind Alfred Hitchcock's outsized "master of suspense" persona was his creatively explosive romance with his steadfast wife and filmmaking collaborator, Alma Reville. Now, for the first time on film, Sacha Gervasi's "Hitchcock" tells their captivating and complex love story. "Hitchcock" continues at the State Theatre. A movie that plays out beautifully as a great filmed musical/opera, "Les Miserables" is based on the Broadway hit of Victor Hugo's enthralling story of broken dreams, unrequited love, passion, sacrifice and redemption. Hugh Jackman plays ex-prisoner Jean Valjean, hunted for decades by the ruthless policeman Javert (Russell Crowe, who I think is pretty darn good in the role—even the singing is pretty good) after he breaks parole. When Valjean agrees to care for factory worker Fantine's (Anne Hathaway) young daughter, Cosette, their lives change forever. "Les Miserables" continues at the Michigan Theater—bring tissues! "Anna Karenina" is acclaimed director Joe Wright's bold and beautiful new vision of the epic story of love, adapted from Leo Tolstoy's great novel, starring Academy Award-nominated actress Keira Knightley. "Anna Karenina" continues at the State Theatre.
"Argo," based on true events, chronicles the life-or-death covert operation to rescue six Americans, which unfolded behind the scenes of the Iran hostage crisis in 1979. On most critics' top ten list—don't miss it. Oscar-winner Ben Affleck is a front-runner for another Academy Award nomination, this time for Best Director. "Argo" is playing now at the State Theatre.
Science on Screen
The Michigan Theater and the Alfred P. Sloan Foundation are proud to present the first of four special science films with a special guest lecture! First up is "Robinson Crusoe on Mars" on Wednesday, Jan. 9 at 7 p.m. The 1964 sci-fi camp-fest follows Commander Christopher 'Kit' Draper (Paul Mantee) and Colonel Dan McReady (Adam West, TV's Batman), the crew of Mars Gravity Probe 1, as they hurtle towards Mars. When an imminent collision with a meteor forces the crew to use the last of the fuel, they have no choice but to eject to the surface and become the first men on Mars…or are they? Filmed in vivid Techniscope by director and special effects guru Byron Haskin ("The War of the Worlds"). The film will be followed by a 30-minute lecture from Dr. Nilton Renno, professor of atmospheric and space sciences at the University of Michigan and one of the scientists of the NASA Mars Science Laboratory. In 2008, Dr. Renno led the team that discovered liquid water on Mars; now he's one of the scientists working with the Curiosity Rover, part of the Mars Science Laboratory that is following the signs of water to search for evidence of the building blocks of life on Mars. Dr. Renno will describe the Curiosity mission and its latest results. Happy New Year! See you at the movies!

Russ Collins is executive director of the Michigan Theater in Ann Arbor. Tune in to the audio version of "Cinema Chat" on WEMU radio (89.1-FM) each Thursday at 7:40 a.m. and 5:40 p.m., or listen to it online at WEMU's web site.