Posted on
Thu, Jun 7, 2012 : 5:31 a.m.
'Prometheus,' acclaimed Jack Black role, Bob Marley documentary, and more
By Russ Collins
Win free movie tickets

Editor's note: Comment on today's "Cinema Chat" for a chance to win free movie tickets to the Michigan Theater. Some time between now and 9 a.m. Monday, leave a comment on this column, written by the Michigan Theater's Russ Collins. Offer your opinion on a recent movie you've seen, or on anything Russ mentions. A winner will be randomly selected, and we'll notify that person via the email address they signed up with. They will get two passes to a movie of their choice, courtesy of The Michigan Theater. Full rules here.

Cinetopia a success
The first annual Cinetopia International Film Festival ended on Sunday, and those attending declared it a success. Over four days, May 31-June 3, nearly 5,000 festival goers enjoyed 35 films—4 films making their festival premiere tour, 22 of the most acclaimed films playing the International festival circuit, 2 short-film programs and 7 classic films. The top vote getter for the Cinetopia Audience Award prize was "Hipsters (Stilyagi)," a fun and colorful musical from Russia about 1950s Muscovite youth crazy about American rock & roll.
Cinetopia Laurels, the festival's special prize, went to "Missed Connections," a deftly written and acted romantic comedy about looking for sex and finding love in Los Angeles via Craigslist. Mark your calendars for this time next year for the second annual Cinetopia International Film Festival. Based on the audience enthusiasm this year, next year's fest should be even better and bigger.
Opening at the multiplex
Visionary filmmaker Ridley Scott, director of "Alien" and "Blade Runner," returns to the genre he helped define with "Prometheus," creating an original science-fiction epic set in the most dangerous corners of the universe. The film takes a team of scientists and explorers on a thrilling journey that will test their physical and mental limits and strand them on a distant world, where they will discover the answers to our most profound questions and to life's ultimate mystery. Todd McCarthy of the Hollywood Reporter says, "It does supply enough visual spectacle, tense action and sticky, slithery monster attacks to hit the spot with thrill-seeking audiences worldwide." "Prometheus" opens Friday.
"Madagascar 3: Europe's Most Wanted" reunites Alex the Lion, Marty the Zebra, Gloria the Hippo, and Melman the Giraffe, who are still fighting to get home to their beloved Big Apple—and of course King Julien, Maurice and the Penguins are all along for the comedic adventure. Their journey takes them through Europe where they find the perfect cover: a traveling circus, which they reinvent—Madagascar style. Justin Chang of Variety says, "This is the rare animated property that has consistently improved on its ho-hum origins." "Madagascar 3: Europe's Most Wanted" opens Friday.
Opening downtown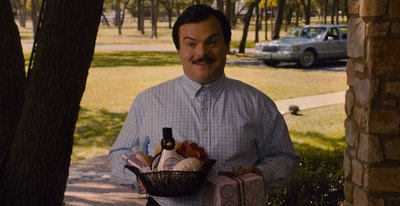 "Bernie,"
from director
Richard Linklater
("Slacker," "Dazed and Confused"), is set in the tiny, rural town of Carthage, Texas, where assistant funeral director Bernie Tiede (
Jack Black
) is one of the town's most beloved residents. He teaches Sunday school, sings in the church choir and is always willing to lend a helping hand. Everyone loves and appreciates Bernie, so it comes as no surprise when he befriends Marjorie Nugent (
Shirley MacLaine
), an affluent widow who is as well known for her sour attitude as her fortune. Bernie frequently travels with Marjorie and even manages her banking affairs. Marjorie quickly becomes fully dependent on Bernie and his generosity, and he struggles to meet her increasing demands. Bernie continues to handle her affairs, and the townspeople go months without seeing Marjorie. The people of Carthage are shocked when it is reported that Marjorie Nugent had been dead for some time, and Bernie Tiede is being charged with the murder. Roger Ebert of the Chicago Sun-Times says, "I had to forget what I knew about Black. He creates this character out of thin air, it's like nothing he's done before, and it proves that an actor can be a miraculous thing in the right role." "Bernie" opens Friday at the Michigan Theater.
"Marley" explores Bob Marley's universal appeal, impact on music history and role as a social and political prophet is both unique and unparalleled. Made with the support of the Marley family, the film features rare footage, incredible performances and revelatory interviews with the people that knew him best. Anthony Lane of the New Yorker says, "'Marley,' by reminding us of the longing and the indignation from which the music leaped, does a grand job of turning the volume back up. If only it had found more time to stop and listen." "Marley" opens Friday at the State Theatre.
Special screenings downtown
In "The Sting," director George Roy Hill re-teams Paul Newman and Robert Redford (his stars from "Butch Cassidy and the Sundance Kid") to play Depression-era confidence tricksters, whose friend and mentor Luther Coleman (Robert Earl Jones) has been murdered by racketeer/gambler Doyle Lonnegan (Robert Shaw). Hoping to avenge Luther's death, Johnny begins planning a "sting" — an elaborate scam — to destroy Lonnegan. "The Sting" plays Sunday, June 10 at 1 p.m. and Tuesday, June 12 at 7 p.m. at the Michigan Theater.
Steven Spielberg's phenomenally successful sci-fi adventure thriller "Jurassic Park" is this week's midnight film at the State Theater. "Jurassic Park" plays Saturday, June 9 at 11:59 p.m. at the State Theatre.
See you at the movies!
Russ Collins is executive director of the Michigan Theater in Ann Arbor. Tune in to the audio version of "Cinema Chat" on WEMU radio (89.1-FM) each Thursday at 7:40 a.m. and 5:40 p.m., or listen to it online at WEMU's web site.