Posted on
Thu, Mar 11, 2010 : 5:45 a.m.
Oscar reflections, "Ghost Writer," "Green Zone" and much more
By Russ Collins
Win free movie tickets
Editor's note: Comment on today's "Cinema Chat" for a chance to win free movie tickets to the Michigan Theater. Some time between now and 6 a.m. Wednesday, leave a comment on this column, written by the Michigan Theater's Russ Collins. Offer your opinion on a recent movie you've seen, or on anything Russ mentions. We'll randomly select a winner and notify that person via the email address they signed up with. They will get two passes to a movie of their choice.
Kathryn Bigelow was the first woman to win the Best Director Oscar. That's the good news! However, the buzz in Hollywood is about "David defeating Goliath" — the big-budget extravaganza "Avatar" losing the Best Picture Oscar to the low-budget war film "The Hurt Locker." The David vs. Goliath contest did not turn out the way the Academy of Motion Picture Arts and Sciences had wished. They expanded the number of Best Picture nomination to 10 so that small, art-house films would be less likely to win the big prize. "The Hurt Locker" became the smallest grossing movie to ever win an Academy Award for Best Picture. Oops! As a result it will be fun to watch the changes the Academy makes to next year's Best Picture nominations.
The biggest surprise of Oscar night was that Argentinean thriller "The Secret in Their Eyes" won as Best Foreign Language Film. It beat out the 2 top contenders, Germany's "The White Ribbon" and France's "A Prophet." Both of the latter films will open at the Michigan or State theaters in late March or early April. You can expect to see "The Secret in Their Eyes" at a theater near you later this year. Special screenings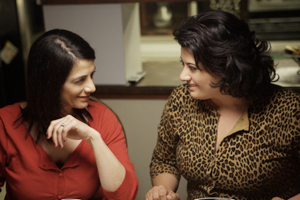 The Ann Arbor Palestine Film Festival opened Wednesday with "Pomegranates and Myrrh," introduced by its director, Najwa Najjar. Tonight, Thursday, March 11 at 7:30, go to the Michigan Theater to see "Amreeka," a film from Palestine that was an international film festival hit and received much acclaim at last year's Sundance Film Festival. The Palestine Film Festival will continue with feature-length and short films throughout the weekend on the campus of the University of Michigan. Go to the Ann Arbor Palestine Film Festival web site for more information. "Wild Strawberries," by Swedish director Ingmar Bergman, continues the Michigan Theater's World Cinema Film Series on Monday, March 15 at 7 p.m. Opening this week "The Ghost Writer," the acclaimed new film by Roman Polanski ("Chinatown," "Rosemary's Baby") opens Friday, March 12 at the Michigan Theater. The New York Times raves, "(A) very fine film from welcome start to finish." The Los Angeles Times describes it as "a dark pearl of a movie whose great flair and precision make it Polanski's best work in quite a while." It is a taut and suspenseful thriller about a gifted author hired as a ghostwriter for a controversial former British Prime Minister. It stars Ewan McGregor, Pierce Brosnan, Olivia Williams and Kim Cattrall.
"Fish Tank"
was recently named the Best British Film of 2009 and was a Cannes Film Festival Jury Prize winner. It is gritty British realism at its very best, with flawless performances from newcomer
Kate Jarvis
, who plays Mia, a volatile 15-year-old who is always in trouble. One hot summer's day her mother brings home a mysterious stranger called Connor who promises to change everything and bring love into all their lives.
Charles Darwin is the focus of "Creation," opening for a short run Sunday, March 14 at the Michigan Theater. We get a unique and inside look at Darwin (Paul Bettany), his family and his love for his deeply religious wife (Jennifer Connelly) who is torn between faith and science. LA Weekly approves! "'Creation''s power lies in its layers, in the way it makes distinctions between religion and faith, and the ways it beautifully lays out the similarities between religion and science."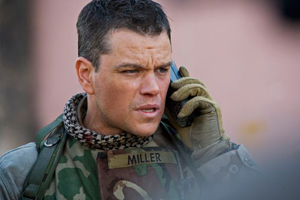 "Green Zone"
stars
Matt Damon
as a U.S. Army officer who goes rogue after discovering covert and faulty intelligence as he looks for weapons of mass destruction in Iraq. The usually reliable showbiz magazine
The Hollywood Reporter loved it
: "An energetic, frenzied thriller —
Paul Greengrass
(the "Bourne" films and "United 93") style — set in Iraq in the chaotic post-invasion days."
"Remember Me" stars "Twilight" heartthrob Robert Pattinson in a romantic drama centered on 2 new lovers: Tyler (Pattinson), whose parents have split in the wake of his brother's suicide, and Ally (Emilie de Ravin), who lives each day to the fullest since witnessing her mother's murder. The screenplay is by "Rachel Getting Married" scribe Jenny Lumet (Sidney Lumet's daughter). "She's Out of My League" is the teen comedy of the week, which The Hollywood Reporter says "is that rare modern screen comedy that is better than the trailers make it appear." Not high praise, but not bad. It's about a guy who lets his insecurities undermine his fledgling relationship with the perfect gal. "Our Family Wedding" is about the comic and stressful weeks leading up to a bride's (America Ferrera) wedding, especially because the couple's respective fathers (Forest Whitaker and Carlos Mencia) try to lay to rest their long-standing feud. "This broad ethnic farce serves up a full-on culture collision, but — thanks to a handful of diverting performers — stops just short of becoming a train wreck," says Variety. See you at the movies!
Russ Collins is executive director of the Michigan Theater in Ann Arbor. Tune in to the audio version of "Cinema Chat" on WEMU radio (89.1-FM) each Thursday at 7:40 a.m. and 5:40 p.m., or listen to it online at WEMU's web site.