Posted on
Thu, Mar 17, 2011 : 5:56 a.m.
Phil Ochs doc, animated alien 'Paul,' Ann Arbor Film Fest, and more at the movies this week
By Russ Collins
Win free movie tickets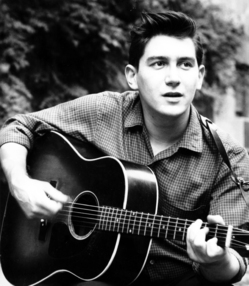 Editor's note: Comment on today's "Cinema Chat" for a chance to win free movie tickets to the Michigan Theater. Some time between now and 9 a.m. Monday, leave a comment on this column, written by the Michigan Theater's Russ Collins. Offer your opinion on a recent movie you've seen, or on anything Russ mentions. A winner will be randomly selected, and we'll notify that person via the email address they signed up with. They will get two passes to a movie of their choice, courtesy of The Michigan Theater. Full rules here.
Opening downtown
Over the course of a meteoric music career that spanned two turbulent decades, folk singer Phil Ochs rose to fame at the height of the 1960s protest movements; fiercely devoted to championing peace and social justice, his incisive lyrics and resonant melodies remain relevant for audiences today. "Phil Ochs: There But For Fortune" tells his story. Through performance footage and interviews with Ochs' contemporaries and admirers — including Joan Baez and Pete Seeger — the documentary paints a portrait of a uniquely American artist. "Phil Ochs: There But For Fortune" plays Friday and Monday only at the Michigan Theater.
You still have a chance to catch the world's most popular opera, Georges Bizet's "Carmen," in spectacular 3D! A co-production of RealD and London's Royal Opera House, "Carmen in 3D" plays one last time at the Michigan on Sunday, March 20 at 6 p.m.
Tonight the Ann Arbor Palestine Film Festival is at the Michigan Theater. The festival continues on Friday and Saturday on the U of M campus, concluding Saturday, March 19 at 7:30 with a screening of "Budrus," an acclaimed documentary by Julia Bacha. It is about how a Palestinian village sustained a nonviolent struggle to save its land from the route of the Separation Barrier. "Budrus" won the Audience Award at the Berlin International Film Festival. For complete information about the festival, visit www.aapalestinefilmfestival.com.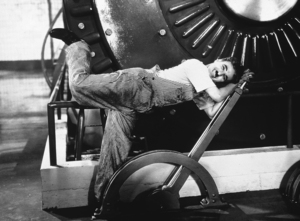 The Michigan Theater's Charlie Chaplin series continues with a brand new 35mm print of "Modern Times." Chaplin's 1936 satire of the machine age shows the Little Tramp shuffling bravely forward into a maze of technology and the rapidly changing shape of society. The film also stars Paulette Goddard, Henry Bergman and Chester Conklin. Also being screened is a new 35mm print of the 1922 short "Pay Day," Chaplin's final two-reel short film.
The Ann Arbor Film Festival
The Ann Arbor Film Festival is the longest-running independent and experimental film festival in North America. Founded in 1963, the AAFF started as a critical, alternative forum for filmmakers and artists to publicly share their work.
Today the festival continues its focus on the art of film, serving as one of the country's premier forums for bold, visionary, experimental and independent filmmakers. The 49th Ann Arbor Film Festival will present 188 films, videos and live performances in 40 programs over six days, including more than 20 premieres of new work.
The primary venue of the Ann Arbor Film Festival is the historic Michigan Theater, although additional events will take place at the State Theatre, the University of Michigan Museum of Art, and the University of Michigan Work Gallery. The AAFF runs from Tuesday, March 22 to Sunday, March 27. For more information please visit www.aafilmfest.org
Opening at the cineplex
"Limitless" follows Eddie Morra, an unemployed writer who believes he has no future. When a friend introduces him to the experimental drug NZT, Eddie becomes highly focused and highly confident. He is able to recall everything he has read, heard or seen, and he uses the knowledge to become successful in the financial world. The film — directed by Neil Burger and starring Bradley Cooper, Abbie Cornish and Robert De Niro — opens Friday.
"Paul" reunites Simon Pegg and Nick Frost ("Hot Fuzz," "Shaun of the Dead") for a comedy adventure as two sci-fi geeks who take a pilgrimage to America's UFO heartland. While there, they accidentally meet an alien named Paul (voiced by Seth Rogen) who, for the past 60 years, has been hanging out at a top-secret military base. When the unlikely trio set off in an attempt to return Paul with his mother ship they are chased by federal agents and the fanatical father of a young woman that they accidentally kidnap. Paul is directed by "Superbad"'s Greg Mottola. It also stars Jason Bateman, Kristen Wiig, Bill Hader, Blythe Danner and Sigourney Weaver. "Paul" opens Friday.
"The Lincoln Lawyer," based on the best-selling novel by Michael Connelly, stars Matthew McConaughey as Mickey Haller, a Los Angeles criminal defense attorney who operates out of the back of his Lincoln sedan. Haller has spent most of his career defending garden-variety criminals, until he lands the case of his career: defending Louis Roulet (Ryan Phillippe), a Beverly Hills playboy accused of rape and attempted murder. Tim Grierson of Screen International says, "A good-old-fashioned courtroom thriller, 'The Lincoln Lawyer' offers modest but sturdy pleasures, chief among them a strong cast and a page-turner of a story." "The Lincoln Lawyer" opens Friday.
What to see The following is Russ' list of the newest and the best to help you prioritize what to see this week: Opening: • "The Lincoln Lawyer" - Matthew McConaughey looks to be delivering a great performance in this LA whodunit. • "Modern Times" & "Pay Day" - Two new 35 mm prints are presented in this Chaplin Double Feature. • "Phil Ochs: There But For Fortune" - Documentary about '60s song writer whose message remains relevant. Continuing: • "Somewhere" - Sofia Coppola examines the price of celebrity and the rewards of fatherhood. • "Cedar Rapids" - Big laughs from Ed Helms in this locally made film.
Russ Collins is executive director of the Michigan Theater in Ann Arbor. Tune in to the audio version of "Cinema Chat" on WEMU radio (89.1-FM) each Thursday at 7:40 a.m. and 5:40 p.m., or listen to it online at WEMU's web site.