Posted on
Thu, Mar 21, 2013 : 5:10 a.m.
Ann Arbor Film Festival, 'Admission,' Danny Glover in town for 'Shenandoah,' and more
By Russ Collins
Ann Arbor Film Festival - today through Sunday
Established in 1963, the Ann Arbor Film Festival is the longest-running independent and experimental film festival in North America. It receives more than 2,500 submissions annually from more than 65 countries and serves as one of a handful of Academy Award-qualifying festivals in the United States.
Internationally recognized as a premier forum for filmmakers and artists, the festival, which opened on Tuesday, offers 40 programs and more than 180 films from more than 20 countries, including experimental, animation, documentary, fiction, and performance-based works. In addition to exhibiting over one hundred new films in juried programs each year, the AAFF presents filmmaker retrospectives, gallery installations, panel discussions, historic and thematic surveys and contemporary artist programs.
Most film screenings are at the Michigan Theater. For the complete program of film screenings and events go to aafilmfest.org.
Opening downtown
In "Stoker," an adolescent coming-of-age and horror film, the adolescent girl in question, India, must cope with her uncle coming to live with her and her emotionally unstable mother after her father dies in an auto accident. Soon after her uncle's arrival, she comes to suspect this mysterious, charming man has ulterior motives. Sara Stewart of the New York Post says, "Sure, it's got its horror aspects. But for my money, this movie belongs alongside 'Secretary,' 'Ginger Snaps' and 'Thirteen' in the family of deliciously dark female coming-of-age stories." "Stoker" opens Friday at the State Theatre.
"Brooklyn Castle" is the remarkable and improbable true story of a New York Public school that sponsors the highest ranked junior high chess team in the nation. Kenneth Turan of the Los Angeles Times says, "It's a wonderful documentary look at an astonishingly successful public-school chess program that manages to be more moving and heartening than you expect. Which is saying a lot." "Brooklyn Castle" opens Monday, March 25 at the Michigan Theater.
"Barbara," winner of the Best Director prize at the Berlin Film Festival in 2012, is a simmering, impeccably crafted Cold War thriller. Nina Hoss stars as a Berlin doctor banished to a rural East German hospital. As her lover from the West carefully plots her escape, Barbara finds herself falling for the hospital head physician. Ann Hornaday of the Washington Post says, "'Barbara' re-visits the quiet, everyday tragedies of the Iron Curtain era, when paranoia ran deep and for very good reasons." "Barbara" opens Monday, March 25 at the Michigan Theater.
Opening at the multiplex
"The Croods" is an animated tale of the world's first family road trip. When their cave is destroyed, the Crood family must embark on a comedy adventure into strange and spectacular territory in search of a new home. "The Croods" opens Friday.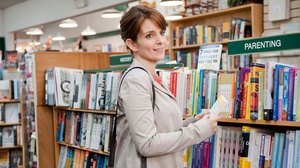 In
"Admission,"
Princeton University admissions officer Portia (Tina Fey) is a gatekeeper evaluating thousands of applicants. Year in and year out, Portia has lived her life by the book, at work as well as at the home she shares with professor Mark (Michael Sheen). When the dean of admissions (Wallace Shawn) announces his impending retirement, the likeliest candidates to succeed him are Portia and her office rival Corinne (Gloria Reuben). For Portia, however, it's business as usual as she hits the road on her annual recruiting trip…until she meets John (played by Paul Rudd.) "Admission" opens Friday.
In "Olympus Has Fallen," when the White House is captured by a terrorist mastermind and the president is kidnapped, disgraced former presidential guard Mike Banning can redeem himself by saving the President and averting an even bigger crisis. Antoine Fuqua (Training Day) directs an all-star cast featuring Gerard Butler, Aaron Eckhart, Morgan Freeman, Angela Bassett, Melissa Leo, and Ashley Judd. "Olympus Has Fallen" opens Friday.
"Inappropriate Comedy" is a no-holds barred comedy that improbably features Academy Award-winning actor Adrien Brody, the low brow comedy actor Rob Schneider and the even lower brow strung-out celebrity Lindsay Lohan. "Inappropriate Comedy" opens Friday.
Special screenings downtown
Co-produced by Danny Glover - who will be at this special screening - "Shenandoah" is an epic feature documentary about a coal mining town with a fiery immigrant heritage, once pivotal in fueling America's industrial revolution and today in decline and struggling to survive and retain its identity, soul and values - all of which were dramatically challenged when four of the town's white, star football players were charged in the beating death of an undocumented Mexican immigrant. Created by U-M professor and Pulitzer Prize-winning photographer David Turnley, it is a deeply felt portrait of a working-class community, and the American Dream on trial. "Shenandoah" plays Wednesday, March 27 at 7 p.m. at the Michigan Theater.
Terry Lawson of the Detroit Free Press called "The Lord of the Rings: The Two Towers" "one of the great film experiences of the millennium." See it Monday, March 25 at the Michigan Theater at 7 p.m.
In "The Truman Show," Jim Carrey stars as an insurance salesman/adjuster who discovers his entire life is actually a TV show. "The Truman Show" plays Thursday, March 28 at 8 p.m.
See you at the movies!
Russ Collins is executive director of the Michigan Theater in Ann Arbor. Tune in to the audio version of "Cinema Chat" on WEMU radio (89.1-FM) each Thursday at 7:40 a.m. and 5:40 p.m., or listen to it online at WEMU's web site.