Posted on
Thu, Mar 29, 2012 : 5:58 a.m.
Ann Arbor Film Festival rolls on; 'Mirror Mirror' updates Snow White; and more at the movies
By Russ Collins
Win free movie tickets

Editor's note: Comment on today's "Cinema Chat" for a chance to win free movie tickets to the Michigan Theater. Some time between now and 9 a.m. Monday, leave a comment on this column, written by the Michigan Theater's Russ Collins. Offer your opinion on a recent movie you've seen, or on anything Russ mentions. A winner will be randomly selected, and we'll notify that person via the email address they signed up with. They will get two passes to a movie of their choice, courtesy of The Michigan Theater. Full rules here.

Ann Arbor Film Festival must-sees!

The 50th Ann Arbor Film Festival is rolling along. Tonight, make sure you check out the first of three Bruce Baillie retrospectives at 7:15 p.m. at the Michigan Theater. Baillie was a central figure in the burgeoning Bay Area film scene in the '60s and '70s. He and filmmaker Chick Strand co-founded Canyon Cinema, a distribution collective for avant garde and independent films.

On Friday, make sure you check out "Space/Time," a collection of 10 16mm films from the 1970s and early 1980s, created within a vibrant and prolific Japanese avant-garde film scene that experimented with the material and structure of the film form. The program features several rarely seen works, such as Sakumi Hagiwara's "Kiri," Hiroshi Yamazaki's "Heliography," Mako Idemitsu's "At Yukigaya 2," and Nobuhiro Kanawaka's "Switchback." "Space/Time" plays on Friday at 5 p.m. at the Michigan Theater.

On Saturday at 7:15 p.m., Films In Competition #8 features new experimental, animated and documentary films from Peru, Finland, Japan and the U.S. including Suzan Pitt's latest animation "Visitation" and the North American premiere of Minna Parkkinen's film "Circle".

On Sunday, make sure you come by and check out the best of the festival with screenings of the Ann Arbor Film Festival award winners at 6 and 8 p.m.

Opening downtown

"The Forgiveness of Blood," winner of the Silver Bear for Best Screenplay at the Berlin Film Festival, tells the story of an Albanian family caught up in a blood feud. Manohla Dargis of The New York Times says, "The Albanian tradition of blood feuds partly inspired(director Joshua) Marston to make this story, yet what gives it shape are the more familiar conventions of the classic art film, including narrative ambiguity, ellipses and silence." "The Forgiveness of Blood" opens Monday, April 2 at the Michigan Theater.

"Crazy Horse," from acclaimed documentary filmmaker Frederick Wiseman, goes behind the scenes of a famous Parisian cabaret called the Crazy Horse. Wiseman's camera goes to the heart of this Parisian institution that celebrates dance, performance and the feminine form to record the creation of the new show, the most avant-garde of all Parisian cabarets. Elizabeth Weitzman of the New York Daily News says, "It's undeniably interesting to watch each element come into place, from choreography to costumes. But the truth is, most viewers will best appreciate the retro-sexy dance numbers themselves." "Crazy Horse" opens Monday, April 2 at the Michigan Theater.

Opening at the cineplex

Sam Worthington, Ralph Fiennes and Liam Neeson star once again as gods at war in "Wrath of the Titans." A decade after his heroic defeat of the monstrous Kraken, Perseus (Worthington)—the demigod son of Zeus (Neeson)—is attempting to live a quieter life as a village fisherman and the sole parent to his 10-year-old son, Helius. Meanwhile, a struggle for supremacy rages between the gods and the Titans. Dangerously weakened by humanity's lack of devotion, the gods are losing control of the imprisoned Titans and their ferocious leader, Kronos—father of Zeus. Perseus cannot ignore his true calling Zeus' godly son, Ares, switch loyalty and makes a deal with Kronos to capture Zeus. "Wrath of the Titans" opens Friday.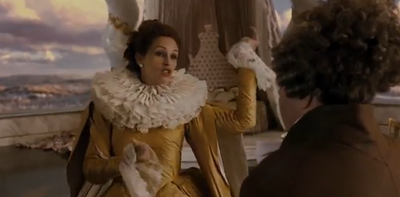 "Mirror Mirror,"
a fresh and funny retelling of the Snow White legend, features breakout star Lily Collins as Snow White, a princess in exile, and Julia Roberts as the evil Queen who ruthlessly rules her captured kingdom. Seven courageous rebel dwarfs join forces with Snow White as she fights to reclaim her birthright and win her Prince in this magical comedy filled with jealousy, romance and betrayal. The film also stars Armie Hammer as the Prince and Nathan Lane as the hapless and bungling servant to the Queen. "Mirror Mirror" opens Friday.
Special Screenings downtown
"Tom Dowd and the Language of Music"
profiles the extraordinary life and legendary work of music producer/recording engineer Tom Dowd. Historical footage, vintage photographs and interviews with a who's who list of musical giants from the worlds of jazz, soul and classic rock shine a spotlight on this long-time engineer and producer for Atlantic Records. Dowd was responsible for some of the most important R&B, rock, and jazz records ever made "Tom Dowd and the Language of Music" plays April 2 at 7 p.m. at the Michigan Theater.
Take Back the Campus presents
"Harry Potter and the Deathly Hallows: Parts 1 & 2"
(Part 2 in 3D) on Wednesday, April 4 at 5 p.m. This screening is
free
and open to the public at the Michigan Theater!
M-agination Films presents the
"M-agination Film Festival"
at the Michigan Theater on April 5 at 8 p.m. M-agination Films is a student-run film group at the University of Michigan. In production, students are responsible for writing, directing, camera work, editing, and everything in between.
See you at the movies!
Russ Collins is executive director of the Michigan Theater in Ann Arbor. Tune in to the audio version of "Cinema Chat" on WEMU radio (89.1-FM) each Thursday at 7:40 a.m. and 5:40 p.m., or listen to it online at WEMU's web site.