Posted on
Thu, May 10, 2012 : 5:43 a.m.
'Footnote,' 'Nesting,' and 'Dark Shadows' hit local theaters this weekend
By Russ Collins
Win free movie tickets

Editor's note: Comment on today's "Cinema Chat" for a chance to win free movie tickets to the Michigan Theater. Some time between now and 9 a.m. Monday, leave a comment on this column, written by the Michigan Theater's Russ Collins. Offer your opinion on a recent movie you've seen, or on anything Russ mentions. A winner will be randomly selected, and we'll notify that person via the email address they signed up with. They will get two passes to a movie of their choice, courtesy of The Michigan Theater. Full rules here.


Opening Downtown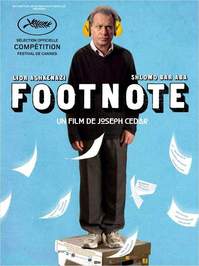 "Footnote"
is the tale of Eliezer and Uriel Shkolnik, both eccentric professors, who have dedicated their lives to their work in Talmudic Studies. The father, Eliezer, is a stubborn purist who fears the establishment and has never been recognized for his work. Meanwhile his son, Uriel, is an up-and-coming star in the field who appears to feed on accolades, endlessly seeking recognition. Then one day, the tables turn. When Eliezer learns that he is to be awarded the Israel Prize, the most valuable honor for scholarship in the country, his vanity and desperate need for validation are exposed. His son, Uriel, is thrilled to see his father's achievements finally recognized but, in a darkly funny twist, is forced to choose between the advancement of his own career and his father's.
Kenneth Turan
of the Los Angeles Times says, "This is brainy, bravura filmmaking of the highest level, a motion picture that is as difficult to pigeonhole as it is a pleasure to enjoy." "Footnote" opens Friday at the Michigan Theater.
In "Nesting," Neil and Sarah used to talk about bands they love; now they talk about gift cards. They are, in short, in that uneasy transition from hipster to yuppie, and they're asking themselves that universal question of all thirty-something married couples: How did this happen? In an effort to rekindle their relationship, they set out on a trip that lands them back in their old neighborhood, in a trendy section of Los Angeles. A few drinks bring back a few memories, and Neil and Sarah end up breaking into the apartment they used to share, and squatting illegally for a few days in their twenty-something lives. After throwing a raging "housewarming" party, Neil and Sarah must rely on their grown-up resources to avoid some serious consequences. "Nesting" opens Friday at the Michigan Theater.
Opening At The Cineplex
Based on the Gothic soap opera of the same name, "Dark Shadows" stars Johnny Depp as Barnabas, the master of Collinwood Manor, a rich, powerful and an inveterate playboy, until he makes the grave mistake of breaking the heart of Angelique Bouchard (Eva Green). A witch in every sense of the word, Angelique dooms him to a fate worse than death: turning him into a vampire and then burying him alive. Two centuries later, Barnabas is inadvertently freed from his tomb and emerges into the very changed world of 1972. He returns to Collinwood Manor to find that his once-grand estate has fallen into ruin. The dysfunctional remnants of the Collins family have fared little better, each harboring their own dark secrets. "Dark Shadows" opens Friday. Directed by Tim Burton, the film also stars Michelle Pfeiffer and Burton's long-time fiancee, Helena Bonham-Carter. This is the eighth film that Burton and Depp have done together. Can you remember each title?
What to see at Cinetopia
A lot of people have been asking which films they should check out at the Cinetopia International Film Festival, and while I think the answer is "All 35 of them!" in reality that is impossible. Which means you will have to choose, so here are a few highlights.
"Teddy Bear," winner of the World Cinema Directing Award for Drama at the Sundance Film Festival, is Danish director Mads Matthiesen's first feature. A touching story about bodybuilder Dennis, a gruff, tattooed man-mountain who, at 38, has yet to leave his mama's controlling grasp. "Teddy Bear" plays June 2nd at 7:15 p.m. at the State Theater.
Part of Cinetopia's aim is to celebrate some of Hollywood's earliest icons, and this year we're focusing on Harold Lloyd. In "The Freshman" Lloyd stars as Harold, who, longs to be a Big Man on Campus. The live musical score will be performed by organist Steve Warner and is based on songs written for and about the University of Michigan. Harold Lloyd's granddaughter Suzanne will present the film. "The Freshman" plays Friday, June 1 at 7 p.m. at the Michigan Theater.
"The Infidel" stars British-Iranian comic Omid Djalili as Mahmud Nasir, a "relaxed" British Muslim who listens to rock music and sometimes drinks alcohol. While clearing out his deceased mother's house, Mahmud finds an adoption certificate and learns that his birth parents are Jewish. I loved this warm comedy that avoids ham-fistedness as it breaks down stereotypes. "The Infidel" plays Saturday, June 2 at 8PM at Angell Hall Auditorium A.
"Joshua Tree, 1951" is an intimate portrait of James Dean on the cusp of achieving notoriety. The glorious 35mm black-and-white cinematography, with its super-8 color accents, channels classic midcentury Hollywood glamour. "Joshua Tree, 1951" plays Sunday, June 3 at 7 p.m. at the Michigan Theater.
Get the whole schedule and order tickets for Cinetopia at www.michtheater.org/cinetopia.
See you at the movies!

Russ Collins is executive director of the Michigan Theater in Ann Arbor. Tune in to the audio version of "Cinema Chat" on WEMU radio (89.1-FM) each Thursday at 7:40 a.m. and 5:40 p.m., or listen to it online at WEMU's web site.