Posted on
Thu, May 16, 2013 : 5:52 a.m.
New 'Star Trek,' acclaimed 'Ginger & Rosa,' and more
By Russ Collins
Opening at the multiplex
"Star Trek Into Darkness" finds the crew of the Enterprise called back home - only to find an unstoppable force of terror from within their own organization has destroyed the Starship fleet and everything it stands for, leaving the earth in a state of crisis. With a personal score to settle, Captain Kirk leads a manhunt to a war-zone world to capture a one-man weapon of mass destruction. As our heroes are propelled into an epic chess game of life and death, love will be challenged, friendships will be torn apart, and sacrifices must be made for the only family Kirk has left: his crew. Generally positive review are typified by Rafer Guzman of Newsday: "'Into Darkness'" is fast and fun, zipping along on all thrusters while everyone on the bridge settles comfortably into an agreeably lighthearted vibe (and into ever-slimmer outfits)." "Star Trek Into Darkness" opened Wednesday, May 15 for IMAX3D screenings and everywhere else on Thursday, May 16.
Opening downtown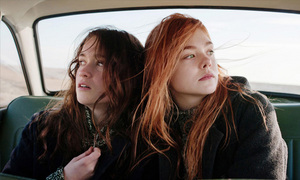 "Ginger & Rosa"
follows the lives of two teenage girls as they skip school together, talk about love, religion and politics, and dream of lives bigger than their mothers' domesticity in 1960s England. As the growing threat of nuclear war casts a shadow over their lives, Ginger (Elle Fanning) is drawn to poetry and protest, while Rosa (Alice Englert) shows Ginger how to smoke cigarettes, kiss boys and pray. Both rebel against their mothers: Rosa's single mum, Anoushka (Jodhi May), and Ginger's frustrated painter mother, Natalie ("Mad Men"'s Christina Hendricks). Meanwhile, Ginger's pacifist father, Roland (Alessandro Nivola) seems a romantic, bohemian figure to the girls. He encourages Ginger's "Ban-the-Bomb" activism, while Rosa starts to take a very different interest in him. As Ginger's parents fight and fall apart, she finds emotional sanctuary with a gay couple, both named Mark (Timothy Spall and Oliver Platt), and their American friend, the poet Bella (Annette Bening). Finally, as the Cuban Missile Crisis escalates—and it seems the world itself may come to an end—the lifelong friendship of the two girls is shattered. Colin Covert of the Minneapolis Star Tribune says, "A near-flawless film, beautifully shot and cut, excitingly performed and deeply felt." "Ginger & Rosa" opens Sunday, May 19 at the Michigan Theater.
In "Erased," ex-CIA agent Ben Logan (Aaron Eckhart) discovers that he and his daughter have been marked for termination as part of a wide-reaching international conspiracy. A dangerous game of cat-and-mouse ensues as Logan tries to outsmart his hunters and uncover the truth. Already playing in the UK, Matthew Turner of View London is enthusiastic, saying the film is an "engaging and enjoyable thriller, enlivened by a sharp script, pacey direction, solid action sequences and strong performances from both Aaron Eckhart and Liana Liberato." "Erased" opens Friday at the State Theatre.
"Starbuck" stars Patrick Huard as David Wosniak, a 42-year-old lovable screw-up who finally decides to take control of his life. A habitual sperm donor in his youth, he discovers that he's the biological father of 533 children, 142 of whom are trying to force the fertility clinic to reveal the true identity of the prolific donor, code-named Starbuck. Soren Anderson of the Seattle Times says, "Rather than a jolting shot of joe, this French-Canadian comedy is a soothing cup of warm cocoa." "Starbuck" opens Sunday, May 19 at the Michigan Theater.
Not a film…but….
Ann Arbor In Concert is a new performing arts group based in Ann Arbor that I am enthusiastic about. They bring members of the community together to perform musical theater classics in a concert setting. Featuring professional direction and some of the most talented musical theater performers in our area (and with the U-M Musical Theatre program there is a lot of talent in our community), they will present "Ragtime," the 3-time Tony Award-winning hit musical, at the Michigan Theater. "Ragtime" was created by the award-winning composer/lyricist team of Stephen Flaherty and Lynn Ahrens ("Once on this Island" and "Seussical"), noted playwright Terrence McNally ("Kiss of the Spider Woman" and "Master Class"), and based on E.L. Doctorow's distinguished novel. "Ragtime," a special one night only event, will be presented live-on-stage Saturday, May 18 at 8 p.m. at the Michigan Theater.
Continuing downtown
"The Great Gatsby" continues playing in both 3D and 2D in downtown Ann Arbor! Todd McCarthy of the Hollywood Reporter says, "The cast is first-rate, the ambiance and story provide a measure of intoxication and, most importantly, the core thematic concerns pertaining to the American dream, self-reinvention and love lost, regained and lost again are tenaciously addressed."
"From Up On Poppy Hill," the latest from the famous Japanese animation company Studio Ghibli continues downtown at the Michigan and "Mud" and "The Company You Keep" continue at the State.
See you at the movies!
Russ Collins is executive director of the Michigan Theater in Ann Arbor. Tune in to the audio version of "Cinema Chat" on WEMU radio (89.1-FM) each Thursday at 7:40 a.m. and 5:40 p.m., or listen to it online at WEMU's web site.