Posted on
Thu, May 23, 2013 : 5:56 a.m.
Acclaimed 'Angel's Share,' 'Hangover Part 3,' and more at the movies this week
By Russ Collins
Opening downtown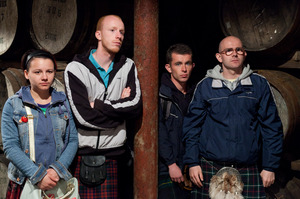 "The Angel's Share,"
from legendary director Ken Loach, presents an engagingly off-kilter new film about wasted talent and what happens when we are given a second chance in life. Robbie (Paul Brannigan), a young ne'er-do-well and broke new father with a good heart, is in serious trouble with the law. However, when he holds his newborn son for the first time, he is determined that the boy will have a better life, one with more opportunities than he has been offered in this insular, blue-collar world. But when Robbie meets Harry, the gruff but benevolent man in charge of his sentence, he finds a hidden talent for Scotch whiskey - and a new chance at life. For distillers, "the angels' share" is the whiskey lost to evaporation each year, and that little fact makes a rare cask of whiskey the perfect target for a heist. Stephen Whitty of the Newark Star-Ledger says, "Like the spirit it celebrates, 'The Angel's Share' is a neat little jolt of pleasure - and guaranteed to leave you feeling just a mite warmer." "The Angel's Share" opens Friday at the Michigan Theater.
"Disconnect" explores the consequences of modern technology and how it affects and defines our daily relationships. Shot with eavesdropped naturalism, it marks the first fiction feature from Henry-Alex Rubin, director of the Oscar-nominated "Murderball." The ensemble cast includes Jason Bateman ("Identity Thief," "Juno," "Horrible Bosses"), (Hope Davis ("American Splendor," "Mildred Pierce"), Michael Nyqvist ("The Girl with the Dragon Tattoo"), and Alexander Skarsgård ("True Blood," "The East"). Mick LaSalle of the San Francisco Chronicle says, "One of the rare films that directly responds to and expresses modern anxieties." "Disconnect" opens Friday at the State Theatre.
Special screenings downtown
The Kite Network presents "Transforming Loss." The film follows six families through the grief process. Incredibly, these individuals have not only survived their profound losses, but have grown through the grief. We learn that personal loss can actually fuel a fresh energy, which feeds the broken parts of life. Filmmaker Judith Burdick's goal for this film is to provide an intimate window into their heartfelt loss, grief and healing journey. "Transforming Loss" plays Thursday, May 30 at 7 p.m. at the Michigan Theater.
Opening at the multiplex
"The Hangover Part III" is the third and final film in director Todd Phillips' record-shattering comedy franchise. This time, there's no wedding. No bachelor party. What could go wrong, right? But when the Wolfpack hits the road, all bets are off. "The Hangover Part III" opens today!
"Epic" is a 3D adventure comedy that reveals a fantastical world unlike any other. From the creators of "Ice Age" and "Rio," "Epic" "tells the story of an ongoing battle between the forces of good, who keep the natural world alive, and the forces of evil, who wish to destroy it. When a teenage girl finds herself magically transported into this secret universe, she teams up with an elite band of warriors and a crew of comical, larger-than-life figures, to save their world...and ours." "Epic" opens Friday.
Vin Diesel, Paul Walker and Dwayne Johnson lead the returning cast of all-stars in this sixth iteration of the global blockbuster franchise "Fast & Furious." Building on the success of "Fast Five" and taking the action, stunts and narrative to even greater heights, "Fast & Furious 6" sees director Justin Lin back behind the camera for the fourth time. Todd McCarthy of the Hollywood Reporter says, "This new entry will only add mightily to the good fortunes of Universal's biggest franchise; no matter how silly and outlandish the action gets - and it does become ridiculous - it also delivers the goods its audience expects." "Fast & Furious 6" opens Friday.
Cinetopia, the best of the best fests
Cinetopia is just around the corner! Check out a "sizzle reel" of Cinetopia films and order tickets or Festival Passes at www.cinetopiafestival.org. June 6-9, in Ann Arbor and at the Detroit Institute of Arts, you can see more than 40 of the best feature-length dramas, comedies, and documentaries from the world's best film festivals (e.g. Sundance, Cannes, Venice, Toronto, SXSW and Berlin) all selected exclusively for Cinetopia by the Michigan Theater programming team.
Cinetopia celebrates worldwide cinematic creativity and Michigan's proud legacy of outstanding screenwriters with special presentations, filmmakers, who are coming to Ann Arbor/Detroit from around the world, appearances and post screening panels and discussions. The Library of Congress is sending a scholar for a tribute to silent film legend Mary Pickford, and the University of Michigan is conducting a national symposium on director Robert Altman's ("M*A*S*H," "Nashville") renowned contribution to motion pictures. Plus, a pop-up rooftop theater may appear in downtown Ann Arbor during Cinetopia!
See you at the movies!
Russ Collins is executive director of the Michigan Theater in Ann Arbor. Tune in to the audio version of "Cinema Chat" on WEMU radio (89.1-FM) each Thursday at 7:40 a.m. and 5:40 p.m., or listen to it online at WEMU's web site.