Posted on
Thu, May 24, 2012 : 5:52 a.m.
'Men in Black 3,' acclaimed 'Delicacy,' midnight 'Wet Hot American Summer'
By Russ Collins
Win free movie tickets

Editor's note: Comment on today's "Cinema Chat" for a chance to win free movie tickets to the Michigan Theater. Some time between now and 9 a.m. Monday, leave a comment on this column, written by the Michigan Theater's Russ Collins. Offer your opinion on a recent movie you've seen, or on anything Russ mentions. A winner will be randomly selected, and we'll notify that person via the email address they signed up with. They will get two passes to a movie of their choice, courtesy of The Michigan Theater. Full rules here.

It's almost time…
I earnestly hope you will have some time to attend the Cinetopia International Film Festival. It promises to be a special weekend of movies. The cream of the crop from festivals like Sundance, Toronto, Berlin, Venice, Cannes and SXSW - 35 films in all - will be shown in Ann Arbor's safe and walkable downtown. Besides 20 excellent contemporary story-based feature films, there will be 9 documentary films, 3 films that pay special tribute to legendary silent-era filmmaker Harold Lloyd, and 3 films honoring screenwriter David Newman ("Bonnie and Clyde," "What's Up Doc" and "Superman"). Four of the films will be screened in historically appropriate 3-D formats. If you can I suggest you set aside time to see 10 films: our opening night film, "Hello I Must Be Going" on Thursday, May 31; two films on Friday, June 1; four films on Saturday, June 2; and three films on Sunday, June 3. The most dedicated film goers will be able to see 17 films - just under half of the all the films programmed for you to experience during Cinetopia.
Check out the Cinetopia website for all the details—www.michtheater.org/cinetopia—or stop by the Michigan Theater and get your Festival Guide. The community's support of this festival is important to its future growth. Come to Cinetopia; then let the Michigan Theater, the organizer of the festival, know what you think. This year about 5,000 people are expected to attend Cinetopia, but the future growth potential is great. Be a part of this inaugural festival and let me know what you think. Your feedback and ideas will be critical to making this festival an excellent and beloved tradition in our community.
But before Cinetopia starts next week, check out what is opening this week, at the multiplex and downtown.
Opening at the multiplex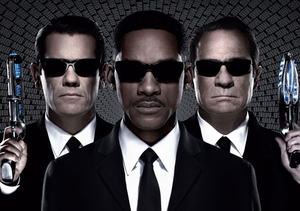 In
"Men In Black 3,"
agents J (
Will Smith
) and K (
Tommy Lee Jones
) are back... in time. J has seen some inexplicable things in his 15 years as a Men in Black agent, but nothing, not even aliens, perplexes him as much as his wry and reticent partner. But when K's life and the fate of the planet are threatened, Will Smith's Agent J travels back in time to put things right. J discovers that there are secrets to the universe that K never told him -- secrets that will reveal themselves when he travels back to the 1960s to team up with a young Agent K (
Josh Brolin
is perfect playing a younger Tommy Lee Jones). "Men In Black 3" opens Friday.
"Chernobyl Diaries," an original story from Oren Peli ("Paranormal Activity"), follows a group of six young vacationers who, looking to go off the beaten path, hire an "extreme" tour guide. Ignoring warnings, he takes them into the city of Pripyat, the former home to the workers of the Chernobyl nuclear reactor, now a deserted town since the disaster more than 25 years ago. After a brief exploration of the abandoned city, the group soon finds themselves stranded, only to discover that they are not alone. "Chernobyl Diaries" opens today!
Opening downtown
"Delicacy" stars Audrey Tautou ("Amelie") as Nathalie, a beautiful, happy, and successful Parisian business executive who finds herself suddenly widowed after three years of happy marriage to her soul mate. To cope with her loss, she buries herself and her emotions in her work to the dismay of her friends, family and co-workers. One day, inexplicably, her zest for life and love is rekindled by a most unlikely source: her seemingly unexceptional, gauche, and average looking office subordinate, Markus (comic star Francois Damiens). At first stunned by Nathalie's unexpected attention, Markus comes to gradually believe in her feelings and shifts into romantic high gear. As their relationship goes from awkward to genuinely loving, Nathalie and Markus will have to overcome a host of obstacles including everyone else's judgmental perceptions as well as their own self-doubts. Roger Ebert of the Chicago Sun-Times says, "'Delicacy' is a sweetheart of a love story, and cornball from stem to stern." "Delicacy" opens Friday at the Michigan.
Continuing is the art-house hit and audience favorite "The Best Exotic Marigold Hotel" starring Judi Dench, Maggie Smith, Tom Wilkinson, Bill Nighy, and Dev Patel. This charming film follows a group of British retirees who decide to "outsource" their retirement to less expensive and seemingly exotic India - pathos and comedy follows.
Special screenings downtown
"Wet Hot American Summer" follows the last day of summer at Camp Firewood; as camp director Beth (Janeane Garofalo) prepares to wrap things up, the staff of teenage counselors realize this is their last chance to do something about the summer romances that have been brewing for the past three months. "Wet Hot American Summer" plays Saturday at 11:59 p.m. at the State Theatre.
See you at the movies!

Russ Collins is executive director of the Michigan Theater in Ann Arbor. Tune in to the audio version of "Cinema Chat" on WEMU radio (89.1-FM) each Thursday at 7:40 a.m. and 5:40 p.m., or listen to it online at WEMU's web site.