Posted on
Thu, May 3, 2012 : 5:38 a.m.
'Avengers' opens blockbuster season; Sundance favorites downtown; Cinetopia tickets on sale
By Russ Collins
Win free movie tickets

Editor's note: Comment on today's "Cinema Chat" for a chance to win free movie tickets to the Michigan Theater. Some time between now and 9 a.m. Monday, leave a comment on this column, written by the Michigan Theater's Russ Collins. Offer your opinion on a recent movie you've seen, or on anything Russ mentions. A winner will be randomly selected, and we'll notify that person via the email address they signed up with. They will get two passes to a movie of their choice, courtesy of The Michigan Theater. Full rules here.

Summer blockbuster season has arrived
The critics have come out strong for "The Avengers," the first blockbuster film of the summer. Todd McCarthy of the Hollywood Reporter said, "(Director Joss) Whedon pulls off a stunning feat in bringing balance to this superhuman circus, engineered to charm the geek core and non-fans alike." And Peter Travers of Rolling Stone raved, "All hail Joss Whedon, the warrior king of this dizzying, dazzling 3D action epic. 'The Avengers' is Transformers with a brain, a heart and a working sense of humor."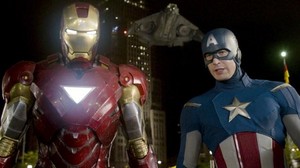 Based on Marvel Comics superheroes, the film features Iron Man (
Robert Downey Jr.
), The Incredible Hulk (
Mark Ruffalo
), Thor (
Chris Hemsworth
), Captain America (
Chris Evans
), and Black Widow (
Scarlett Johansson
). When an unexpected enemy emerges that threatens global safety and security, Nick Fury (
Samuel L. Jackson
), director of the international peacekeeping agency known as S.H.I.E.L.D., finds himself in need of a team to pull the world back from the brink of disaster. Spanning the globe, a daring recruitment effort begins. "The Avengers" opens Friday.
Opening downtown
"Monsieur Lazhar," which I saw and loved at Sundance, was nominated for an Oscar for Best Foreign Language Film; it tells the poignant story of a Montreal middle school class shaken by the death of their well-liked teacher. Bachir Lazhar (Mohamed Fellag), a 55-year-old Algerian immigrant to Canada, offers the school his services as a substitute teacher and is quickly hired. As he helps the children heal, he also learns to accept his own painful past. This moving film features exquisite performances by Fellag and a stunning ensemble of child actors. Bob Mondello of NPR said, "Fellag, a comedian and himself an exile from Algeria, makes Lazhar both a sensitive and an amusing figure. And the kids are just terrific, especially Emilien Neron as a boy who carries the guilt of the whole school on his shoulders." "Monsieur Lazhar" opens Friday at the Michigan Theater.
"Damsels in Distress" follows a trio of beautiful girls—the dynamic leader Violet Wister (Greta Gerwig), principled Rose (Megalyn Echikunwoke) and sexy Heather (Carrie MacLemore)—as they set out to revolutionize life at a grungy American university. When they welcome transfer student Lily (Analeigh Tipton) into their group, the girls become romantically entangled with a series of men, including smooth Charlie (Adam Brody), dreamboat Xavier (Hugo Becker) and the mad frat pack of Frank (Ryan Metcalf) and Thor (Billy Magnussen), who threaten the girls' friendship and sanity. John Anderson of Newsday says, "The acting and the music are delightful, the jokes arrive on schedule, and everything sort of glows." "Damsels in Distress" opens Friday at the State Theatre.
"We Have A Pope" tells the story of Melville (the brilliant French actor Michel Piccoli), a cardinal who suddenly finds himself elected as the next Pope. Never the front runner and completely caught off guard, he panics as he's presented to the faithful in St. Peter's Square. To prevent a worldwide crisis, the Vatican's spokesman calls in an unlikely psychiatrist who is neither religious nor all that committed (played by the Italian movie star Nani Moretti) to find out what is wrong with the new Pope. As the world nervously waits outside, inside the therapist tries to find a solution. But Cardinal Melville is adamant: He does not want the job, or at least needs time to think it over. What follows is a marvelous insight into the concept of a human being existing behind the title of God's representative on Earth. Roger Ebert of the Chicago Sun-Times says "'We Have a Pope' has great heart." "We Have A Pope" opens Friday at the Michigan Theater.
Special screenings downtown
"E.T. The Extra-Terrestrial," Stephen Spielberg's sci-fi adventure, tells the story of a friendship that's out of this world. It plays Saturday at 11:59 p.m. at the State Theatre.
Cinetopia: Films announced; tickets on sale next week
The Cinetopia International Film Festival, presented by AT&T, has announced the films selected for this year's inaugural festival, taking place May 31-June 3. Among the more than 30 films playing over four days are: dramatic and comedic Sundance favorites ("On the Ice," "Your Sister's Sister"); colorful musicals from Russia ("Hipsters") and Australia ("Bran Nue Dae"); compelling contemporary documentaries ("Putin's Kiss," "The Queen of Versailles," "The Ambassador") and wonderful classic and silent film programs ("Safety Last!" and "Bonnie and Clyde"). You should also probably check out "Juan of the Dead," the first Cuban zombie movie, screening as a special Midnight at the State Theatre. Passes and tickets for Michigan Theater Gold Card members go on sale today. Michigan Theater members may purchase tickets and discount voucher booklets starting May 7. Tickets and discount voucher booklets go on sale to the general public on May 10. Check out www.michtheater.org/cinetopia for more information!

Russ Collins is executive director of the Michigan Theater in Ann Arbor. Tune in to the audio version of "Cinema Chat" on WEMU radio (89.1-FM) each Thursday at 7:40 a.m. and 5:40 p.m., or listen to it online at WEMU's web site.