Posted on
Thu, May 30, 2013 : 5:05 a.m.
'After Earth,' 'In The House,' Cinetopia, and more at the movies
By Russ Collins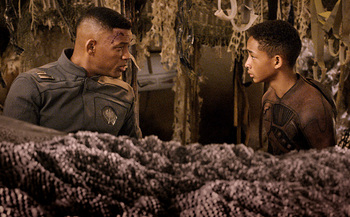 Opening at the multiplex
In "After Earth," a crash landing leaves teenager Kitai Raige (Jaden Smith) and his legendary father Cypher (Will Smith) stranded on Earth, 1,000 years after cataclysmic events forced humanity's escape. With Cypher critically injured, Kitai must embark on a perilous journey to signal for help, facing uncharted terrain, evolved animal species that now rule the planet, and an unstoppable alien creature that escaped during the crash. Father and son must learn to work together and trust one another if they want any chance of returning home. Directed by M. Night Shyamalan, "After Earth" opens Friday.
Opening downtown
"In The House" follows a 16-year-old boy who insinuates himself into the house of a fellow student from his literature class and writes about it in essays for his French teacher. Faced with this gifted and unusual pupil, the teacher rediscovers his enthusiasm for his work, but the boy's intrusion will unleash a series of uncontrollable events. Kimberley Jones of the Austin Chronicle says the films is "an almost perverse delight, an egghead thriller that slyly shell-games its truer purpose as an inquiry into the construction—and deconstruction—of fiction. Scratch deconstruction: Make that tear-the-house-down demolition." "In The House" opens Friday at the State Theatre.
Special screenings downtown
"Transforming Loss" follows six families through the grief process. Incredibly, these individuals have not only survived their profound losses, but have grown through the grief. We learn that personal loss can actually fuel a fresh energy, which feeds the broken parts of life. Filmmaker Judith Burdick's goal for this film is to provide an intimate window into their heartfelt loss, grief and healing journey. A panel discussion with Burdick and families featured in the film will follow the screening. Presented by the Kite Network, "Transforming Loss" plays Thursday, May 30 at 7 p.m. at the Michigan Theater.
Cinetopia Opening Night is Thursday, June 3!
Cinetopia is just around the corner—June 6-9! Set aside as much time as you can next weekend to see some of the more than 40 films that will play the festival. The Cinetopia International Film Festival will feature the best feature-length dramas, comedies, and documentaries from the world's best film festivals.
Cinetopia celebrates worldwide cinematic creativity and Michigan's proud legacy of outstanding screenwriters. Thirty filmmakers from around the world are coming to Ann Arbor and Detroit for screenings of their films. Filmmakers will appear to introduce films and answer questions after select screenings. The Library of Congress is sending a scholar for a tribute to silent film legend Mary Pickford, and the University of Michigan is conducting a national symposium on director Robert Altman's ("M*A*S*H," "Nashville") renowned contribution to motion pictures. Plus, a pop-up rooftop theater will show free films in downtown Ann Arbor during Cinetopia. Check the Cinetopia website www.cinetopiafestival.org for last minutes news and announcements.
Opening night is one week from today - Thursday, June 6 - and there are three films opening the festival. At the Michigan Theater at 7:15 p.m. you can see the world premiere of "A Tribute to Ron Asheton featuring Iggy and the Stooges"! Recorded live at the Michigan Theater, this heartfelt celebration of Stooges' guitarist Ron Asheton's life and music features Iggy and the Stooges, Henry Rollins, and film director/fan Jim Jarmusch. Featured songs include "Raw Power," "Search and Destroy," "Gimme Danger," "1970," "Fun House," and the ever-popular "I Wanna Be Your Dog."
At the State Theatre you can see "Haunter" at 7:45 p.m. The film follows Lisa (Abigail Breslin) one day shy of her sixteenth birthday - an age she will be forever. She and her family are dead and doomed to repeat that fateful last day before they were all killed in 1985. Only Lisa has "woken up" and starts to feel as if she is being haunted by Olivia, a very much alive girl who lives in the house in the present day with her own family. Written by Ann Arbor native Brian King, who'll be joining us for the screening.
At Angell Hall on the University of Michigan's campus you can see "Let My People Go!" at 7:45 p.m. High-strung mailman Ruben seems like a gefilte fish out of water: a Parisian-Jewish transplant to the clean air and pristine living of Finland. It's clear that Finland is Ruben's Nordic paradise. One day though, Ruben sadly returns to Paris, to the smothering embrace of his kooky mama, his embarrassingly randy papa, and the rest of his conservative family. As everyone gets ready for a most unorthodox Passover, hysteria ensues.
Cinetopia is designed to be the next big festival event in the Detroit metropolitan area. This year, Cinetopia will also play the Detroit Institute of Arts as part of the Detroit Film Theater's summer program June 7-9. Get a Festival Pass or buy a book of festival vouchers - which will get you into ten films, or buy tickets online to individual screenings, but don't miss Cinetopia. Complete program guides were distributed in the June Ann Arbor Observer or are available at the Michigan Theater or, check the website www.cinetopiafestial.org.
See you at the movies!