Posted on
Thu, Nov 1, 2012 : 5:01 a.m.
Denzel Washington, 'Wreck-It Ralph,' 'True Romance,' and more at the movies this week
By Russ Collins
Something for everyone this week at the cineplex!
In "Flight," Academy Award winner Denzel Washington stars as Whip Whitaker, a seasoned airline pilot, who miraculously crash lands his plane after a midair catastrophe, saving nearly every soul on board. After the crash, Whip is hailed as a hero, but as more is learned, more questions than answers arise as to who or what was really at fault and what really happened on that plane. The film is directed by Robert Zemeckis, who after a decade of making motion capture animated films, returns to live-action film for the first time since "Cast Away." Richard Corliss of Time Magazine says, "Washington's nuanced performance is a tightrope walk between the Denzel whom people expect and the character he's boldly burrowed into." "Flight" opens Friday, Nov. 2.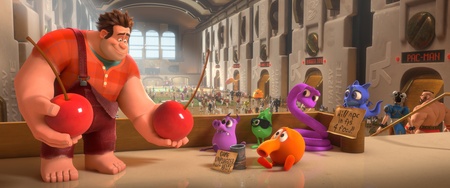 "Wreck-It Ralph"
stars the voice of John C. Reilly as Ralph, a video game "bad guy" who's tired of being overshadowed by Fix-It Felix (voiced by Jack McBrayer), the "good guy." Ralph takes matters into his own massive hands and sets off on a game-hopping journey across the arcade through every generation of video games to prove he's got what it takes to be a hero. Justin Lowe of the Hollywood Reporter says, "With a mix of retro eye-candy for grown-ups and a thrilling, approachable storyline for the tykes, the film casts a wide and beguiling net." "Wreck-It Ralph" opens Friday, Nov. 2.
"The Man with the Iron Fists," directed by and starring RZA from the Wu-Tang Clan (alongside a stellar international cast led by Russell Crowe and Lucy Liu), tells the epic story of warriors, assassins and a lone outsider hero in nineteenth-century China who must unite to defeat the traitor who would destroy them all. "The Man with the Iron Fists" opens Friday, Nov. 2.
Opening downtown
"The Other Son" is the moving and provocative tale of two young men—one Israeli, the other Palestinian—who discover they were accidentally switched at birth, and the complex repercussions facing them and their respective families which force them to reassess their respective identities, their values and their beliefs. Tom Long of the Detroit News says, "The intention here is plain - we are all human, we can all be family - but [director Lorraine] Levy weaves the mix of identity crises, cultural mingling and common ground slyly." "The Other Son" opens Friday at the Michigan Theater.
Special screenings downtown
In "True Romance," a comic book store worker (Christian Slater) falls in love with a hooker (Patricia Arquette), kills her pimp and unknowingly swipes a suitcase loaded with cocaine. The couple heads to L.A. to sell the coke for big money, but both the cops and the drug ring's boss are on their trail. Directed by the late Tony Scott from Quentin Tarantino's script, the film also stars Christopher Walken, Dennis Hopper, Brad Pitt, Gary Oldman. "True Romance" plays Monday, Nov. 5 at 7 p.m. at the Michigan Theater
"Movement One" is a dance documentary that follows Emmy-nominated choreographer Teddy Forance and producer/composer Jon Arpino (UMich Law '14) as they create an original dance production for film. "Movement One" features an amazing cast of dancers that came together to turn a unique artistic vision into reality in a remarkably short period of time. In just 8 days, 20 dancers collaborated to choreograph and perform a 30-minute dance production set to an original score. The film takes viewers behind the scenes to witness the entire creative process—from choreography to music composition—concluding with a performance that pushes the boundaries of dance on film. "Movement One" plays Wednesday, Nov. 7 at 7 p.m. at the Michigan Theater.
Next Tuesday, the most important thing you can do is vote. So please vote—whoever and whatever you vote for, vote! I hope that when you vote, you will join with me in voting yes on Proposal B - the art in public places millage in Ann Arbor. Proposal B is a modest millage; it will cost the average property owner about $10 a year. This millage will not fund the Michigan Theater, The Ark, the Ann Arbor Symphony Orchestra, Performance Network or the University Musical Society. However, it will help fund murals, sculptures and interesting and dynamic temporary installations in our artistically inclined city. Ann Arbor is a terrific place, but we are far behind cities like Grand Rapids, Sacramento and Bend, Oregon (not to mention New York, Chicago and most European cities) in terms of having interesting and acclaimed art for all to be inspired by and enjoy . The paucity of public art in Ann Arbor is a poor reflection on the genuine quality of our city. One-tenth of one mill, less than $1 a month, is a small price to pay for a significant public improvement.
See you at the movies AND vote, Tuesday, Nov. 6.

Russ Collins is executive director of the Michigan Theater in Ann Arbor. Tune in to the audio version of "Cinema Chat" on WEMU radio (89.1-FM) each Thursday at 7:40 a.m. and 5:40 p.m., or listen to it online at WEMU's web site.