Posted on
Thu, Nov 22, 2012 : 5:54 a.m.
Sing-Along 'White Christmas,' 'Red Dawn,' 'Life of Pi,' and more at the movies this week
By Russ Collins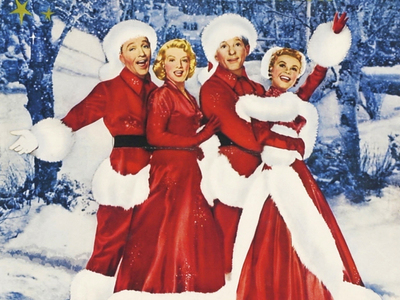 Sing-Along "White Christmas" is back!
Celebrate this Michigan Theater tradition of Sing-Along "White Christmas" with on-screen lyrics, goodie bags and more! Bing Crosby and Danny Kaye play war buddies turned entertainers who fall for a pair of sisters (Rosemary Clooney and Vera-Ellen). The boys follow the girls to a resort, which is owned by their former commanding officer, and he's in danger of losing the place. Sing-A-Long White Christmas plays Sunday, Nov. 25 at 4 p.m. Come at 3:30 p.m. to join along with the Barton organ to sing your favorite holiday tunes!
Now playing downtown
In "A Late Quartet," the four members of a world-renowned string quartet (Christopher Walken, Philip Seymour Hoffman, Catherine Keener, and Mark Ivanir) struggle to stay together in the face of illness, competing egos and insuppressible lust. "A Late Quartet" is playing now at the Michigan Theater.
"The Perks of Being a Wallflower," based on the best-selling novel by Stephen Chbosky, is a modern classic that captures the dizzying highs and crushing lows of growing up. Starring Logan Lerman, Emma Watson and Ezra Miller, the film is a moving tale of love, loss, fear and hope—and the unforgettable friends that help us through life. "The Perks of Being a Wallflower" is playing now at the State Theatre.
"Argo," based on true events, chronicles the life-or-death covert operation to rescue six Americans—the truth of which was unknown by the public for decades. On Nov. 4, 1979, as the Iranian revolution reaches its boiling point, militants storm the U.S. embassy in Tehran, taking 52 Americans hostage. But, in the midst of the chaos, six Americans manage to slip away and find refuge in the home of the Canadian ambassador. "Argo" is playing now at the State Theatre.
Now playing at the cineplex
In "Life of Pi," director Ang Lee creates a groundbreaking movie about a young man who survives a tragic disaster at sea and is hurtled into an epic journey of adventure and discovery. While marooned on a lifeboat, he forms an amazing and unexpected connection with the ship's only other survivor—a fearsome Bengal tiger. Justin Chang of Variety says the film "melds a harrowing high-seas adventure with a dreamy meditation on the very nature of storytelling."
"Red Dawn," a remake of the 1984 action film, finds a city in Washington state awakening to the surreal sight of foreign paratroopers dropping from the sky—shockingly, the U.S. has been invaded and their hometown is the initial target. Quickly and without warning, the citizens find themselves prisoners and their town under enemy occupation. Determined to fight back, a group of young patriots seek refuge in the surrounding woods, training and reorganizing themselves into a guerrilla group of fighters. Taking inspiration from their high school mascot, they call themselves the Wolverines, banding together to protect one another, liberate their town from its captors, and take back their freedom.
"Rise of the Guardians" is an epic adventure that tells the story of a group of heroes - each with extraordinary abilities. When an evil spirit known as Pitch lays down the gauntlet to take over the world, the immortal Guardians must join forces for the first time to protect the hopes, beliefs and imagination of children all over the world.
Special screenings downtown
The day-after-Thanksgiving tradition continues at the Michigan with a collection of Warner Bros. cartoons. Bring the family and watch Bugs Bunny, Daffy Duck and the whole gang on the big screen on Friday, November 23 at 11:30 a.m.
The Michigan Theater's Motor City Movies: Discovering Detroit Series concludes with "Standing in the Shadows of Motown," a historical tribute to the unsung heroes responsible for some of the greatest hits of pop music. Part documentary and part concert performance, this film is an introduction to the Hitsville studio band originally assembled by Berry Gordy in 1959. Over 40 years later, the remaining members reunited in their home base of Detroit to tell their stories, remember their departed bandmates, and put on a concert. "Standing in the Shadows of Motown" plays Monday, Nov. 26 at 7 p.m. at the Michigan Theater.
In "National Theatre Live: Timon of Athens," Simon Russell Beale takes the title role in Shakespeare's strange fable of consumption, debt and ruin. Wealthy friend to the rich and powerful, patron of the arts, ostentatious host, Timon of Athens is surrounded by free-loaders and sycophants and he, unsurprisingly, vastly outspends his resources. When he calls upon his associates for assistance, instead of offering help, they hang him out to dry. After a final, vengeful banquet, Timon withdraws to a literal and emotional wasteland, living off roots and pouring curses on a morally bankrupt Athens. "National Theatre Live: Timon of Athens" plays Wednesday, Nov. 28 at 7 p.m. at the Michigan Theater.
See you at the movies!

Russ Collins is executive director of the Michigan Theater in Ann Arbor. Tune in to the audio version of "Cinema Chat" on WEMU radio (89.1-FM) each Thursday at 7:40 a.m. and 5:40 p.m., or listen to it online at WEMU's web site.