Posted on
Thu, Nov 24, 2011 : 5:56 a.m.
Muppets, 'Hugo,' 'Arthur Christmas,' 'Like Crazy,' and more at the movies this week
By Russ Collins
Win free movie tickets

Editor's note: Comment on today's "Cinema Chat" for a chance to win free movie tickets to the Michigan Theater. Some time between now and 9 a.m. Monday, leave a comment on this column, written by the Michigan Theater's Russ Collins. Offer your opinion on a recent movie you've seen, or on anything Russ mentions. A winner will be randomly selected, and we'll notify that person via the email address they signed up with. They will get two passes to a movie of their choice, courtesy of The Michigan Theater. Full rules here.

Opening downtown

"The Descendants" tells the sometimes humorous, sometimes poignant journey of Matt King (George Clooney), an indifferent husband and father of two girls, who is forced to re-examine his past and embrace his future when his wife suffers a boating accident off of Waikiki. The event leads to reconciliation with his young daughters while he wrestles with a decision to sell the family's land handed down from Hawaiian royalty and missionaries. Directed by Alexander Payne ("Sideways," "About Schmidt") the reviews are all sterling. The New York Post gives it the only four-star review of the year, "superbly written, directed, acted, and, yes, Oscar-friendly." "This is Clooney's show," writes the Los Angeles Times, "and he is hands-down terrific." The Wall Street Journal agrees, "It's a marvelous performance in a film of quicksilver feelings that pull you every which way." A.O. Scott in the New York Times says, "Payne has made a movie that, for all its modesty, is big as life." "The Descendants" opened yesterday at the Michigan Theater and in other theater's throughout the region.

"Like Crazy" is a love story in both a physical and emotional sense, one that can be deeply personal and heartbreaking for an audience to experience. Director Drake Doremus illustrates how your first real love is as thrilling and blissful as it is devastating. When a British college student (Felicity Jones) falls for her American classmate (Anton Yelchin), they embark on a passionate and life-changing journey only to be separated when she violates the terms of her visa. "Like Crazy" also opened yesterday and it is playing exclusively at the State Theatre.

Opening exclusively at the Michigan, "My Week With Marilyn" takes place in the early summer of 1956, when Colin Clark (Eddie Redmayne), just down from Oxford and determined to make his way in the film business, worked as a lowly assistant on the set of "The Prince and the Showgirl". The film famously united Sir Laurence Olivier (Kenneth Branagh) and Marilyn Monroe (Michelle Williams), who was on her honeymoon with new husband, playwright Arthur Miller (Dougray Scott). When Miller leaves England, the coast is clear for lowly assistant Colin to introduce Marilyn to some of the pleasures of British life; an idyllic week in which he escorted a Monroe desperate to get away from her retinue of Hollywood hangers-on and the pressures of work. "My Week With Marilyn" opens Friday, Nov. 25.

Opening at the cineplex

"Hugo" is a lush, 3D film created by Martin Scorsese. Set in 1930s Paris, the movie concerns an orphan who lives in the walls of a train station who is wrapped up in a mystery involving his late father and an automaton. For those of us who never thought there'd be a day where Martin Scorsese would shoot in 3D (because we think of him as the director of "Taxi Driver," "Mean Streets" and "Gangs of New York"), the idea of Scorsese embracing both big technology and kid-friendly entertainment seems bizarre. But the preliminary reviews are very good and the use of 3D has been favorably compared to the 3D art direction of the Disney film "Up."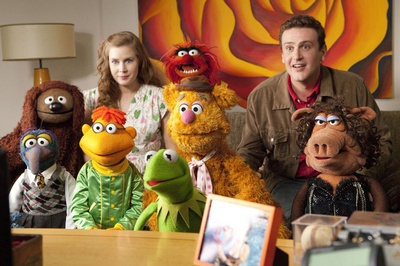 "The Muppets"
star in a film about saving a theater - something very dear to my heart! With the help of three fans, The Muppets must reunite to save their old theater from a greedy oil tycoon. Joining Kermit, Miss Piggy, Fozzie Bear and friends are
Amy Adams, Jason Segel
and
Chris Cooper
.
"A Dangerous Method"
is by Canadian director
David Cronenberg
. It stars
Michael Fassbender, Keira Knightley
and
Viggo Mortensen
. Known mostly as a horror film director, Cronenberg has created a film that looks at how the intense relationship between Carl Jung and Sigmund Freud gave birth to psychoanalysis.
"Arthur Christmas"
features the voices of
James McAvoy, Jim Broadbent, and Bill Nighy
in an Aardman Animations (Wallace and Grommit) film that is set on Christmas night at the North Pole. Santa's youngest son, Arthur, looks to use his father's high-tech operation for an urgent mission.
Special screenings for Thanksgiving
"Answer This!"
the hit film made in and about Ann Arbor, will have a final screening today, Thanksgiving Day, at 4:45 at the Michigan Theater.
Warner Bros. cartoons
will be screened on the BIG screen at the Michigan Friday, Nov. 25 at 11:30 a.m. Enjoy a laugh with friends and family as Bugs Bunny, Daffy Duck, Porky Pig and all of the Looney Tunes gang take over the silver screen of Ann Arbor's historic movie palace.
Another holiday tradition,
Sing-Along "White Christmas,"
will be presented Sunday, Nov. 27 at 4 p.m. Come get a Santa hat stuffed with goodies and sing classic Irving Berlin songs like "Blue Skies," "Snow," and, of course, "White Christmas." This Technicolor musical extravaganza stars Bing Crosby, Danny Kaye, Rosemary Clooney and Vera-Ellen. Be part of the holiday fun! Specially priced tickets will be available at the door on Sunday at the Michigan Theater.
Documentary filmmaker
Michael Moore
is coming to the Michigan Theater on Thursday, Dec. 1 at 8 p.m. for a live appearance in connection with his book "Here Comes Trouble." Check the Michigan Theater website,
michtheater.or
g, for more information and to purchase tickets in advance.
Happy Thanksgiving! Enjoy a movie!
Russ Collins is executive director of the Michigan Theater in Ann Arbor. Tune in to the audio version of "Cinema Chat" on WEMU radio (89.1-FM) each Thursday at 7:40 a.m. and 5:40 p.m., or listen to it online at WEMU's web site.