Posted on
Thu, Nov 29, 2012 : 5:59 a.m.
A visionary 'Anna Karenina,' Brad Pitt in 'Killing Them Softly,' and more at the movies this week
By Russ Collins
Opening downtown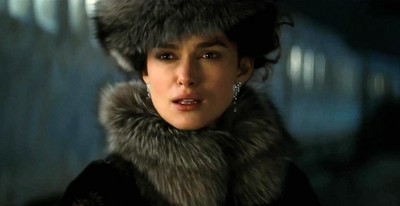 "Anna Karenina"
is acclaimed director Joe Wright's bold, theatrical new vision of the epic story of love, adapted from Leo Tolstoy's great novel. The film, marking the third collaboration of the director with Academy Award-nominated actress Keira Knightley, powerfully explores the capacity for love that surges through the human heart. As Anna (Knightley) questions her happiness and marriage, change comes all around her. Peter Travers of Rolling Stone says, "This story has been filmed many times, but never with this kind of erotic charge. Knightley is glorious. My advice is to let Wright's 'Anna Karenina' work its strange and marvelous spell." "Anna Karenina" opens Friday at the Michigan Theater.
In "How To Survive A Plague," filmmaker David France uses a treasure trove of never-before-seen footage from the 1980s and '90s to tell the compelling story of two coalitions - ACT UP and TAG - whose activism and innovation turned AIDS from a death sentence into a manageable condition. Andrew O'Hehir of Salon.com says the film is "one of the most important documentaries in years or decades." "How To Survive A Plague" plays one night only, Sunday, Dec. 2 at the Michigan Theater.
In "Liberal Arts," 30-something Jesse (Josh Radnor, also directing) returns to his alma mater for a professor's retirement party, and falls for Zibby (Elizabeth Olsen), a college student. He's soon faced with a powerful attraction that springs up between them. "Liberal Arts" plays just two nights only, Dec. 5 and 6 at the Michigan Theater.
Opening at the cineplex
"Killing Them Softly" stars Brad Pitt as a mob enforcer hired to track down three goons who thought they were smart enough to rob a mob poker game and restore order before the situation gets even more out of control. Todd McCarthy of the Hollywood Reporter says the film is "a juicy, bloody, grimy and profane crime drama that amply satisfies as a deep-dish genre piece…" The film also features Richard Jenkins, James Gandolfini, and Ray Liotta. "Killing Them Softly" opens Friday.
In "The Collection," Elena's (Emma Fitzpatrick) friends take her to a secret party at an undisclosed location, but she never imagined she would become the latest victim of The Collector, a psychopathic killer with his own abandoned hotel that's been transformed into his own private maze of torture and death. Upon learning of his daughter's disappearance, Elena's wealthy father (Christopher McDonald) hires a group of mercenaries to retrieve her from the vicious grips of The Collector. These mercenaries coerce Arkin (Josh Stewart), the only man to have escaped the wrath of this heinous monster, to lead them through the gruesome labyrinth. "The Collection" opens Friday.
Special screenings downtown
The Michigan Theater's Holiday Classic series kicks off with "Meet Me In St. Louis"! Starring Judy Garland and Margaret O'Brien and featuring the popular tunes "The Trolley Song" and "Have Yourself a Merry Little Christmas," this charming, holiday-inspired musical plays Saturday, Dec. 1 at 1:30 p.m. at the Michigan Theater, and admission is free.
Warren Miller films attract a cult-like following and mark the official start of winter for sports enthusiasts everywhere. Once again, Warren Miller raises the bar with "Flow State," offering filmgoers a magnitude of ski and snowboard action that can't be matched anywhere else. Shot on location in Colorado, Utah, California, Japan, Alaska, Switzerland and Norway, "Flow State" is your annual reminder that winter is on its way and, with it, months of an adrenaline-fueled dance with gravity. When asked about the film, director Max Bervy said, "The Flow State is a place where the impossible becomes possible - where time slows down and a perfect moment becomes attainable. This film reveals what it is like to be completely immersed in the present…completely immersed in the snow, in the mountains, and in the enjoyment of winter." Warren Miller's "Flow State" plays Saturday, Dec. 1 at 6 p.m. at the Michigan Theater.
"Men In White," presented by the Center for the History of Medicine at the University of Michigan, follows Dr. George Ferguson (Clark Gable), a dynamic young intern whose brilliant future seems assured. In addition to planning to study in Vienna and serve as the assistant to his mentor Dr. Hochberg (Jean Hersholt), Ferguson is slated for a socially prestigious marriage to wealthy Laura Hudson (Myrna Loy). But when Laura begins expressing displeasure over Ferguson's dedication to his work, he enters into a brief affair with student nurse Barbara Dennin (Elizabeth Allan). "Men In White" plays Wednesday Dec. 5 at 7 p.m. at the Michigan Theater, with a special treat, the 1934 3 Stooges short "Men In Black."
See you at the movies!
Russ Collins is executive director of the Michigan Theater in Ann Arbor. Tune in to the audio version of "Cinema Chat" on WEMU radio (89.1-FM) each Thursday at 7:40 a.m. and 5:40 p.m., or listen to it online at WEMU's web site.