Posted on
Thu, Nov 3, 2011 : 12:02 a.m.
Harold and Kumar return, original 'Willy Wonka,' midnight 'Purple Rain,' and more at the movies this week
By Russ Collins
Win free movie tickets

Editor's note: Comment on today's "Cinema Chat" for a chance to win free movie tickets to the Michigan Theater. Some time between now and 9 a.m. Monday, leave a comment on this column, written by the Michigan Theater's Russ Collins. Offer your opinion on a recent movie you've seen, or on anything Russ mentions. A winner will be randomly selected, and we'll notify that person via the email address they signed up with. They will get two passes to a movie of their choice, courtesy of The Michigan Theater. Full rules here.

Opening downtown

Vera Farmiga's ("Up in the Air") directorial debut, "Higher Ground," depicts the landscape of a tight-knit spiritual community thrown off-kilter when one of their own begins to question her faith. Inspired by screenwriter Carolyn S. Briggs' memoir, "This Dark World," the film tells the story of a thoughtful woman's struggles with belief, love, and trust—in human relationships as well as in God. Roger Ebert of the Chicago Sun-Times says, "In a world where believers and agnostics are polarized and hold simplified ideas about each other, it takes a step back and sees faith as a series of choices that should be freely made." "Higher Ground" opens Sunday at the Michigan Theater.
I saw this film at the Sundance Film Festival and enjoyed it very much. Being raised a Southern Baptist, I was reminded of the faith community of my extended family and how simple faith can enforce a spurious simplicity of the faithful that can segregate believers from the richness and potential of a complex and mysterious universe—God's ultimate creation.
Special screenings
The Nam Center for Korean Studies presents "Young-ja's Heydays." The film is arguably the most important of the "hostess melodramas" cycle that were very popular during the 1970s. Based on Cho Seon-jak's bestselling novel, the film was Kim Ho-Seon's first feature film and unexpectedly became a box office sensation of 1975. "Young-ja's Heydays" plays Nov. 5 at 2 p.m. and is part of the Cinematic City: Seoul film series. Admission is free.
"Purple Rain," the first starring film for Prince, is the story of a young black singer, born and raised in Minneapolis, who reaches the pinnacle of stardom. Gorgeously photographed by Donald Thorin, the film is a glorified music video, highlighted by a catalog of Prince hits, including "I Would Die 4 U," "When Doves Cry" and "Let's Go Crazy"; the score deservedly won an Academy Award and a Grammy. "Purple Rain" plays Saturday, Nov. 5 at 11:59 p.m. at the State Theatre.
Every bit as entertaining now as it was when originally released in 1971, "Willy Wonka & the Chocolate Factory" tells the story of the impoverished Charlie Bucket, who, along with four other kids and their parental guests, wins a coveted golden ticket to enter the fantastic realm of Wonka's mysterious confectionery. "Willy Wonka & the Chocolate Factory" plays Sunday, Nov. 6 at 1:30 p.m. as part of the Family Friendly Film Series. Kids 12 and under are admitted free!
The Michigan Theater's Great Directors: Stanley Kubrick series continues with "Barry Lyndon." An extravagant version of William Makepeace Thackeray's novel, it won four Academy Awards. "Barry Lyndon" plays Monday, Nov. 7 at 7 p.m.
Michigan Peaceworks, Michigan Theater, and Doctors Against Illegal Guns are proud to present a screening of "Living for 32," the inspirational story of Colin Goddard, a survivor of the tragic gun shooting massacre which occurred on the Virginia Tech campus. The Thursday, Nov. 10 at 7:30 p.m. screening will be followed by a panel discussion.
Opening at the multiplex
Brett Ratner directs "Tower Heist" with an all-star cast featuring Ben Stiller and Eddie Murphy. "Tower Heist" is a comedy caper about working stiffs who seek revenge on the Wall Street swindler (Alan Alda) who stiffed them in a Madoff-scale scam. The workers at a luxury Central Park condominium plot the ultimate revenge: a heist to reclaim what he took from them. Todd McCarthy of the Hollywood Reporter says, "Ratner and screenwriters Ted Griffin and Jeff Nathanson use the financial mayhem as a plot trigger for an elaborate scheme that, however far-fetched, is all but irresistible in its criminal legitimacy and its promise for just desserts." "Tower Heist" opens Friday.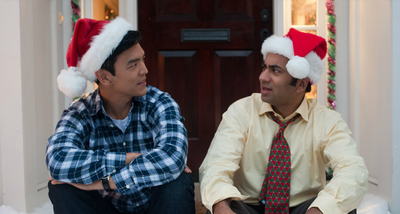 In
"A Very Harold & Kumar Christmas,"
the stoner kings return for a romp in 3D. Following years of growing apart, Harold Lee (
John Cho
) and Kumar Patel (
Kal Penn
) have replaced each other with new friends and are preparing for their respective Yuletide celebrations. But when a mysterious package mistakenly arrives at Kumar's door on Christmas Eve, his attempt to redirect it to Harold's house ends with the "high grade" contents—and Harold's father-in-law's prize Christmas tree—going up in smoke. With his in-laws out of the house for the day, Harold decides to cover his tracks, rather than come clean. Reluctantly embarking on another ill-advised journey with Kumar through New York City, their search for the perfect replacement tree takes them through party heaven—and almost blows Christmas Eve sky high. "A Very Harold & Kumar Christmas" opens Friday.
Russ Collins is executive director of the Michigan Theater in Ann Arbor. Tune in to the audio version of "Cinema Chat" on WEMU radio (89.1-FM) each Thursday at 7:40 a.m. and 5:40 p.m., or listen to it online at WEMU's web site.