Posted on
Thu, Nov 8, 2012 : 5:34 a.m.
New James Bond, 'The Sessions,' midnight 'Trainspotting,' and more at the movies this week
By Russ Collins
Clearly I like movies. So, nearly every week the roster of films opening in town excites me. However, this week I am especially excited. Why? Five words - James Bond and "The Sessions"!
I must admit an irrational enthusiasm for the Bond film franchise. Even when Bond's adventures are so-so, they entertain me and I enjoy them enough to anticipate the next grand Bond opus. It's been a while since the last Bond movie ("Quantum of Solace" - a rather middling outing for our favorite secret agent), but the reviews from England for "Skyfall" have been outstanding!
"The Sessions," the film opening Friday at the Michigan Theater, is the best film from the Sundance Film Festival that I did not see. However, my colleague, Michigan Theater program director Amanda Bynum, saw it at Sundance, loved it and I have looked forward to this wonderfully reviewed and warm film since January.
Opening at the multiplex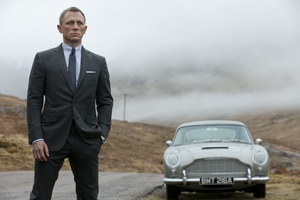 In
"Skyfall,"
Bond's loyalty to his boss M is tested as her past comes back to haunt her. MI6, United Kingdom's spy agency, comes under attack and 007 must track down and destroy the threat, no matter the cost. Directed by Sam Mendes and starring Daniel Craig, Javier Bardem, Judi Dench, Naomie Harris, and Ralph Fiennes, "Skyfall" is a blockbuster. Christy Lemire of the Associated Press says, "Simultaneously thrilling and meaty, this is easily one of the best entries ever in the 50-year, 23-film series, led once again by an actor who's the best Bond yet in Daniel Craig." "Skyfall" opens Friday (at 12:07 a.m.) at a multiplex near you.
Opening downtown
"The Sessions" is based on the poignantly optimistic autobiographical writings of California-based journalist and poet Mark O'Brien. The film tells the story of a man confined to an iron lung who is determined—at age 38—to lose his virginity. With the help of his therapists and the guidance of his priest, he sets out to make his dream a reality. A favorite at Sundance this year, John Hawkes is sure to receive some love at the Academy Awards this year. Stephen Holden of the New York Times says, "'The Sessions' is a pleasant shock: a touching, profoundly sex-positive film that equates sex with intimacy, tenderness and emotional connection instead of performance, competition and conquest." "The Sessions" opens Friday at the Michigan Theater.
In "The Well Digger's Daughter," Daniel Auteuil stars as the eponymous well-digger Pascal, a widower living with his six daughters in the Provence countryside at the start of World War I. His eldest, Patricia (the luminous Astrid Berges-Frisbey), has returned home from Paris to help raise her sisters, and Pascal dreams of marrying her off to his loyal friend Felipe (Kad Merad). But when she's impregnated by a wealthy young pilot (Nicolas Duvauchelle) who promptly abandons her for the frontlines, Pascale is left to contend with the consequences. "The Well Digger's Daughter" opens Sunday, Nov. 11 at the Michigan Theater.
"The Details" follows Jeff and Nealy Lang (Tobey Maguire and Elizabeth Banks) who have an idyllic suburban home... and a relationship on the skids. But, when a family of hungry raccoons ransacks their perfectly manicured backyard, Jeff becomes single-mindedly obsessed with eradicating the pests by any means necessary. Soon the relentless rodents aren't merely uprooting the lawn, but also overturning the Langs' entire bourgeois existence, as the man-versus-beast battle leads into an absurd mess of infidelity, extortion, organ donation and other assorted mayhem. "The Details" opens Friday at the State Theatre.
Special screenings
"Trainspotting" stars Ewan McGregor as a young man with few prospects and fewer ambitions. After one too many brushes with the law, McGregor's character kicks heroin, moves to London, finds a job, a flat and something close to peace of mind. However, "friends" arrive at his doorstep to drag him back into drugs and crime. "Trainspotting" plays Saturday, Nov. 10 at 11:59 p.m. at the State Theatre.
The Polish Film Festival returns to the Michigan Theater! Since its beginning in 1993, the Festival has promoted Polish culture by offering audiences an opportunity to see a broad range of narrative forms and visual styles present in contemporary Polish cinema, including documentaries, animated shorts, and feature films. The Polish Film Festival plays Friday and Saturday, Nov. 9 and 10 at the Michigan Theater. Visit www.annarborpolonia.org/filmfestival for film titles and screening times.
The Motor City Movies: Discovering Detroit series continues with "Narc." Joe Carnahan directs this renegade cop drama that features stellar performances from Jason Patric and Ray Liotta. "Narc" plays on Monday, Nov. 12 at 7 p.m. at the Michigan Theater.
The Found Footage Festival returns to the Michigan! Curators Joe Pickett and Nick Preuher host this screening in person and provide their unique observations and commentary on these video obscurities. From the curiously-produced industrial training video to the forsaken home movie donated to Goodwill, the Found Footage Festival resurrects these forgotten treasures. The Found Footage Festival plays Wednesday, Nov. 14 at 9:15 p.m.
See you at the movies!

Russ Collins is executive director of the Michigan Theater in Ann Arbor. Tune in to the audio version of "Cinema Chat" on WEMU radio (89.1-FM) each Thursday at 7:40 a.m. and 5:40 p.m., or listen to it online at WEMU's web site.