Posted on
Thu, Nov 26, 2009 : 5:51 a.m.
A fantastic "Mr. Fox," an acclaimed family drama among week's movie highlights
By Russ Collins
Win free movie tickets Editor's note: Comment on today's "Cinema Chat" for a chance to win free movie tickets to the Michigan Theater. Some time between now and 6 a.m. Wednesday, leave a comment on this column, written by the Michigan Theater's Russ Collins. Offer your opinion on a recent movie you've seen, or on anything Russ mentions. We'll randomly select a winner and notify that person via the email address they signed up with. They will get two passes to a movie of their choice.
Give thanks — for some great films! The multiplex theaters are filling up with the much-anticipated holiday film fare. Plus, Arbor's downtown classic cinemas, the Michigan and the State, have films from around the world that have found critical acclaim. Movie-wise it promises to be a very good Thanksgiving weekend in and around Tree Town.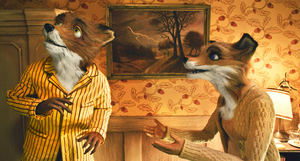 Now, at your local multiplex: "Fantastic Mr. Fox" is a stop-motion animation by indie filmmaker Wes Anderson ("Rushmore," "The Darjeeling Limited"). The outstanding voice cast includes George Clooney, Meryl Streep, Cate Blanchett, Jason Schwartzman and Bill Murray. The plot is simple: angry farmers, tired of sharing their chickens with a sly fox, look to get rid of their opponent and his family. Director Anderson's outstanding execution of this Roald Dahl classic children's tale has critics smiling. "'Fantastic Mr. Fox,' which Mr. Anderson wrote with Noah Baumbach, and which he has been hoping to make for many years, is in some ways his most fully realized and satisfying film," says A.O. Scott of The New York Times.
"Precious: Based on the Novel PUSH by Sapphire," along with "An Education" (now playing at the Michigan Theater), were the two biggest independent films to come out of this year's Sundance Film Festival. Set in Harlem, "Precious" stars newcomer Gabby Sidibe as an overweight, illiterate teen who is pregnant with her second child. She is invited to enroll in an alternative school in hopes that her life can head in a new direction. This tough tale of hope is directed by Lee Daniels and co-produced by Tyler Perry and Oprah Winfrey. It has already built Oscar buzz for Ms. Sidibe and for the comedian Mo'Nique, who does a ferocious job of playing Precious's abusive mother. Playing at Showcase Cinemas only. In "Old Dogs," Robin Williams plays a successful businessman whose professional and personal life is altered when an old flame re-enters his life — with her two children (twins!) in tow. Finding himself temporarily in charge of their welfare, he enlists John Travolta's character, his best friend and colleague, to co-parent. Review? Not so good. "Ninja Assassin" is the most advertised movie of Thanksgiving weekend. Directed by James McTeigue ("V is for Vendetta"), it is getting panned by most critics. A rogue ninja (played by teenage heartthrob Rain) comes to the aid of a Berlin-based Interpol agent, played by Naomie Harris. The agent has linked the shadowy Ozunu Clan of ninjas (to which the rogue ninja formerly belonged) to a series of murders. The Ozunu clan is let loose in Berlin to settle their score with the Interpol agent. This week, great films and lots of parking at the downtown cinemas After your classic Thanksgiving meal, check out film classics, new and old, at the Michigan and State theaters. With the students gone and University of Michigan offices closed, there will be lots of parking downtown — so check out these fine shows. Tomorrow, for one show only, Friday, November 27 at 11:30 a.m., see some of the best Warner Brothers cartoon shorts on the BIG screen! Enjoy Looney Tunes and Merrie Melodies with Bugs Bunny, Porky Pig, Daffy Duck and more!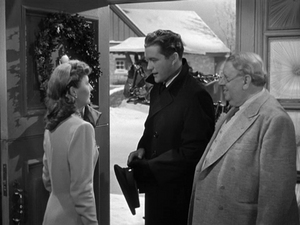 On
Sunday, November 29 at 1:30 p.m.
, there is a FREE showing of the 1945 holiday classic
"Christmas in Connecticut."
This holiday screwball comedy stars Barbara Stanwyck and Sydney Greenstreet.
"Still Walking" is truly a not-to-be-missed film. This Japanese family drama is about grown children visiting their elderly parents. Events unfold over one summer day as the son and daughter return to the parent's home for a rare family reunion, bringing their own families with them. Although the roomy house is as comforting and unchanging as the mother's homemade feast, everyone in the family has subtly changed. This beautiful, subtle film is a near miracle and the critics sing unanimous praise. "If anyone can be considered an heir of the great Yasujiro Ozu, it might be Hirokazu Kore-Eda, the writer and director of 'Still Walking,'" writes Roger Ebert of the Chicago Sun-Times. "It will strongly move you, but you won't be able to say exactly why," says Kenneth Turan of the Los Angeles Times. And "Kore-eda has a deceptively simple touch with the quiet, stirring film 'Still Walking,'" agrees Manohla Dargis of The New York Times. Also playing at the Michigan and State theaters: "An Education" - Set in England in 1961, it won the audience award at Sundance. "Coco Before Chanel" - Audrey Tautou stars as the famous fashion designer. Happy Thanksgiving and see you at the movies!
Russ Collins is executive director of the Michigan Theater in Ann Arbor. Tune in to the audio version of "Cinema Chat" on WEMU radio (89.1-FM) each Thursday at 7:40 AM and 5:40 PM, or listen to it online at WEMU's web site.