Posted on
Thu, Oct 11, 2012 : 5:05 a.m.
'Argo,' 'Farewell, My Queen,' midnight 'Friday the 13th' and more at the movies this week
By Russ Collins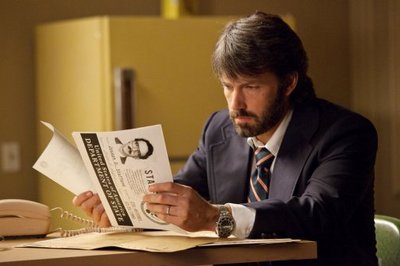 Warner Bros.
Opening at the cineplex
Based on true events, "Argo" chronicles the life-or-death covert operation to rescue six Americans which unfolded behind the scenes of the Iran hostage crisis—the truth of which was unknown by the public for decades. Peter Debruge of Variety says, "White-knuckle tense and less self-congratulatory than it sounds, (director) Ben Affleck's unexpectedly comedic third feature has the vital elements to delight adult auds." "Argo" opens Friday.
"Sinister" is a frightening new horror film just in time for Halloween! Ethan Hawke plays a true crime novelist who discovers a box of mysterious, disturbing home movies that plunge his family into a nightmarish experience. Eric D. Snider of FILM.com says, "Your pants. Do you like having them scared off you? Then you and your pants will enjoy 'Sinister.'" "Sinister" opens Friday.
In "Seven Psychopaths," Colin Farrell plays Marty, a struggling writer who dreams of finishing his screenplay, with some help from his pal Billy (Sam Rockwell), an unemployed actor and part-time dog thief. All Marty needs is a little focus and inspiration. But when Hans (Christopher Walken) and Charlie (Woody Harrelson) get involved, Marty is going to get all the focus and inspiration he needs. "Seven Psychopaths" opens Friday.
In "Here Comes the Boom," former collegiate wrestler Scott Voss (Kevin James) is a 42-year-old apathetic biology teacher in a failing high school. When cutbacks threaten to cancel the music program, Scott begins to raise money by moonlighting as a mixed martial arts fighter. Everyone thinks Scott is crazy, but in his quest, he gains something he never expected as he becomes a sensation that rallies the entire school. "Here Comes the Boom" opens Friday.
"Atlas Shrugged: Part 2" picks up where the first film left off, on the cusp of a global economy on the brink of collapse. Unemployment has risen to 24 percent. Gas is now $42 per gallon. And brilliant creators, from artists to industrialists, continue to mysteriously disappear at the hands of the unknown. "Atlas Shrugged: Part 2" opens Friday.
Opening downtown
Ron Fricke and Mark Magidson, director and producer of "Baraka," reunite for "Samsara." Sanskrit for "the ever turning wheel of life," "Samsara" is the point of departure for the filmmakers as they search for the elusive current of interconnection that runs through our lives. A.O. Scott of the New York Times says, "The world 'Samsara' gives us is strange and beautiful, and in places disturbing, but it also seems manageable, even in its vastness." "Samsara" opens Friday at the Michigan Theater.
"Farewell, My Queen" marks the return of acclaimed director Benoit Jacquot and brilliantly captures the passions, debauchery, occasional glimpses of nobility and ultimately the chaos that engulfed the court of Marie Antoinette in the final days before the full-scale outbreak of the French Revolution. Kenneth Turan of the Los Angeles Times says, "Matching the strength of these actresses and their personal drama is the film's masterful sense of time and place—the way it makes us feel that this was how it was during four pivotal days in July 1789 as the wheels came off the French monarchy." "Farewell, My Queen" opens Saturday at the Michigan Theater.
In "Killer Joe," 22 year-old drug dealer Chris has to come up with six thousand dollars quick, or he's dead. Desperate, he goes to the trailer park to see his father, Ansel, and he lays out the plan: Chris' mother, who everyone hates, has a life insurance policy that would clear up his debt and make them all rich. Enter Detective "Killer" Joe Cooper, a hired hit man with the manners of a Southern gentleman, who will do the job—for an up-front fee that Chris and Ansel can't pay. "Killer Joe" opens Friday at the State Theatre.
Special screenings downtown
"Queen Elizabeth" is an amazing early (1912) silent film that stars legendary French actress Sarah Bernhardt. This very special film will be presented with live musical accompaniment by the Baroque music ensemble the Newberry Consort on Friday, Oct. 12 at 8 p.m. The program begins with a short commentary by Consort director David Douglass about early filmmaking and the performers in the film, the true history of Elizabeth and Essex, and about the process of creating a historical soundtrack.
The State Theatre Midnight series continues with the original "Friday The 13th." One of the longest-running horror film series began with this gory shocker from director Sean S. Cunningham. "Friday The 13th" plays on October 13 at 11:59 p.m.
Motor City Movies: Discovering Detroit Film Series continues with "RoboCop," by director Paul Verhoeven. "RoboCop" plays Monday, Oct. 15 at 7 p.m.
"Urbanized" is a feature-length documentary about the design of cities, which looks at the issues and strategies behind urban design and features some of the world's foremost architects, planners, policymakers, builders, and thinkers. "Urbanized" plays Wednesday, October 17 at 6:30 p.m.
See you at the movies!

Russ Collins is executive director of the Michigan Theater in Ann Arbor. Tune in to the audio version of "Cinema Chat" on WEMU radio (89.1-FM) each Thursday at 7:40 a.m. and 5:40 p.m., or listen to it online at WEMU's web site.